Our Path to Reopening
December 1, 2020 by Richard Kong in COVID-19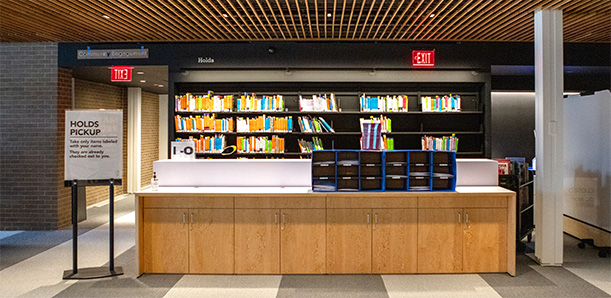 [Updated December 1, 2020]

Holds pickup at the library has now moved indoors. After you receive an email confirmation that your items are ready, pick up your items inside the west entrance of the library during holds pickup hours:
Monday-Friday, 10 am to 7 pm
Saturday, 10 am to 6 pm
Sunday, noon to 6 pm
Your items will already be checked out to you, so you can just grab them and go. This is to keep everyone safe, by minimizing the length of time that anyone needs to be indoors. It also helps keep the line short and fast!
When you place holds, you can also specify that you would like your items brought to a bookmobile community stop instead. Take a look at the expanded bookmobile schedule to check what is most convenient for you.
Computers will be available by appointment only during the hours listed above. Call 847-673-7774 to make an appointment.
We're still wrapping up the second phase of our renovation and transitioning many of our materials back from storage into their beautiful new homes on brand-new shelves. But it's a lot of furniture to install and materials to move around and it's taking us a bit longer than we had originally hoped.

Given that, and the Tier 3 Resurgence Mitigation strategies now in place in the state of Illinois, we have temporarily suspended in-person browsing and self checkout.
As the public health situation continues to unfold, we may need to make further changes. We're here to answer whatever questions you have.