Our Path to Reopening
September 1, 2020 by Richard Kong in COVID-19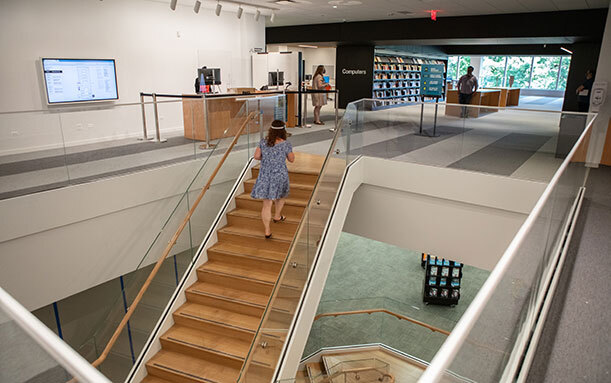 [Updated September 1, 2020]
With the completion of our new staircase last week, the first phase of the library's renovation project is now finished. In ordinary times, this would be cause for a party and celebration!
In these pandemic times, although we can't throw a party, the completion of the second floor does allow us to expand our available in-person services while still taking every precaution to keep everyone safe and prevent spreading the virus in our community.
When the pandemic is over, the renovated second floor will be a fantastic place to study, work, read, meet with others, learn new things, explore, and be creative. We are eager for that day to come, but it is not here yet.
While we cannot fully enjoy the space without restrictions, today we are inviting you to begin coming back into the building for these two services:
Browsing and checking out available items using self-check machines
Appointments for limited use of computers
If you plan to come into the library building, things will feel different from your pre-pandemic visits. Please be sure that you understand what to expect and are familiar with the guidelines that we all need to follow.
Meanwhile, the renovation continues in full swing with work on the west side of the building. Trees are being planted in the courtyards and pavers installed there. Inside, duct work, framing of walls, and drywall are all under way.
We are continuing to offer curbside pickup for holds, online activities, chat and phone assistance, eBooks and other digital resources, and many other ways to use the library at home.