Our Path to Reopening
June 24, 2020 by Richard Kong in COVID-19
Now that Governor Pritzker has released guidelines for Phase 4 of the Restore Illinois Plan, which began June 26, you may be wondering when we will be reopening our doors. Although many places, including neighboring libraries, may be opening to the public, our ongoing renovation project presents special challenges in our building that prevent us from moving as quickly.
In mid-May, we began renovation work on the west half of the first floor, so we had to fill most of the open floor space on the east side of the building with materials from the west side, including our very popular movie collection and new materials. This leaves very little space for patrons during a time when we need to maintain physical distancing.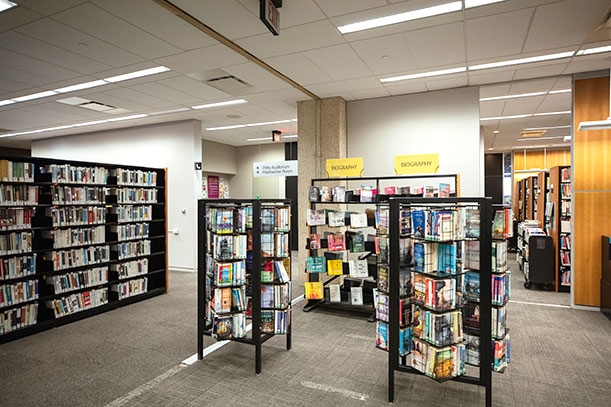 The new workroom that we need for checking in and sorting returned books and other items is nearly, but not quite, ready to handle the more than 70,000 items that are currently checked out. Staff are hard at work now planning how to safely accept and handle returned items when the workroom can be used, and we will announce those plans next month. We will need to quarantine books and other items for a short time before they go back into public circulation, in order to mitigate risk of exposure for patrons and staff. In the meantime, we will continue to extend all due dates. And remember, we never charge overdue fines on anything.

We hope to begin opening the building to the public when the second floor construction is complete, the nonfiction materials have been returned from storage, and staff are acquainted with the new spaces and equipment. The original schedule would have had this happen by now, but the COVID-19 pandemic caused some delays, and we are now looking at a likely completion date in late July for the second floor construction.

We are all eager to share the new second floor with you, and we ask for your patience as we implement our plans to reopen our building in a safe manner.

For now, we will continue to offer curbside pickup for holds, online activities, chat and phone assistance, eBooks and other digital resources, and many other ways to use the library at home.