Updates
Work on the west side of the first floor is almost complete. The items that were stored off site are back and being arranged in their new homes and final signage and other finishing work is being done. If you wish to visit the library to pick up materials, please review the guidelines and what to expect in advance. It will feel different from pre-pandemic library visits.

Work on the second floor is complete and the nonfiction materials are all available to check out once again. The pandemic prevents us from being able to use all of the equipment, seating, and features of this new space, but we look forward to the day we will be able to use the new study and meeting rooms, learn new skills and make things in the Studio, and study or work in this wonderful new space. A limited number of computers are available by appointment only Monday through Friday, 10 am-7 pm, Saturday, 10 am-6 pm, and Sunday, noon-6 pm. Call 847-673-7774 to make a reservation.

The final part of the renovation has started on the east side of the first floor, including the youth area and the east entrance. Please avoid that area, especially during the day when the construction workers are using heavy equipment. It is best right now to park in the main parking lot on the west side of the building to avoid the construction.
Overview

Like every library, we strive to keep up with the needs of our community. Over time, we have learned that we can make it easier for people to find and use library materials, attend events, study, relax, connect with others, and interact with and get help from staff.
Although there is a lot to like about our current spaces, there are many challenges that need to be addressed holistically. Beginning in January 2020, we will undergo a renovation project to modernize our interior spaces, starting with the second floor. The entire project will take about 14 months and we plan to remain open throughout the project, keeping as many materials accessible and services available as we can. We are working with the construction manager to minimize disruption and inconvenience to the public.

The enhancements will provide:
New adult and teen makerspace and digital media studios, and larger spaces for kids to engage in experiential learning and creative activities
Collections of books and other materials arranged in a more accessible, appealing, and browsable manner
New café/vending area with indoor and outdoor seating areas
Better lighting that maximizes the effect of natural light throughout the building
Larger rooms for adult and youth events, including a new storytime room for kids and a redesigned community room and instructional classroom
More spaces for the community to gather and connect with one another
Double the number of study rooms for kids/teens and adults
Improved landscaping and design in the outdoor courtyards
More comfortable and inclusive restrooms for everyone
Dedicated space for teens to hang out, study, and be creative
More comfortable seating and tables throughout the library, including the adult computers area
Larger reading room for adults
Enhanced accessibility throughout the building
More open spaces for exhibits
Service areas designed to enhance the ways staff help patrons
Clearer paths throughout the library
Details
Existing Building Square Footage
133,000 sq. ft.
Renovated Areas Square Footage
85,271 sq. ft.
Project Length
January 2020-February 2021 (estimated)
Total Project Budget
$17.7 million
Funding Sources
Library reserves
Bond issued - financed over 20 years
Architect
Andrew Berman Architect
Construction Manager
Shales McNutt Construction
Other Information
Library open throughout construction;
project will begin with second floor, other spaces
will follow in phases


Floor plans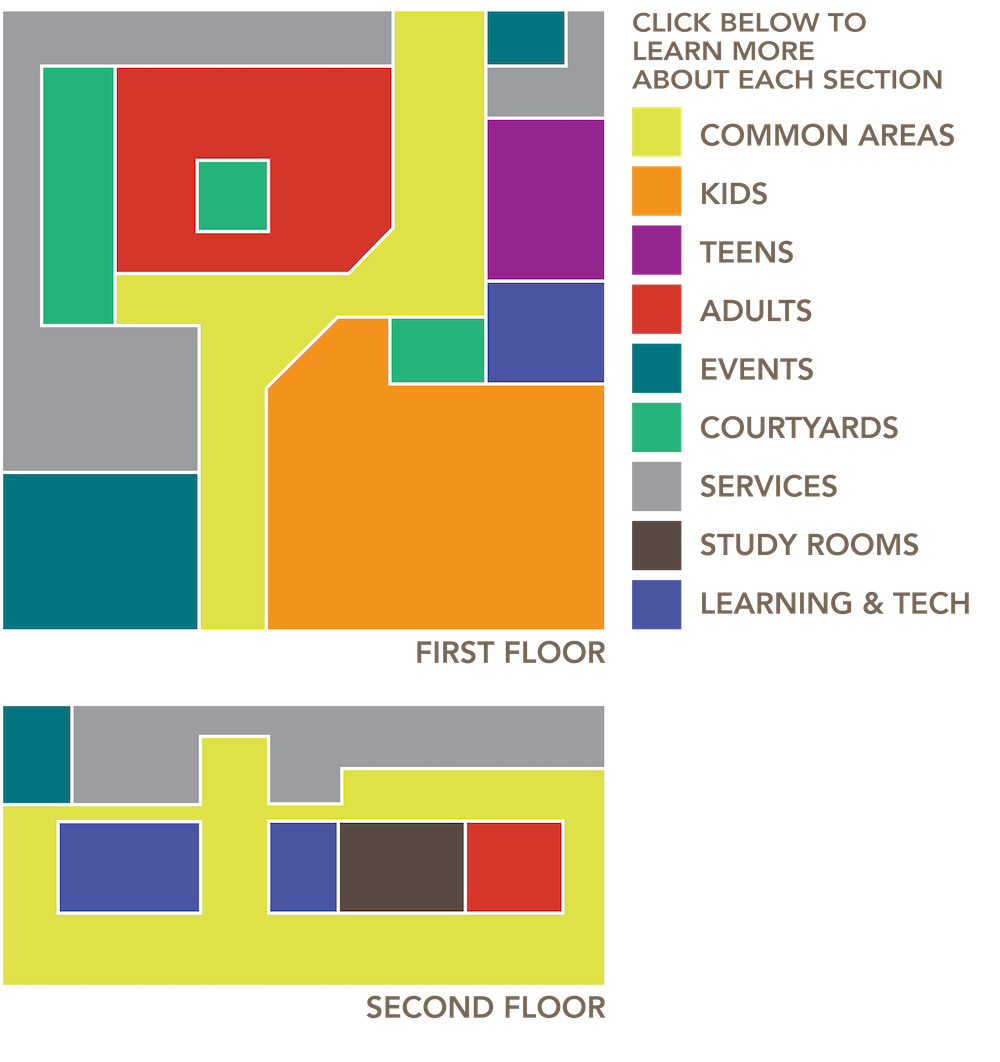 Where are the books, movies, and music? They're everywhere! Shelving and displays will be located throughout the entire library, including the common areas, so you'll be able to browse more easily, find exactly what you're looking for, or discover something you didn't even know you wanted! And, don't forget, we have a growing collection of eBooks and streaming digital content as well.
Understanding the Needs
Extensive discussions were held with community members and staff to identify the greatest needs to be addressed in the renovation. Once the initial needs were clear, the Board of Library Trustees conducted a nationwide search for the architectural firm that could best assist us throughout the process and selected Andrew Berman Architect to oversee the design of the project.
Andrew Berman Architect then sought even more input from staff and community members in preparing a master plan, which was used to guide the extended planning process that followed. Staff also conducted a significant amount of research to understand the design trends that have shaped many recently remodeled and newly built public libraries. After a planning and design process that lasted more than two years, we are confident that the renovation will result in a holistic improvement of the library's public spaces.