Exhibits
Connect with the arts and learn something new. We frequently exhibit a variety of solo and group shows and informational and interactive displays.
Current Exhibits
Swiftcurrent
December 8, 2023-January 25, 2024
Sue Teller—artist and former library employee—was inspired by the waters of Swiftcurrent Lake and Creek and the surrounding landscape in Glacier National Park, MT, to create this exhibit of landscape abstractions.
Teller's body of work melds both traditional and nontraditional materials and methods, including the use of found objects. Be sure to walk by the South Courtyard of the library to look at the two pieces installed within the wooden benches: Reflection – Time and Reflection – Memory. These two reflecting ponds are made from discarded CDs, found objects that were once considered the cutting edge of technology and are now considered obsolete.
As a visual artist, Teller creates material objects to discover a new and different kind of beauty.
Events:
Past Exhibits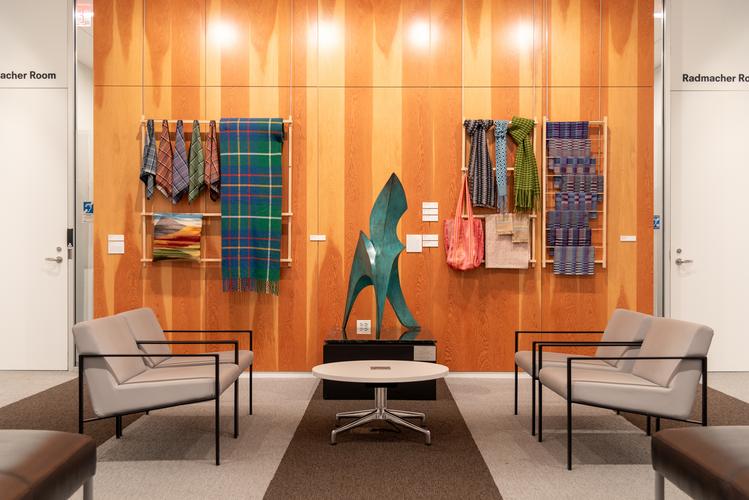 Craftwork/Artwork: Woven Creations from The Chicago Weaving School
October 9-November 30
Weaving is an ancient, but ever-evolving craft, and its possibilities seem endless. What are hand weavers making today, and how does the practice of weaving affect daily, personal lives? The Chicago Weaving School is celebrating 20 years of people learning to weave and sharing their love of woven cloth.
For these weavers, the loom can be a respite–a space to relax, feel the thread, and connect with the natural flow of throwing the shuttle. The loom can also be a challenge, requiring patience or analytical rigor weavers didn't know they were capable of.
For many, the loom offers safety and surety, a grid of warp and weft threads operating under known rules and clear expectations. For others, the loom is a playground of unknowns, and the grid is a waiting field of texture, rhythms, color, and discoveries.
Cloth can be as practical as a crisp linen towel, and as impractical as a disco-metallic, fringed and pleated wall hanging. Practical or impractical, all the forms of woven expression in this show are meaningful and necessary to the people who make them.
Lady Macbeth by Ariela Robinson
October 9-November 30

Having taught Shakespeare's play Macbeth more than 20 times to high school students, teacher Ariela Robinson used the text as an artistic inspiration last year, producing a portrait that brings new humanity to one of literature's most maligned women.
Bringing Words to Life with Arabic Calligraphy by Hassan Ghomrawi
August 1-September 28, 2023
Hassan vividly remembers being inspired by an elegant invitation card to a famous calligrapher's art show. He sought the leading calligrapher in his hometown to teach him this rare art form. He learned two types of Arabic calligraphy and has continued teaching himself for more than two decades. Calligraphy is how he can beautify words to emphasize their meaning. Figuring out how to assemble the words, determining the size of the work, and choosing what colors to use is a labor of love, and the end product is always rewarding.

Where There Are Wild Things: Nature in Image and Poetry
August 1-September 28, 2023
Marcia Whitney-Schenck, a Chicago-based artist and novelist, is fascinated with the connections among words, images, and nature. How does one best reflect and express one's encounters in nature? Is there a "best" way, or do the ways intertwine, inevitably? Poets invite us to conjure up images through words; artists visualize those words by way of images. Using watercolor and acrylic, Marcia depicts the natural world using a wide-ranging visual vocabulary (abstraction, impressionism, expressionism) and pairs those images with poems. She invites us to slow down, as we do in the natural world, and read the poems that accompany her creations, by both famous and relatively obscure poets, to garner new insights as to how nature changes and molds us.
Nature: Observed and Imagined
June 1-July 30, 2023
Ruth Fingerman has been a resident of Skokie since 1971, raising her three children with her husband of 56 years. Her work has been exhibited at numerous art fairs, the Evanston Art Center, Emily Oaks Nature Center, and Kaplan JCC. Ruth grew up in Chicago and attended the School of the Art Institute of Chicago, earning her Bachelors of Art Education in 1967. She taught art in Evanston and later earned her Masters of Education while teaching at Gale Academy in Chicago. Ruth retired from teaching in 2005 and now enjoys exercising, painting, and spending time with her friends and family.
Tiny Clay Books
April 13-June 30, 2023
Inspired by an article in The New York Times featuring tiny foods made of clay, Julie Simon began creating tiny clay things during the height of the pandemic. An avid reader and book lover, with a steady hand and her magnifying reading glasses, Julie created her first tiny clay book, Donna Tartt's The Goldfinch. She made replicas of all the books she read in 2020—and just kept going, posting her creations on Instagram along with her thoughtful book reviews. Julie's hope is that Tiny Clay Books bring you as much joy as they have brought her.
Artistic Discovery Competition Exhibition
April 17-May 3, 2023
Each spring, a nation-wide high school arts competition is sponsored by the members of the U.S. House of Representatives. The Artistic Discovery Contest is an opportunity to recognize and encourage the artistic talent in the nation, as well as in our Congressional District, represented by Jan Schakowsky. Our district's artworks are exhibited at the library, and the winner of the competition will be displayed for one year in the U.S. Capitol.
D219 Art Exhibition
February 6-March 24, 2023
The District 219 Art Exhibition is a collaborative show that features a variety of work by art students currently enrolled in advanced placement and advanced level courses at both Niles West and Niles North High Schools. Many students featured here are building portfolios for the College Board and are pursuing a scholarship to study varying fields in art. Art courses at District 219 allow students to gain a wide array of experiences, but focus on process, technique, and exploration.
Propose an Exhibit
If you'd like to propose an exhibit to display at Skokie Public Library, please review our exhibit guidelines and submit this form. Unfortunately, because of the volume of proposals we receive, we're not able to individually respond to each inquiry.