Exhibits
Connect with the arts and learn something new. We frequently exhibit a variety of solo and group shows and informational and interactive displays.
Current Exhibits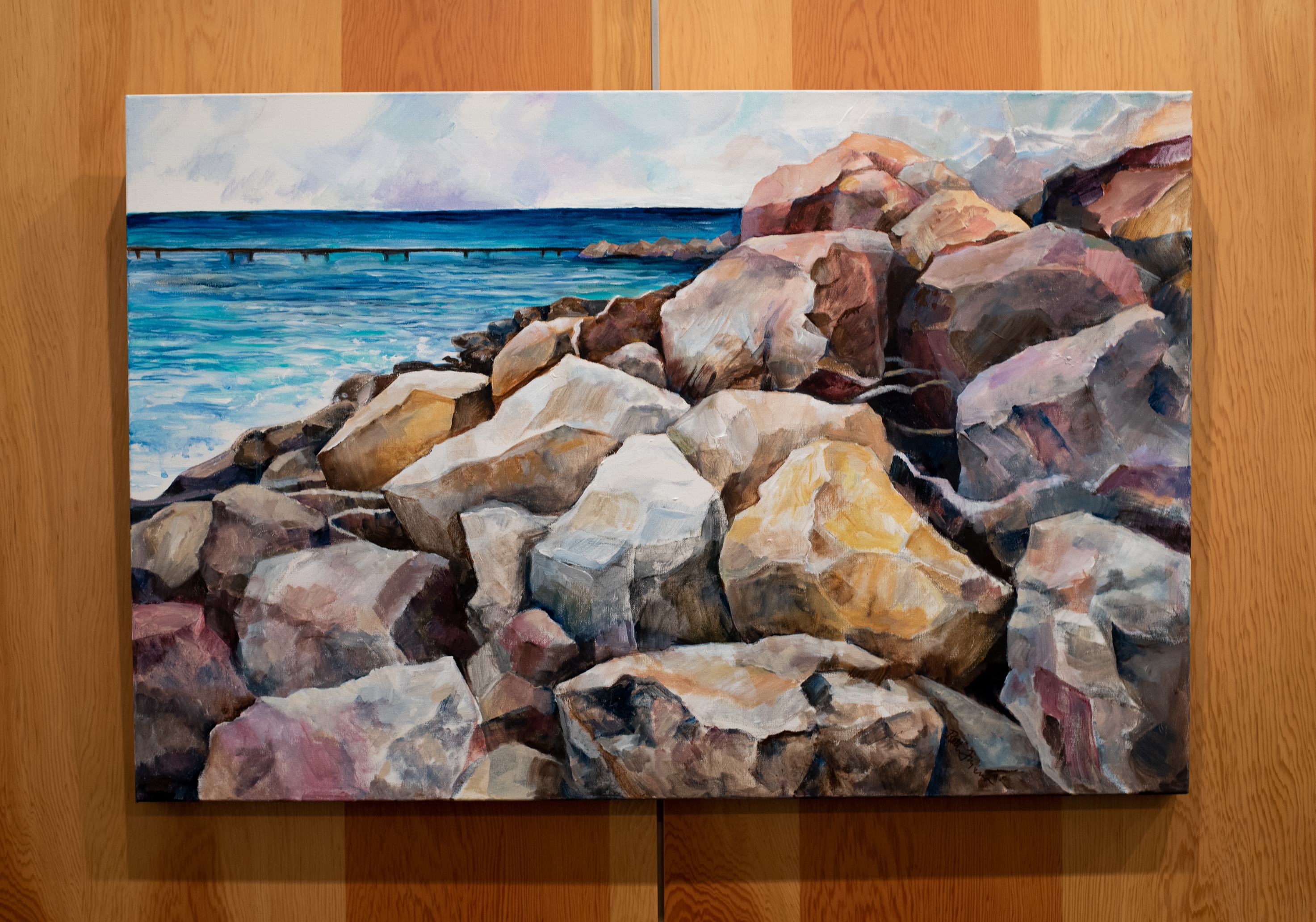 Nature: Observed and Imagined
June 1-July 30, 2023
Ruth Fingerman has been a resident of Skokie since 1971, raising her three children with her husband of 56 years. Her work has been exhibited at numerous art fairs, the Evanston Art Center, Emily Oaks Nature Center, and Kaplan JCC. Ruth grew up in Chicago and attended the School of the Art Institute of Chicago, earning her Bachelors of Art Education in 1967. She taught art in Evanston and later earned her Masters of Education while teaching at Gale Academy in Chicago. Ruth retired from teaching in 2005 and now enjoys exercising, painting, and spending time with her friends and family.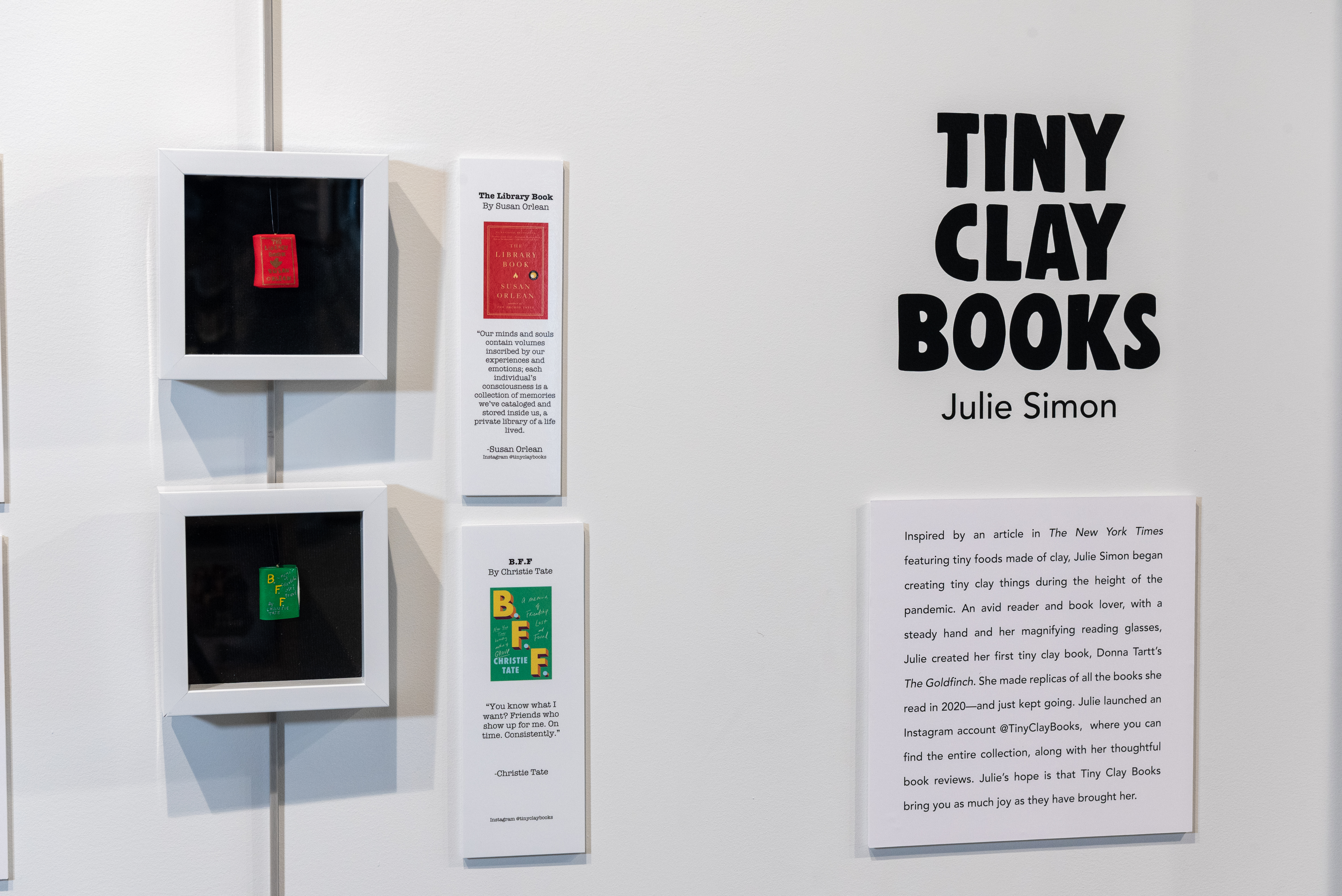 Tiny Clay Books
April 13-June 30, 2023
Inspired by an article in The New York Times featuring tiny foods made of clay, Julie Simon began creating tiny clay things during the height of the pandemic. An avid reader and book lover, with a steady hand and her magnifying reading glasses, Julie created her first tiny clay book, Donna Tartt's The Goldfinch. She made replicas of all the books she read in 2020—and just kept going, posting her creations on Instagram along with her thoughtful book reviews. Julie's hope is that Tiny Clay Books bring you as much joy as they have brought her.
Past Exhibits
Artistic Discovery Competition Exhibition
April 17-May 3, 2023
Each spring, a nation-wide high school arts competition is sponsored by the members of the U.S. House of Representatives. The Artistic Discovery Contest is an opportunity to recognize and encourage the artistic talent in the nation, as well as in our Congressional District, represented by Jan Schakowsky. Our district's artworks are exhibited at the library, and the winner of the competition will be displayed for one year in the U.S. Capitol.
D219 Art Exhibition
February 6-March 24, 2023
The District 219 Art Exhibition is a collaborative show that features a variety of work by art students currently enrolled in advanced placement and advanced level courses at both Niles West and Niles North High Schools. Many students featured here are building portfolios for the College Board and are pursuing a scholarship to study varying fields in art. Art courses at District 219 allow students to gain a wide array of experiences, but focus on process, technique, and exploration.
Visions of Life: Perspectives of Artists and Authors
November 2-December 20, 2022

This exhibit features paintings, along with excerpts from short stories inspired by some of the paintings, curated by local editor Ivy Sundell. We hope that you come to appreciate that people can look at the same paintings and take away different thoughts and conjure different stories. For more stories inspired by art, you can find Visions of Life and Visions of Life 2 in the library's collection.
Art and Nature: Peaceful Messages of Contemplation
September 7-October 24, 2022
Margarete de Soleil celebrates her passion for forms in nature by working on paper with ink, chalk, pastel, and watercolor. Her art is born of her love of nature, and the joy and reflection nature offers.
Now and Here: The Heritage of Morning Calm
May 14-June 18, 2022
Art Korea of Chicago is an association of artists in Chicagoland. "We make art because there's something inside the creative person that needs to get out."
Artistic Discovery Congressional Art Competition
April 20-May 5, 2022
Each spring, a nation-wide high school arts competition is sponsored by the Members of the U.S. House of Representatives. Entries submitted to Congresswoman Jan Schakowsky's office will be on display at the library.

A South Asian Perspective, Grishma Shah
February 26-April 17, 2022
A mixed-media exhibition about an artist's journey of inclusion in the South Asian community. Grishma Shah is an artist with a master's degree in Global Health and Community Health from the University of Illinois, recently completed a Public Narrative program at Harvard University, and received her PhD in Community Psychology from National Louis University. As an entertainment psychologist, she shares messages of human experience to local and global communities through various forms of art and storytelling.
Propose an Exhibit
If you'd like to propose an exhibit to display at Skokie Public Library, please review our exhibit guidelines and submit this form. Unfortunately, because of the volume of proposals we receive, we're not able to individually respond to each inquiry.