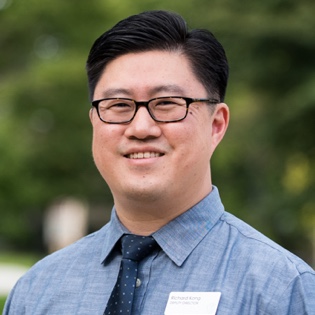 Richard Kong
Director
Administration
Richard oversees the operation and administration of the library, including matters related to library policies, finances, facilities, and personnel. He works closely with library staff and key partners in the local community to ensure progress is made with the library's long-term strategic goals and annual objectives. He serves on the Board of Directors of the Skokie Chamber of Commerce and is a member of the Rotary Club of Skokie Valley. Richard is also a recognized leader in the professional library community, and previously served as an executive board member of the Public Library Association and as an executive board member of the Illinois Library Association.
Blog Posts
Many Thanks to Our Outgoing Board President
Recognizing Mark Prosperi and his years on the Board of Trustees
Keep reading
---
Please Use Our East Doors
The west parking lot and west doors are closed during our repaving project.
Keep reading
---
A New Library in a New Phase
We want to welcome you to enjoy some expanded offerings at the library and keep you informed about what to expect when you visit.
Keep reading
---
View all blog posts