What to Expect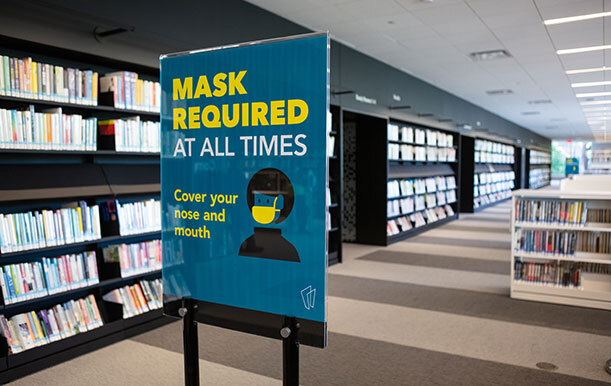 The global pandemic and our ongoing renovation limit the available space in the building and the in-person services we can offer safely. Learn more about our path to reopening.
At this time, we do offer several ways to use the library: in our building (enter through the east side only), through curbside pickup, or in your own home.
Safety Procedures

If you come to the library for one of the services listed below, you will need to follow our safety procedures. We may ask you to leave if you do not adhere to these guidelines.

You must wear a mask that fully covers your mouth and nose at all times.
You must limit your visit to 30 minutes.
Whenever possible, only one person from your household should visit at a time.
If you or anyone in your household is not feeling well, please do not visit the library.
We will limit the number of people allowed in the building and may ask you to wait outside until someone else leaves before we invite you to come inside.
Maintain at least a 6-foot distance from others at all times.
Only one person or family will be allowed in the elevator at a time.
Hand sanitizer and wipes will be available and we encourage you to use them.
Follow all instructions given to you by our staff.
Our staff will maintain a 6-foot distance from you at all times.
We can only provide the services described below. We will not be able to provide other services at this time. No study rooms or general seating are available. Visit this page for updates as we are able to expand our services. If you need special accommodations, please call 847-673-7774 to discuss the available options.
Browsing and Checking Out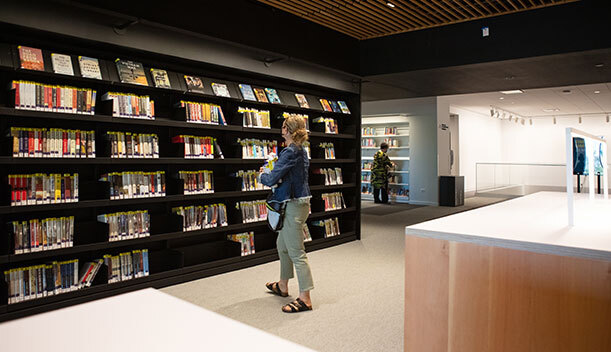 You may visit the library and look for items to check out Monday through Friday, noon-6 pm, and Saturday and Sunday, noon-3 pm. Enter only through the east doors, adjacent to the Village Green. We recommend parking on the east side of the building in the Village lot.
Many items are still in storage due to our ongoing renovation. Check the catalog to see what is available. We cannot help you find specific items on the shelf during your visit. Download a PDF map of our temporary collection locations. If you are looking for something in particular, please request that item for curbside pickup instead. Magazines and video games are not available to browse, but can be reserved for curbside pickup. Print newspapers are not available at this time but there are online options.

Please limit your visit to 30 minutes. If you wish to check things out, you will need to use the self-checkout kiosk. You may scan your card or type in your barcode number. Our staff cannot check things out for you. If you need a library card, you can apply for one online.
If you would like to return items, we only accept returns in our book drop on the south driveway of the library. Whenever possible, please do not return your items until their official due date. Due to our quarantine process, allow up to one week for returned items to come off of your library account. Read more about returns.

Computer Appointments
A limited number of computers are available by appointment only Monday through Friday, noon-6 pm, and Saturday and Sunday, noon-3 pm. Call 847-673-7774 to make a reservation. Appointments are limited to 30 minutes. No extensions will be given. Black and white printing is available, but we cannot provide copying, scanning, or faxing at this time. When you arrive for you appointment, enter only through the east doors, adjacent to the Village Green. We recommend parking on the east side of the building in the Village lot.

If you need assistance with a personal device, please call 847-673-7774 to make a virtual one-on-one appointment with a staff member.

Curbside Pickup
Request specific items through the catalog and we'll notify you by email when they become available. After you receive your pickup notice, come to one of our curbside locations during designated hours. Visit our curbside pickup page for full instructions, locations, and schedules.
Online Options
Many of our services are available online, including events and activities, chat, eBooks and other digital resources, and much more. Learn about using the library at home.