BOOMbox
The BOOMbox is an interactive space designed to promote STEAM learning for all ages. Find more learning experiences for adults and teens in the Studio.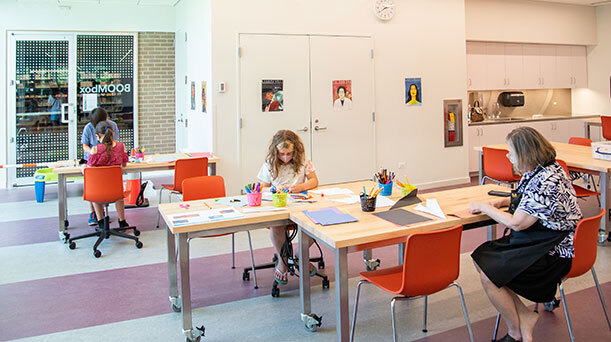 Have Questions?
Amy Holcomb, Experiential Learning Supervisor
Using the Space
Visit the BOOMbox for featured STEAM activities intended for children in grades K-8. Capacity is limited. Children under 8 must be accompanied by an adult.
Drop-in Hours
Monday-Friday: 3-6 pm, 6:30-8:45 pm
Saturday and Sunday: noon-3 pm, 3:30-5:45 pm
BOOMbox at Home
Watch BOOMbox at Home videos, read our weekly BOOMbox blog posts, and find specific activities to do below.
BOOMbox Booklets
Enjoy these downloadable PDF booklets full of activities to try at home.
How Do I Make That?
Have you ever wondered how some materials are made? These activities can help you learn the ingredients of items, as well as how to make them.
Hide and Seek
Learn all about disguises and things unseen by the human eye with experiments involving spy codes and camouflage.
Exploring the Elements
Experiment with the four elements of earth, air, fire, and water with DIY pinwheels, fart charts, and edible candles, to name a few.
Great Outdoors
Explore nature in your backyard and beyond by making slime, designing sculptures, building a bee watering station, and more.
Be a Poet
Poetry is a fantastic way to express yourself.
Follow a poetry resource guide and explore the structure of poetry.
Create your own poems using materials you have at home.
SKOKIE NATURE WITH NEIGHBORS
Observe the natural world around you and log what you see as part of a community project to document and classify the biodiversity in Skokie.