Bookmobile
Have Questions?
Bookmobile Staff
New Schedule
We're out and about in Skokie six days a week. We're changing some stops and adding some new ones to our route. Check out the new schedule and find the time and location that will be most convenient for you.
Depending on available parking at certain intersections, the bookmobile may not be able to stop in the exact same location each week. Please look around for the friendly blue bus and you'll be sure to find us within a block of the posted location.
*Saturday Schedule
The bookmobile goes out every other Saturday. It will make the Saturday stops listed above on the following dates:
November 11
November 25
December 9
December 23
Check this page for more dates.
AVAILABLE SERVICES
Masks are recommended while browsing on the bookmobile. You can get a library card on the bookmobile. Holds pickup is also available. We also offer free WiFi outside the bookmobile while it is parked at each community stop.
Picking Up Holds at the Bookmobile
When you reserve an item in our catalog, just specify that you would like it to pick it up from the bookmobile.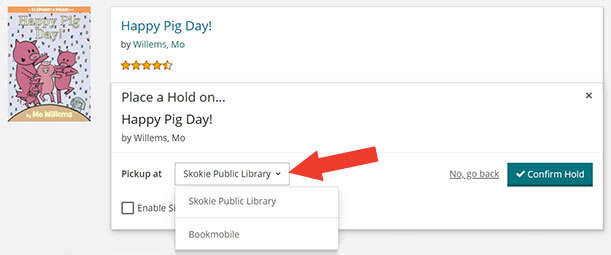 If you aren't prompted to choose a pickup location when you place a hold, you may need to turn off one-click holds in your library account. You can also change your settings if you would like the bookmobile to be your default pickup location.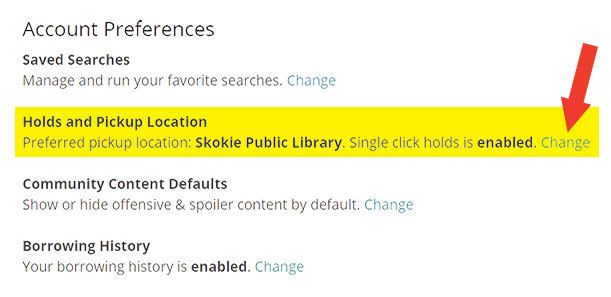 After you place your hold, wait for an email confirmation saying that your item is ready, and then visit any of our community stops to collect it! You'll have 7 days to pick it up after we send the email. Please wear a mask and follow all instructions on the posted signs when you arrive at the bookmobile.
Reserved items that aren't specifically requested for bookmobile pickup will be held inside the library building.
If you already have items on hold and you would like to change the pickup location to the bookmobile, just log in to your library account to view your list of items On Hold and adjust the "Pick Up At" option for each item using the dropdown menu. Please check your library account and make sure that all of your items set to the correct pickup location.

Questions?
Need help changing your pickup location? Email us at bookmobile@skokielibrary.info, or call the bookmobile office: 847-324-3416.
Learn More
The bookmobile has been operating in Skokie for over 60 years! Read about the history of our beloved library on wheels, and check out this video featuring testimony from bookmobile staff and patrons.

Book Bike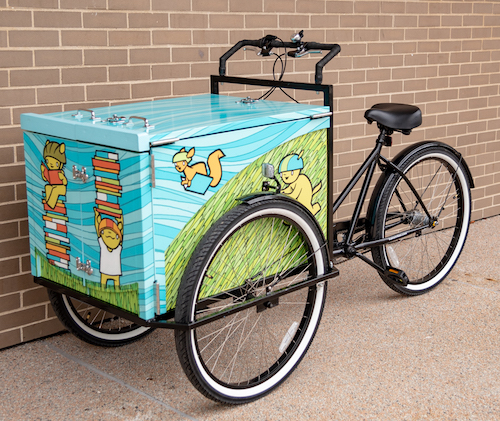 Be on the lookout this summer for our book bike! You can find us, weather permitting, at all sorts of events. You may even spot us exploring your neighborhood on one of our community rides.