Bookmobile
Our bookmobile is a mobile library that brings books, DVDs, and more to locations throughout Skokie.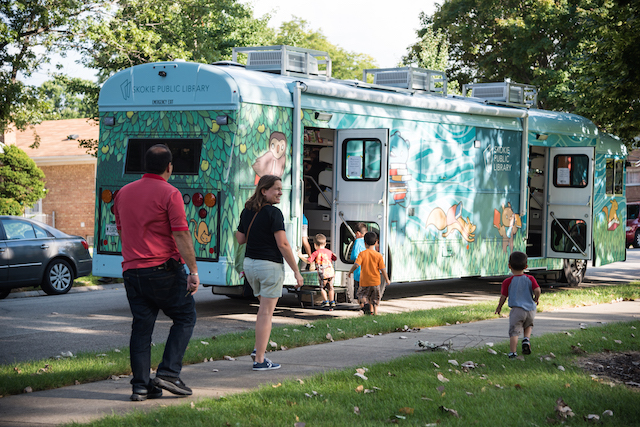 Curbside pickup is available at special community stops through November 29, 2020.
Have Questions?
Bookmobile Staff
New Schedule
Starting December 1, 2020, we'll be out and about in Skokie six days a week. We're changing some stops and adding some new ones to our route. Starting December 1, when you reserve an item in our catalog you'll be able to specify whether you would like it held in the library building or on the bookmobile. Check out the new schedule and find the time and location that will be most convenient for you.
Depending on available parking at certain intersections, the bookmobile may not be able to stop in the exact same location each week. Please look around for the friendly blue bus and you'll be sure to find us within a block of the posted location.
AVAILABLE SERVICES
For everyone's safety during the pandemic we still can't let you come aboard, but curbside pickup is available! We're also offering free WiFi outside the bookmobile while it is parked at each community stop. Please maintain a 6-foot distance from others while using the WiFi.

Learn More
The bookmobile has been operating in Skokie for over 60 years! Read about the history of our beloved library on wheels, and check out this video featuring testimony from bookmobile staff and patrons.