Curbside Pickup
Skokie cardholders can request items for curbside pickup. We may need to adjust the service hours or make other changes depending on the circumstances of the ongoing COVID-19 pandemic. Check this page for updates!
Update, July 9: Our afternoon community stops are cancelled the next few days. The vehicle will instead be in the library parking lot during these times:

Thursday, 7/9: 2-5pm
Friday, 7/10: 2-5pm
Sunday, 7/12: noon-6pm
Monday 7/13: no afternoon service
The morning and evening curbside pickup schedules remain the same.
Requesting Items
Log in to your library account and search the catalog for items you would like to check out. Place a hold on any item listed as "available now."

You can filter your search results to only the available items by checking the box on the left side of the screen.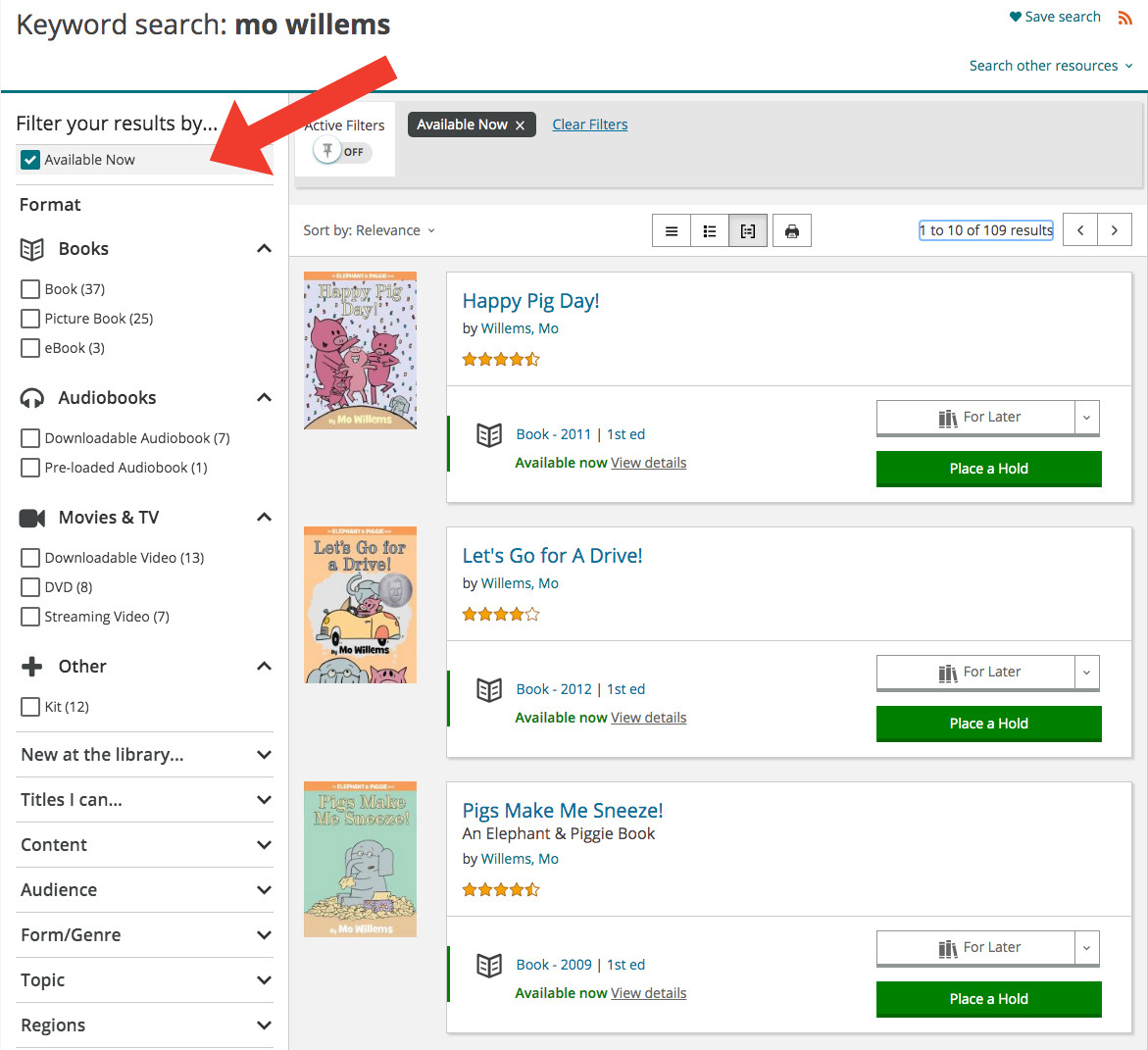 We will get the requested items off the shelf and set them aside for you. This may take several days depending on when you make your request, the availability of the item, how many requests we're working on, and our staff availability.

When your items are ready to be picked up you will receive an email confirmation. Please wait until you receive that email before coming to the library during curbside pickup hours. Your items will not be ready until we notify you.
Picking Up Items at the Library
After you receive an email stating that your items are ready, you will have seven days to pick them up. Visit the bookmobile in the main parking lot on the west side of the library during curbside pickup hours:
Monday-Friday, 9 am-noon and 6-9 pm
Saturday, 9 am-noon and 2-5 pm
Sunday, noon-3 pm
You may also visit one of our special bookmobile stops to pick up your items during additional hours.
Follow the signs until you are able to pull into the designated curbside space next to the bookmobile. We are only able to serve one vehicle at a time. If someone is already in the designated space, please wait inside your vehicle until you are able to pull forward. During especially busy times, we may direct you to pull into an overflow parking area and wait. We appreciate your patience!
Once you are in the designated space, stay in your vehicle and call the number on the posted sign. Have your library card number ready. We will bring out your items and place them on a table. Please stay in your vehicle until we have gone back inside the bookmobile. You must wear a mask to pick up your items.
You do not need to have a car to use curbside pickup! There will be an area for pedestrians near the bookmobile. Wait there and follow the instructions on the sign.
PICKING UP ITEMS AT Special BOOKMOBILE STOPs
Our bookmobile will make special stops around Skokie to provide additional curbside pickup opportunities. All of your items will be on the bookmobile whether it's parked at the library or out in the community. Visit the place and time most convenient for you.
When you arrive at one of these locations, have your library card number ready and follow the instructions on the posted sign. You'll need to wear a mask to pick up your items.
Keep Your Checked-Out Items
At this time we are not able to process returned items. We are following the latest research on how to handle recirculating items and planning safe procedures that will allow us to collect them eventually.
Until then, please do not use our book drops or bring items back when you come for curbside pickup. We cannot accept them and they will remain on your account. You can continue to enjoy your previously checked-out items and anything that you take home from curbside pickup until further notice. You may see a due date assigned when you look at your online account, but we will extend those due dates until we are able to accept returns. And remember, we no longer charge overdue fines on anything!
Availability of Items
When you search the catalog for items, you may notice that many are marked Unavailable. This is due to our ongoing renovation project. Much of our collection has been placed into storage temporarily while construction continues inside our building. We are not able to request items from other libraries via LINKIN or interlibrary loan at this time, and we appreciate your patience with the temporarily limited selection. Don't forget that we also have a huge selection of eBooks and other digital items that you can check out from home!
Because we are extending due dates on checked out items and asking everyone to keep them at home, we do not recommend placing holds on anything that is currently checked out to someone else. It may be a long wait for those items. You may place holds on things that are marked On Order but please be patient while we catch up with processing new items that have been ordered during our temporary closure.
You may not find exactly what you're looking for, but we're here to help. Our expert staff have created lots of lists of their favorite titles. We can also recommend titles specifically for your tastes through our Bookmatch and Screenmatch services.
Getting Help
We know that this is a confusing time and that curbside pickup is a new way of using the library. Let's figure it out together! Call 847-673-7774 or use the chat box in the lower-right corner of our website to get help from our staff any time during normal library hours. Send us an email if you have suggestions. Connect with us on Facebook, Twitter, and Instagram so that we can stay in touch regularly. And subscribe to library emails by entering your email address below so that you get all the latest news.