Families
We love our families! We're here to support parents and caregivers so that your kids can thrive at home and in school. Learn more about our resources for children from birth to kindergarten, and for school-age children.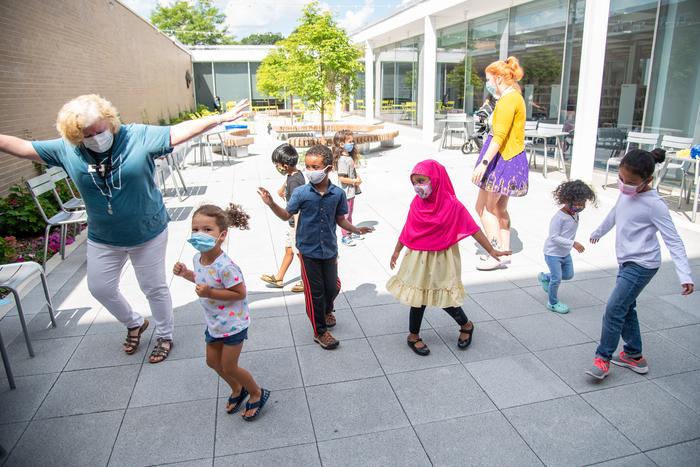 Supporting Your Needs
Everyone is welcome here! Read our social narrative to help prepare for your visit. Learn more about our services for children with disabilities.
There are family restrooms and a nursing room located in the Kids Room.
Books and More
We have great stuff to check out with your library card. Don't have a card yet? Request a library card online.
Browse Books
Download a map of our Kids Room, including a helpful guide to our picture book collection. We've made browsing easier with helpful categories and simple stickers. You'll find readers, easy fiction, fiction, and nonfiction collections. We also have graphic novels, magazines, board books, and more.
Parenting Collection
There are even some books for grown-ups in the Kids Room. Find helpful titles on everything from potty training to discipline in our parenting collection.
Lists
Our expert staff have compiled lots of recommended reading lists on all sorts of subjects.
Little Learners Backpacks
Each themed bag includes stories and nonfiction books along with a music CD and game or toy.
STEAM Kits
Explore science, technology, engineering, arts, and math with interactive kits full of engaging materials.
Online Resources
You can search our catalog for eBooks and downloads, or use one of these great resources.
Narrated stories, games, and reading practice for preschool and elementary school students. Includes a basic encyclopedia for the youngest learners.
Kids mode on Hoopla has thousands of titles. You can also get seven-day access to the Hellosaurus early learning app for preschoolers and kindergartners through Hoopla's Bingepass.
Printable activity sheets, lessons, summer workbooks, mini books and lesson plans for grades Pre-K-6. Search by grade level, subject, state standards, theme, or genre.
Events and Programs
Check out our calendar of events.
Fun Things to Do
We have a treasure trove of online activities, videos, and more, handpicked by our staff, for your family. Do them whenever and wherever, whether at the library, at home, or on the go.
Summer Reading
Our annual seasonal celebration of all things reading! Visit the summer reading page for all the details.
Museum Adventure Pass
Use your Skokie Public Library card to get discounts and passes to more than a dozen participating destinations through the Museum Adventure Pass program. Passes have limited availability and some attractions may have temporary restrictions or seasonal hours. We recommend calling ahead to confirm. Call 847-673-7774 or stop by the Kids desk to check out passes. View available passes. Many museums also offer free days.
Community Support
Need some extra resources? Here is a list of community organizations that may be able to help.