Fun Things to Do
Each week our staff creates a list of fun activities, videos, and other online resources to keep you happy and entertained at home.
Here are this week's activities:

Featured Activity
Be the Artist: Betye Saar and Sheroes (All Ages)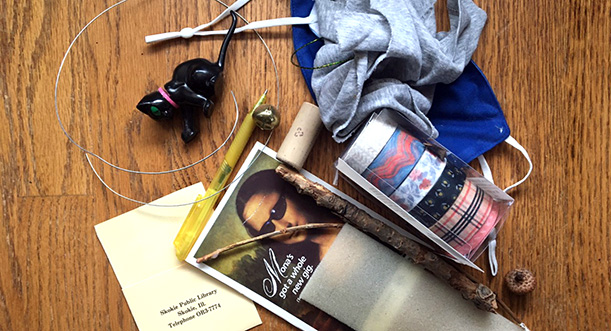 Betye Saar is a contemporary assemblage artist in California who tells visual stories with her art. Assemblage art is made with three-dimensional objects. With Betye Saar's art and the beginning of Women's History Month in mind, create a shero. A shero is a hero/heroine who fights for human rights. Who is your shero?
FOR KIDS
BOOMbox at Home: Plastic Bag Parachute
Recycle a plastic bag to create a parachute. After finishing this project, your toys will be ready for all sorts of sky-diving adventures.
Storytime at Home: Winter
You and your little one can enjoy storytime at home. Share some stories, songs, and activities to explore the winter season.
You can also find resources and recommendations from our staff.
FOR ADULTS
How to Make a Zine: Colors and Shapes
Zines are a fun way to document and share stories about anything that interests you. Express yourself and "get your zine on" as we focus on the analog and digital formats zines can take, how to draft and develop content for your own 8-page zine, and exploring colors and shapes.
You can sign up for our newest series of zine-making workshops on our events calendar!
Navigating the Job Search: Informational Interviewing
Get an edge on the competition by networking your way to your next career. Martin Gahbauer of Elmhurst University provides a guide to take control of your job search by conducting a series of directed interviews that will develop your network and help you land a good job.
Archives
For even more ideas, browse our activity archives: