Parents
We want to make your child's library experience one they will remember. Learn more about what we offer for babies through 8th graders.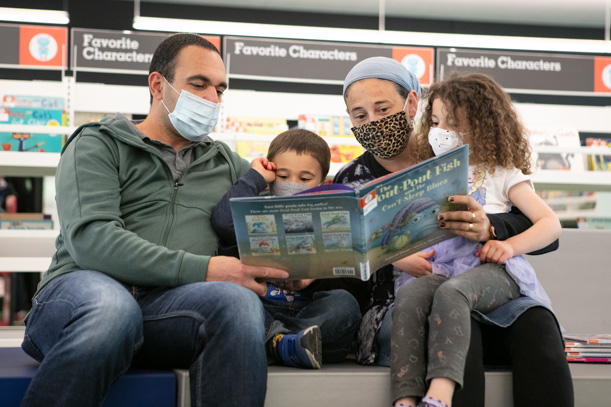 Programs and events
We offer many lively storytimes and interactive programs for kids and families. View upcoming programs and events.
Check out our Fun Things to Do page for lots of activities, videos, streaming performances and more.
Booking with a Buddy
Kids entering grades 1-3 in the fall can be "little buddies," taking part in this literacy program that promotes reading during the summer.
MUSEUM ADVENTURE PASS
Use your Skokie Public Library card to get discounts and passes to more than a dozen participating destinations through the Museum Adventure Pass program. Passes have limited availability and some attractions may have restrictions during the pandemic. We recommend calling ahead to confirm. Call 847-673-7774 or stop by the Kids desk to check out passes.
Sing-along videos
Did you know that singing and fingerplays are great activities to promote early literacy with your children? Explore our collection of singalong videos, made with local preschool teachers and parents.
Books and reading
A collection of animated, narrated picture books that kids can follow along word for word.
Discover great books for children from kindergarten through grade 8. Browse lists of award-winning titles or search for books by grade level or Lexile score.
Get weekly emails with personalized reading recommendations for your kids. Recommendations also include helpful reading tips and activities to engage your children with books. Best of all, it's powered by your favorite librarians!
Skokie schools
Skokie has many public and private schools. SkokieWiki's Directory of K-12 Schools features a complete list of school websites and contact information. A comprehensive listing of Skokie preschools and child care centers is also available.