Our Values: Education and Lifelong Learning
April 15, 2023 by Annabelle Mortensen in Around the Library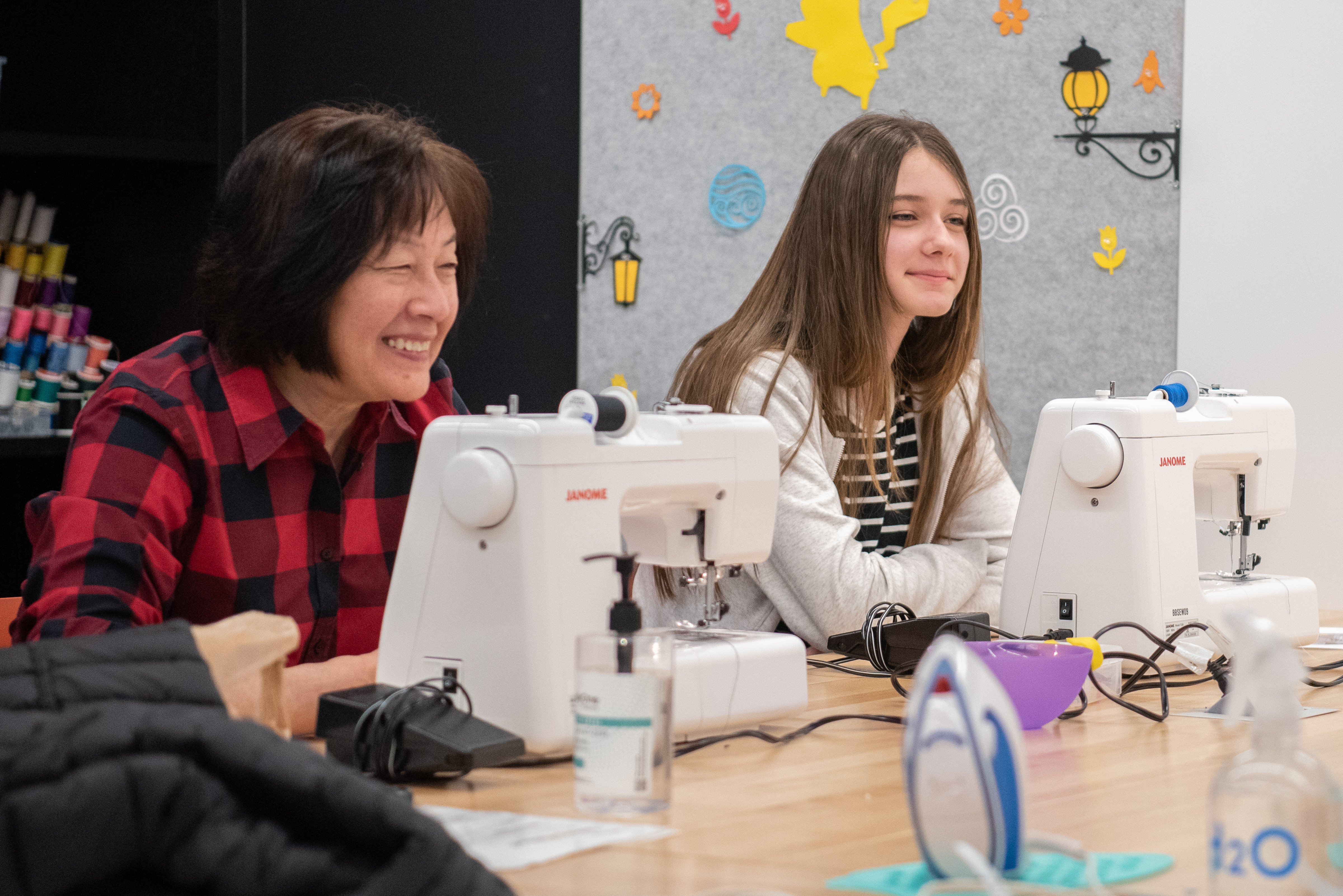 If you ask people to describe a public library, many would mention books, storytimes, computers, or research. Less well-known are the core professional values supporting every library service. In celebrating National Library Week, we're spotlighting three foundational library values: intellectual freedom, preservation, and education and lifelong learning.
Public libraries are synonymous with education, have been popularly coined "a people's university," and are partners in literacy and learning for what the American Library Association has called "the key to longer, healthier, and more satisfying and productive lives."
Although our robust book collection may be the clearest symbol of how much we value education and learning, we also have a department dedicated to all the ways people learn in and with the library, including teams focused on information, events, and experiential learning.
Our experiential learning spaces allow for self-directed activities and provide resources and equipment to spark innovation and creativity. Kids can explore STEAM concepts and topics like energy or architecture in the BOOMbox and access computers, video gaming, and digital production tools in the Lab. Adults and teens in high school can tinker with textiles, 2D and 3D fabrication, art, and digital content in the Studio.
The library also hosts more than 1,200 in-person and online events throughout the year: everything from storytimes and author visits to foraging and crafting a resume. For up-to-the-minute information on classes, lectures, workshops, and performances, visit our event calendar and filter by event type or audience.
We also offer a host of free, self-paced online training courses that can help you learn technology, master a craft, or pick up a new language right from home.
Gale Courses has six-week community-college-level courses on several hundred subjects, with new classes starting each month. You can brush up on key workplace skills such as project management, accounting, and technology, or tackle subjects as varied as sign language, investing, writing, drawing, and human anatomy.
LinkedIn Learning, formerly known as Lynda.com, features video courses covering business, technical, and creative skills taught by industry experts. Videos have captions and transcripts and the platform supports multiple languages, including Spanish and Chinese.
If you are looking for a deeper dive into technology, try Treehouse, which provides detailed interactive coding classes for all levels. Learning modules vary from a two-hour web design class to a 55-hour front-end web development track that teaches HTML, CSS, and JavaScript.
Crafters and DIY enthusiasts will want to explore Creativebug's video library, with thousands of classes on creative activities, plus prompts on dozens of topics to help build a daily art practice. Each class includes supplemental PDF downloads that provide a list of materials and written instructions for each project.

Mango Languages provides individualized beginner learning for more than 70 languages, aimed at helping you learn practical conversation skills. It includes unique features such as literal translations and short movies that help reinforce language skills. Once you create an account through the library, you can download the Mango app to your mobile device.
All of these resources are available to you for free, you just need your library card!