Let the Library Come to You
May 29, 2018 by Chris Auman in News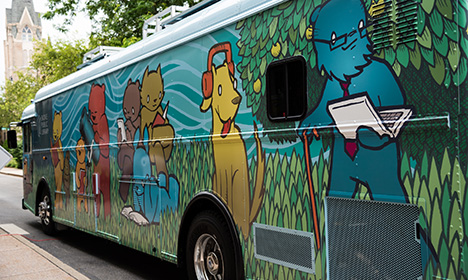 Sometimes it's not convenient, or even possible, to come to the library in person. But don't worry. If you have a Skokie library card there are plenty of ways the library can come to you. Books, movies, magazines, and learning opportunities are all at your fingertips. Find out more!
Audiobooks and eBooks
If you prefer to listen to your books or read them digitally, we have you covered. Hoopla is a digital resource for audiobooks and eBooks too. Watch or listen on your computer, tablet, or phone. Download the Libby app from Overdrive and access thousands more titles—Kindle books too. For the little ones, Tumblebook Library for Kids is a fantastic online library full of picture books with animation, music, sound, and narration to really bring stories to life.
Music, Magazines, and Movies
Naxos Music Library offers an amazing amount of classical, jazz, folk, and world music selections, with new albums added monthly.
Use your library card to create an account at RBDigital, then check out your favorite magazines.
In addition to music, you can stream thousands of movies and tv shows from Hoopla. Prefer independent films, documentaries, and educational courses? Then give Kanopy a try. Just download either, or both, of these apps to get started.
Learning Resources and Information
We have many online resources you can use outside of the library. Use them to research a topic, get consumer information, information on business and investing, or homework help. You can even learn a language at home, in the park, or wherever you'd like.

Going Mobile
Our fabulous bookmobile makes the rounds five days a week bringing books, DVDs, and more to locations throughout Skokie. Check the bookmobile schedule for times and locations. And detail will be coming soon about the debut of our new book bike!
Homebound Delivery
Age, illness, or a temporary or permanent disability shouldn't keep anyone from taking advantage of what the library offers. Our Homebound Delivery volunteers bring the library to these patrons once a month.