3D printing
We strive to make new technology available to everyone. That's why we have 3D printers available for you. Read more to find out how you can take advantage of this 21st century technology at the library.
Using our 3D printers
To use one of our 3D printers, flll out a printing request form or bring your file to the Tech Help Desk on a USB drive. Please keep the following things in mind before you submit your request:
Files should be in STL format (.stl).
Our printer can accommodate files up to 10" x 8" x 8".
A maximum of 2 hours will be allowed for each print job.
We cannot accommodate requests for specific colors.
Files will be printed as is.
Please allow 1–2 weeks for your file to be printed.
You will be notified by phone or email when your print is complete. We will hold print jobs at the Tech Help Desk for 7 days.
The library is not responsible for failed 3D prints, although we will do our best to assist in completing successful 3D prints.
The library reserves the right to refuse any 3D print request.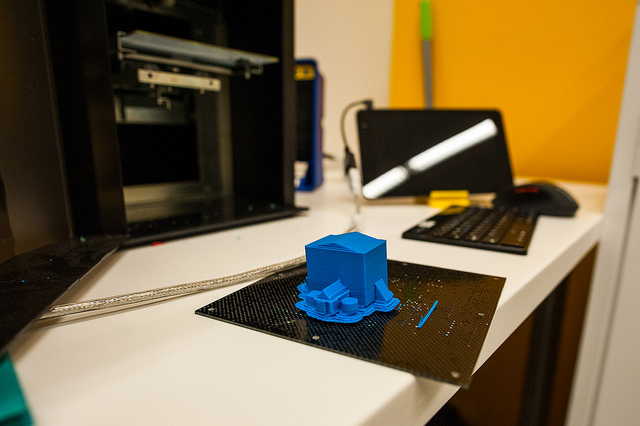 Design resources
Software
We recommend Tinkercad, a free, web based 3D design tool, for beginner designers that includes lessons or short tutorials to learn the many features available to users. You'll need a valid email address to sign up.
You also can try SketchUp and Autodesk 123D. Both require downloading the free software.
Free STL files
You can get free designs from Thingiverse, an online community for 3D printing. Search by keyword, or browse collections and categories for a design of your interest. The STL file is available for download.
Getting into 3D printing
Amanda got interested in 3D printing because she loved origami. Now she makes her own designs and prints them at the library.
Our 3D printing policy
If you have more questions about what you can and cannot do with our 3D printers, please consult our 3D printing policy.