Popular in Skokie
December 22, 2015 by Jane Hanna in Lists and Reviews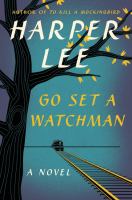 Everyone publishes year-end lists. If you wanted to know what the best reviewed and best-selling books of 2015 were, you could find that info anywhere. But Skokie is a special place, and our patrons have their own unique tastes, so instead of a generic year-end list, we thought we'd have a look back at our own local community's 2015 favorites.
We crunched some numbers and figured out which books* were checked out the most during the year. So what were you and your neighbors reading? Here's the top ten:
A few other notables:
Harlan Coben's The Stranger was the most popular mystery in Skokie, with 513 checkouts in 2015.
One of the most talked about books of the year, Go Set A Watchman by Harper Lee, was only the 20th most popular title at the library, with 437 checkouts.
Fans of adult nonfiction enjoyed Erik Larson's Dead Wake, which was checked out 431 times by Skokie patrons.
Even one cookbook cracked the top 50 most popular books! Make It Ahead: A Barefoot Contessa Cookbook by Ina Garten was checked out 382 times.
How many of these did you read? And what do you think will be the most popular books at the library next year? Tell us on Facebook!
* Just physical books. The count does not include audio or ebooks.