Catching up with the Bookmobile Crew
October 14, 2020 by Meghan White in Around the Library
Hi! My name's Meghan, and I'm the staff photographer for Skokie Public Library. Recently, I followed the bookmobile and its crew to five different community stops over the course of a week to learn more about what makes curbside pickup at these locations so special.
Here's what I observed, what I learned about our staff, and some stats I counted along the way. Visit our curbside pickup page for the full schedule of special community stops.

Monday, 3:30-4:45 pm: McNally Park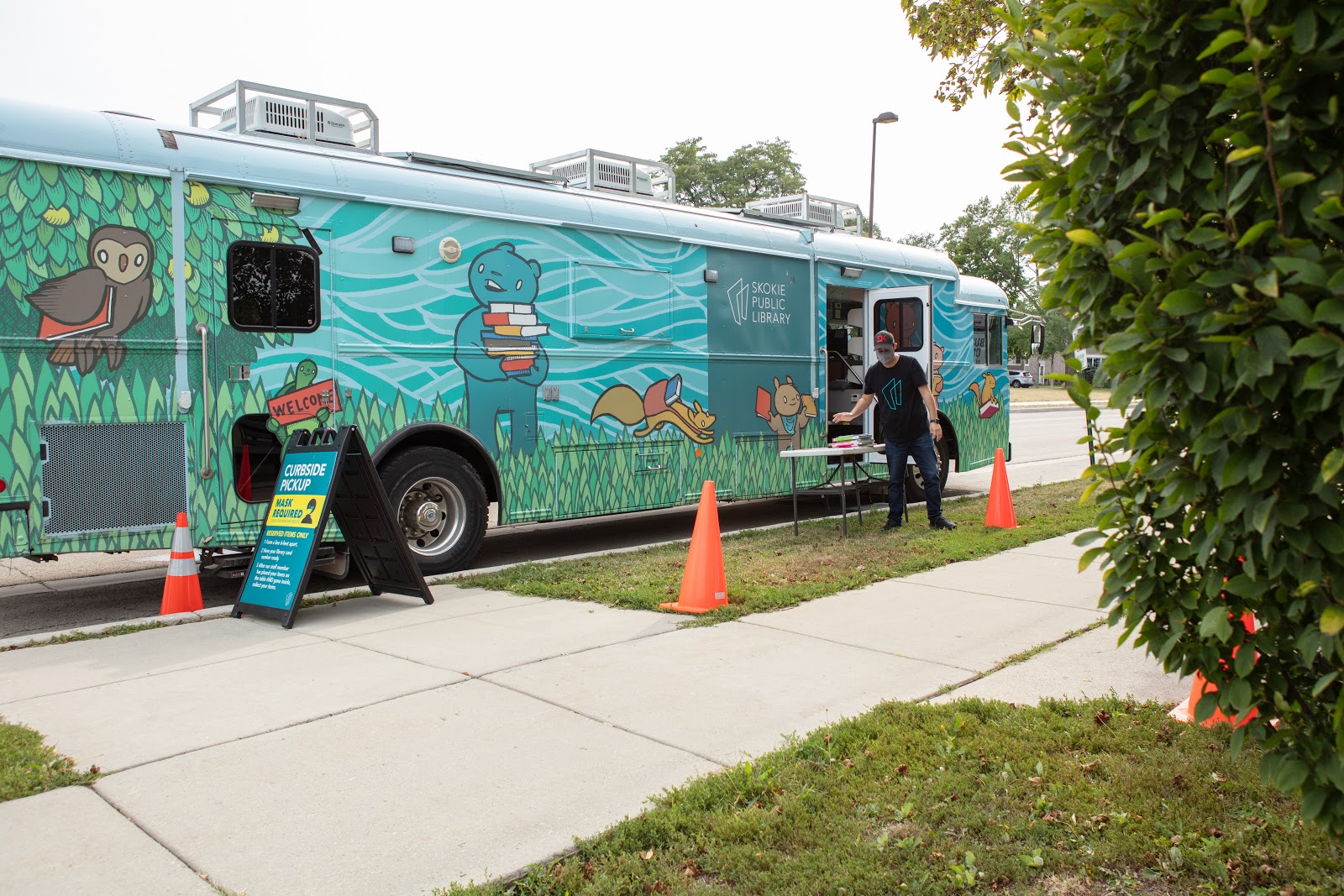 It's quiet and breezy. A few kids are playing football next to the baseball diamond, and another walks across the open field to the doors of Ida Crown Jewish Academy, just south of the park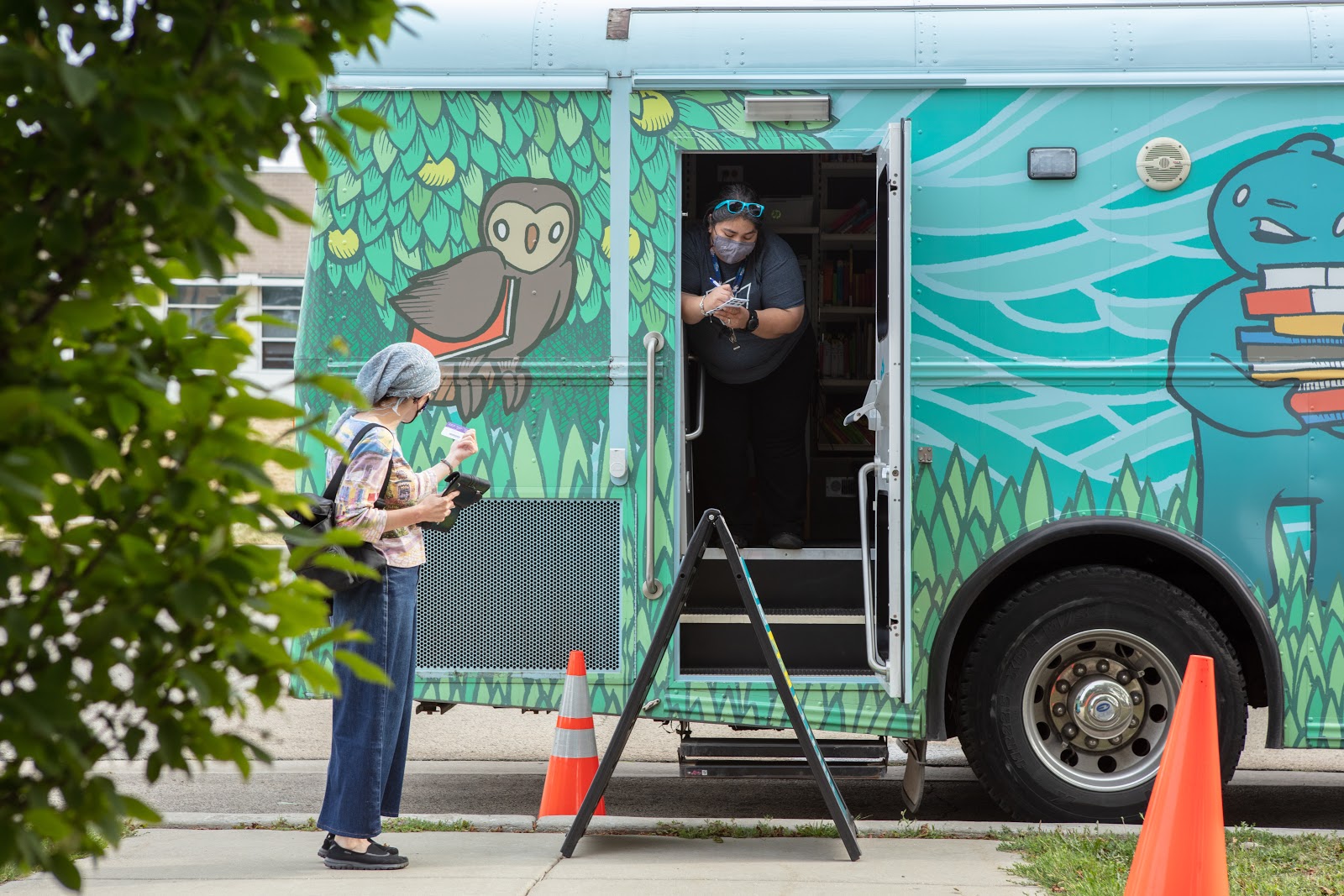 Number of items on board: 3,178
Bookmobile mileage: 18,384
Weather: 79° and partly cloudy
Number of "hellos" and other greetings: 14
Squirrel count: 1

Sargon, one of our information specialists, told me: "The bookmobile gives us an opportunity to go out into the community and bring the library to people there. Everyone on the bookmobile team is awesome, and it's so nice and fun to see how much patrons appreciate the service we provide. And I like driving it!"
What Sargon's reading: Will to Live: Dispatches from the Edge of Survival by Les Stroud
What he's watching: Boardwalk Empire, The Wire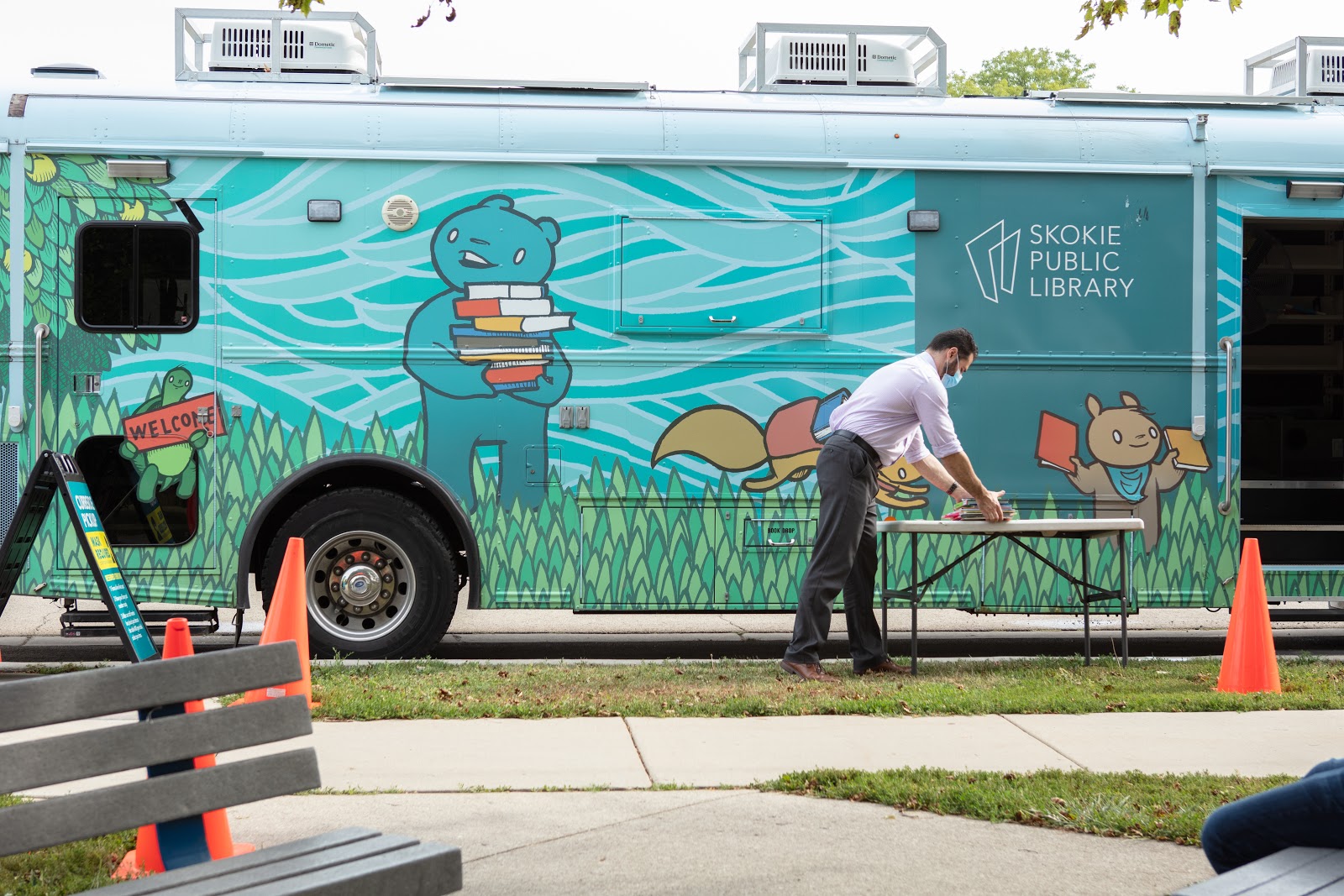 Tuesday, 1:15-2:30 pm: East Prairie School
It's rainy, but four patrons have already stopped by to pick up their holds before I arrive. Carl and Eli are working today, and Carl kindly offers to stand outside with an umbrella so I can safely chat with Eli in the bookmobile (only two people can be on board and still maintain a 6-foot distance). It feels cozy with the raindrops fogging the windows and so many books inside.

Number of items on board: 3,132
Bookmobile mileage: 18,390
Weather: 71° and rainy
Number of "hellos" and other greetings: 4
Squirrel count: 0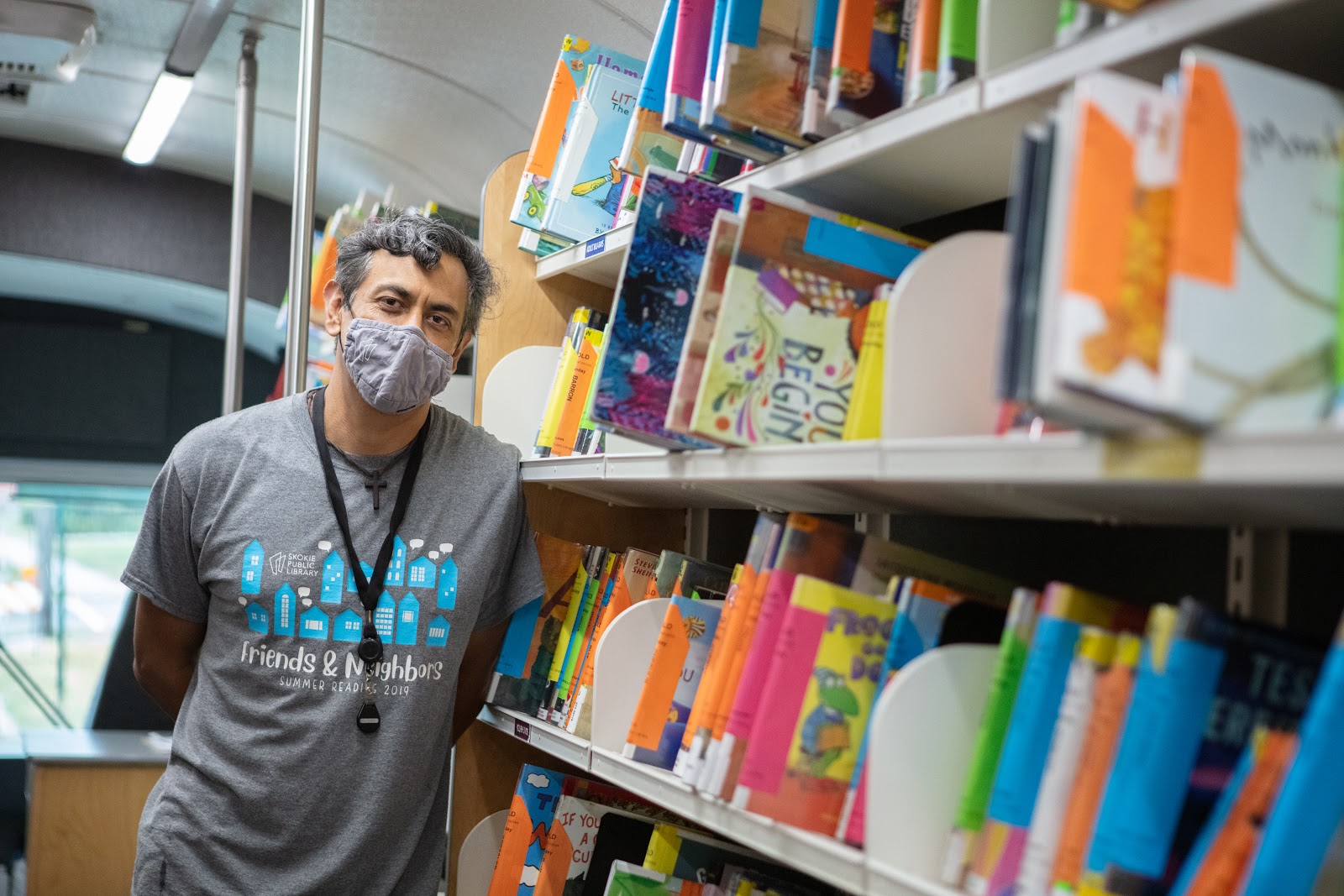 Bookmobile assistant Eli's kids think it's very cool their dad works on a bookmobile, and while he misses having young patrons on board to introduce them to so many fun books, he agrees that now is a great opportunity to become a bookmobile regular by visiting the curbside community stops!
What Eli's reading: Defying Hitler: The Germans Who Resisted Nazi Rule by Gordon Thomas and Greg Lewis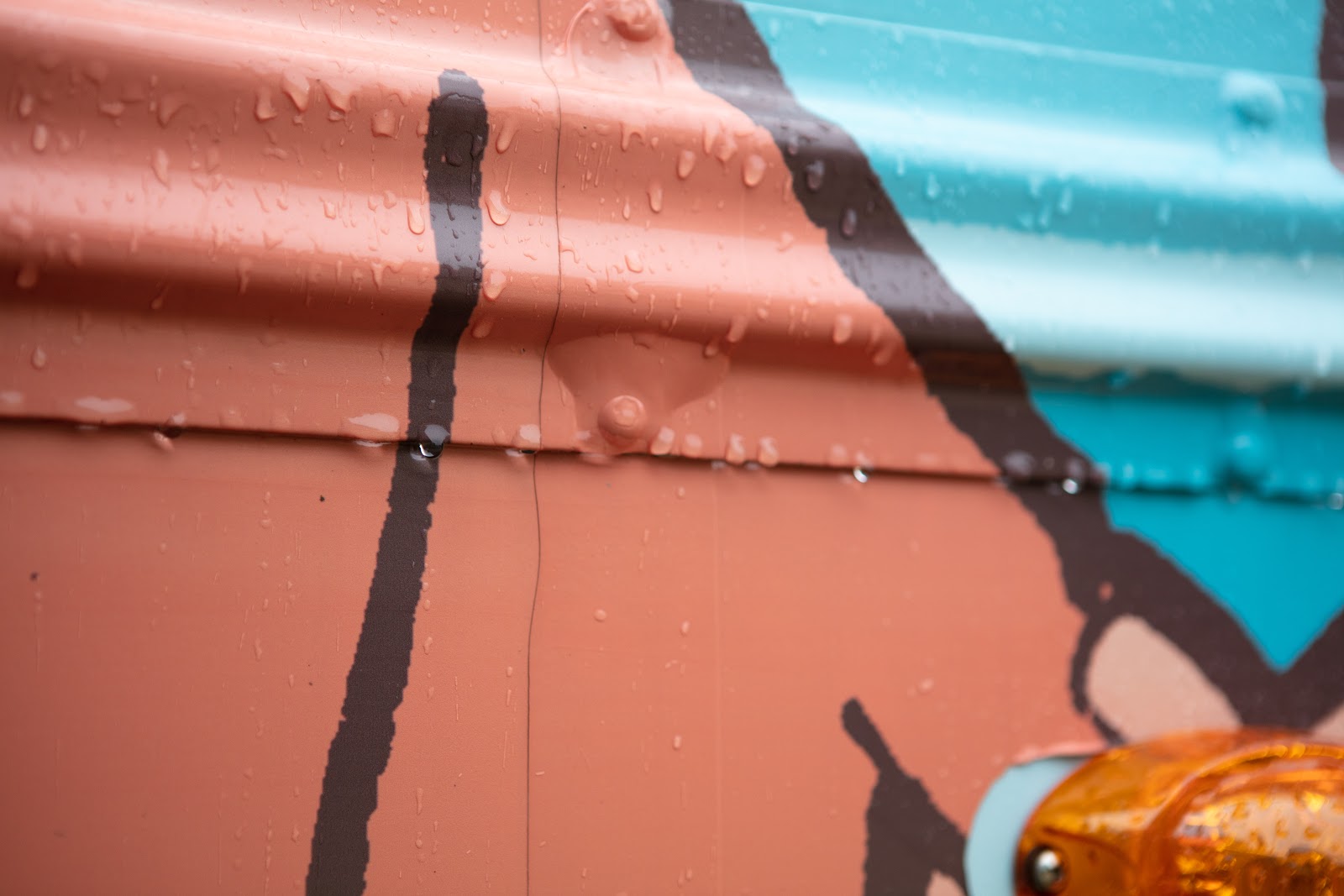 WEDNESDAY, 3:30-4:45 PM: TERMINAL PARK
It's hot today, but Terminal Park is pretty to walk through as I head over from where I've parked. A squirrel high above me has a crafty look in its eye. I'm excited to hear one patron mention her recent discovery of this stop--just four blocks from her house.
Number of items on board: 3,753
Bookmobile mileage: 18,330
Weather: 91° and fair
Number of "hellos" and other greetings: 13
Squirrel count: 7
Carl, a bookmobile assistant, can talk about everything from flying lessons to sword making. "It's a more personal interaction here, as opposed to the [busier curbside pickup hours at the] library. I can ask someone how their day is going. You can actually see patrons smiling behind their masks!"
What Carl's reading: Fly Girls: How Five Daring Women Defied All Odds and Made Aviation History by Keith O'Brien
What he's watching: The Good Place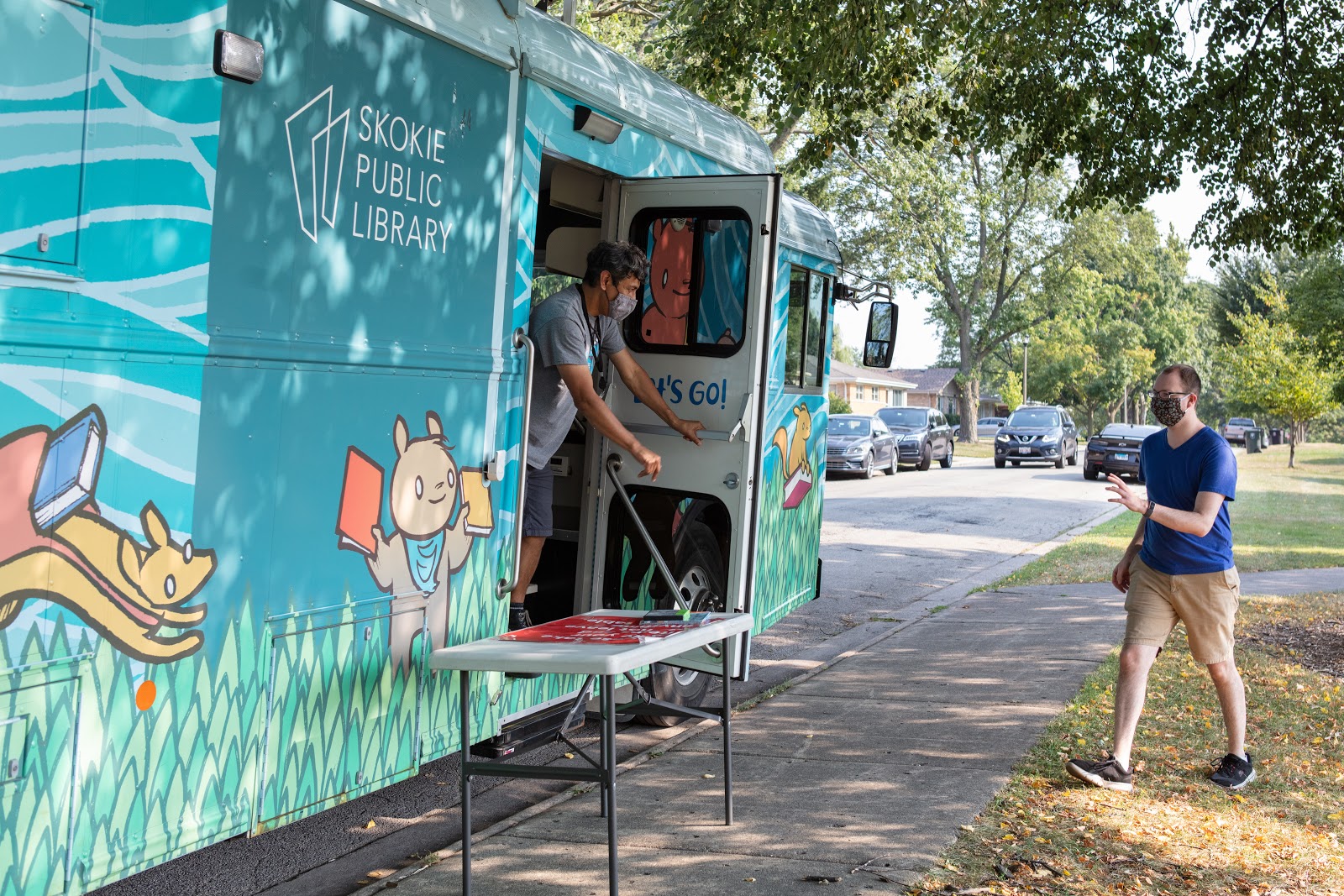 THURSDAY, 3:30-4:45 PM: HIGHLAND SCHOOL
It's another hot day, but the color reflecting from Highland Elementary School's orange brick is rich and inviting.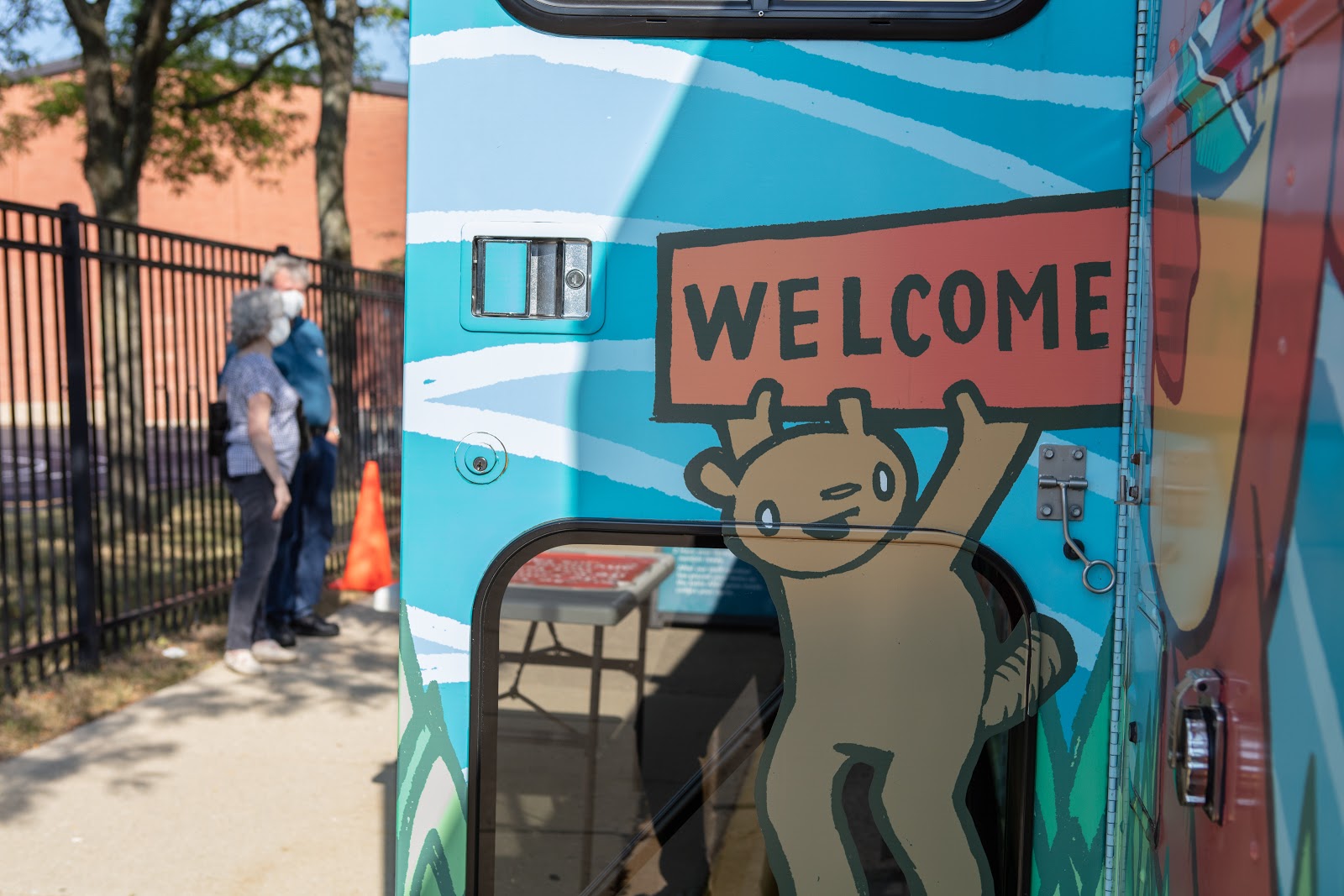 Number of items on board: 3,389
Bookmobile mileage: 18,349
Weather: 92° and partly cloudy
Number of "hellos" and other greetings: 10
Squirrel count: 0 squirrels, 1 rabbit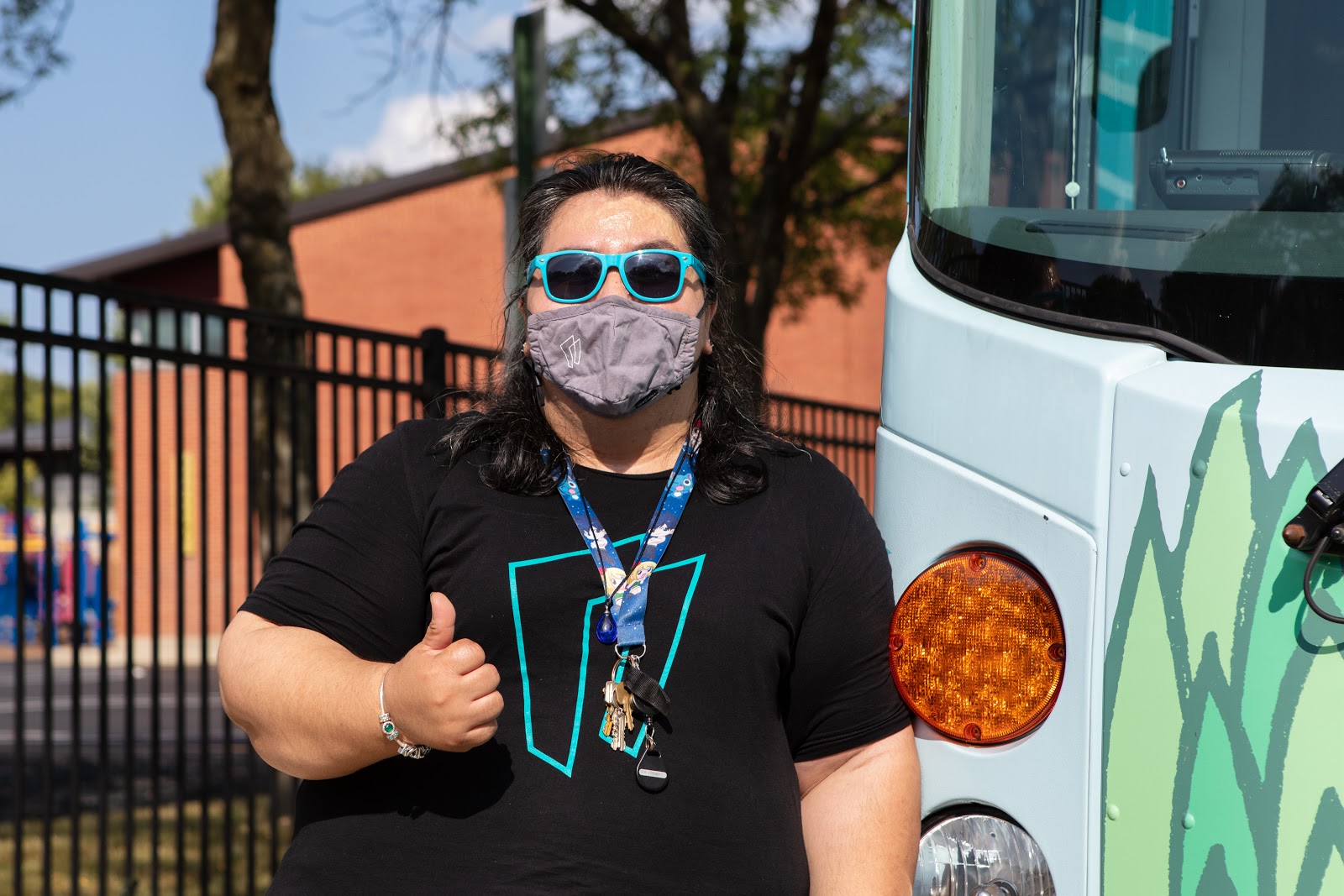 Kassy, bookmobile assistant, says: "Community stops are nice because there's a view, you're gonna see greenery, you're gonna see people, you're gonna see neighborhoods, so it's inviting to me. And I like to see regulars!"
What Kassy's reading: The Total Eclipse of Nestor Lopez by Adrianna Cuevas What she's watching: Magi: The Labyrinth of Magic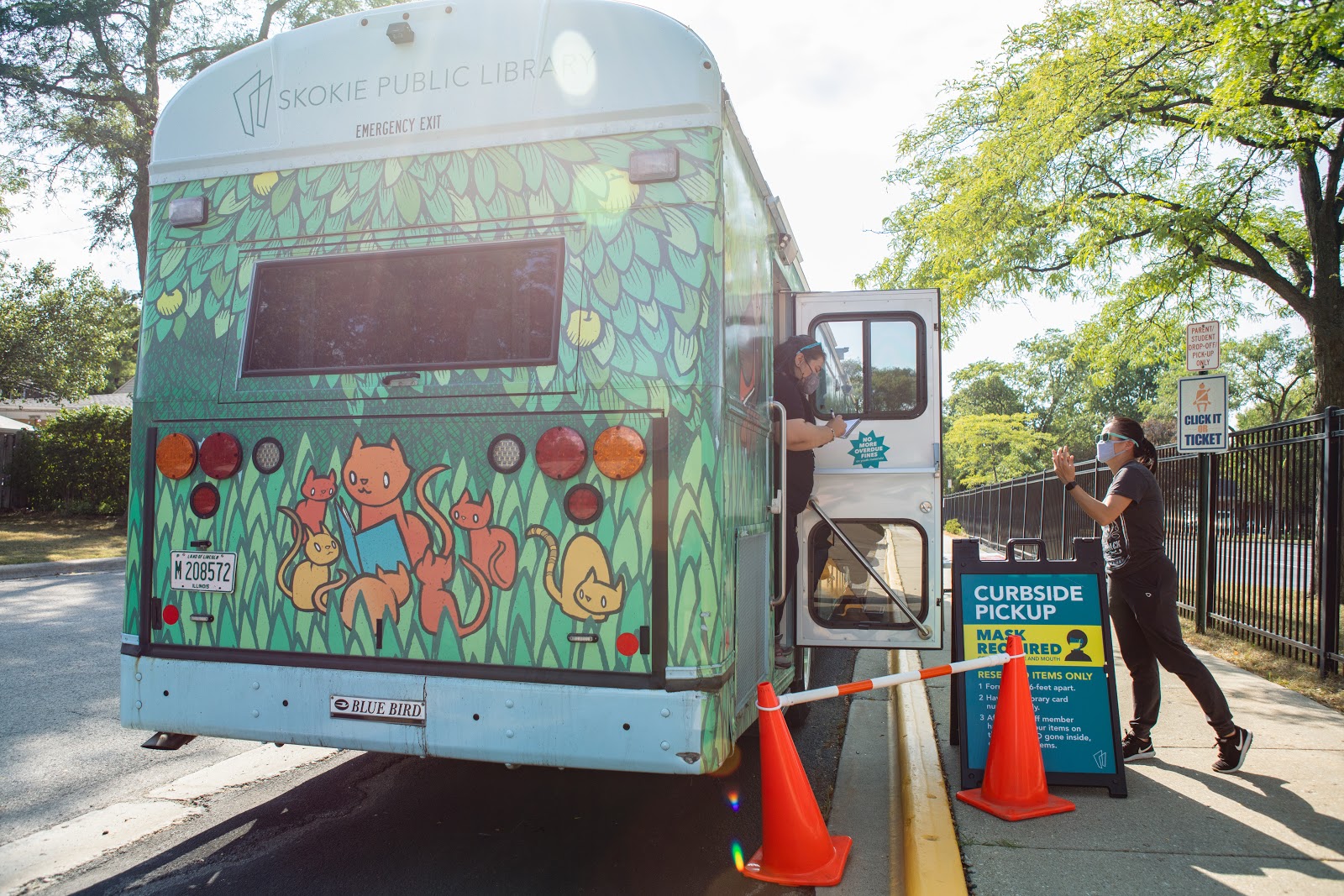 Friday, 1:15-2:30 pm: Devonshire Park
Skokie has so many beautiful parks! It was hard to find time to talk at this busy stop, where we often paused our conversations so the staff could warmly greet patrons with a behind-the-mask smile.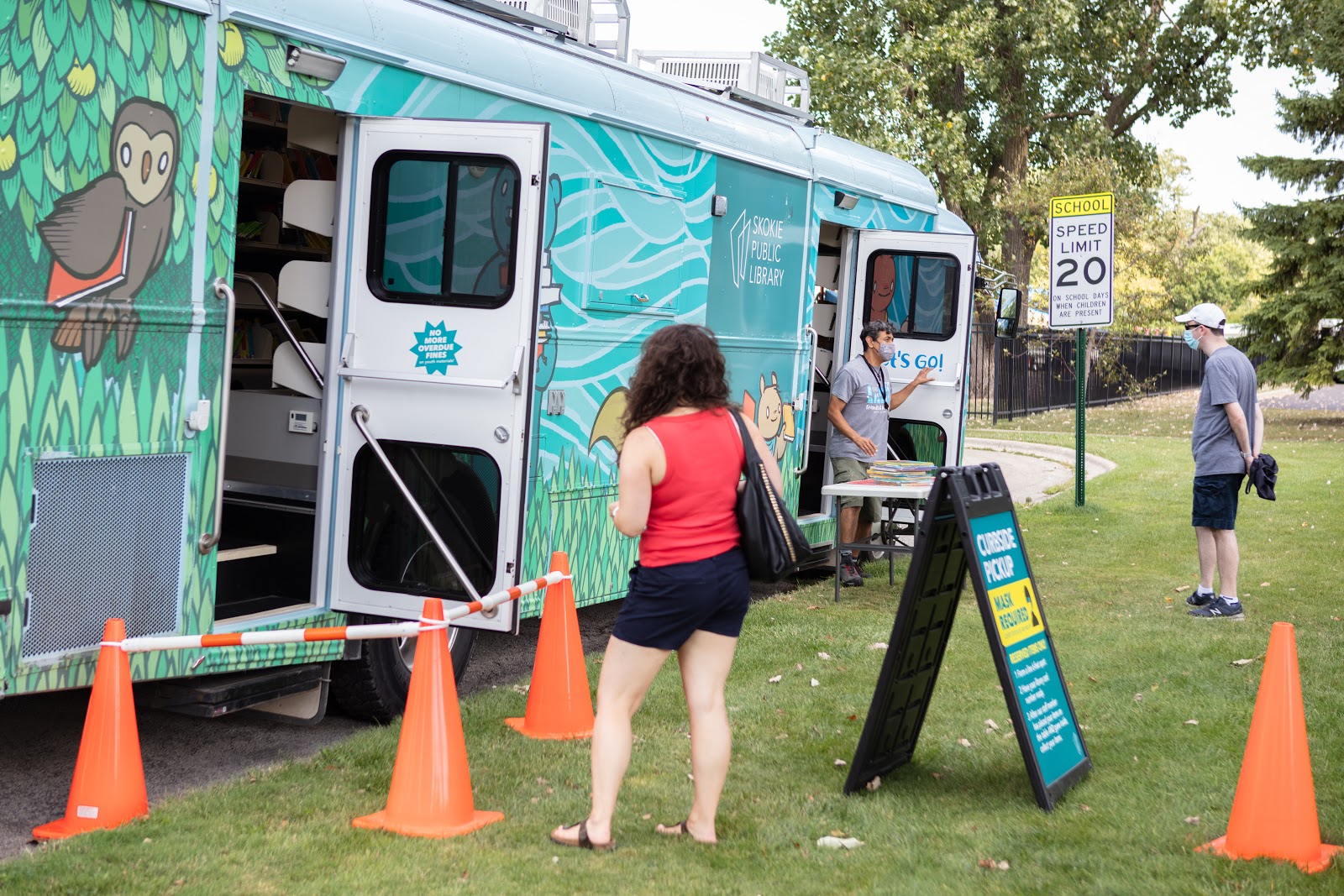 Number of items on board: 3,377
Bookmobile mileage: 18,358
Weather: 91° and sunny
Number of "hellos" and other greetings: 17
Squirrel count: 1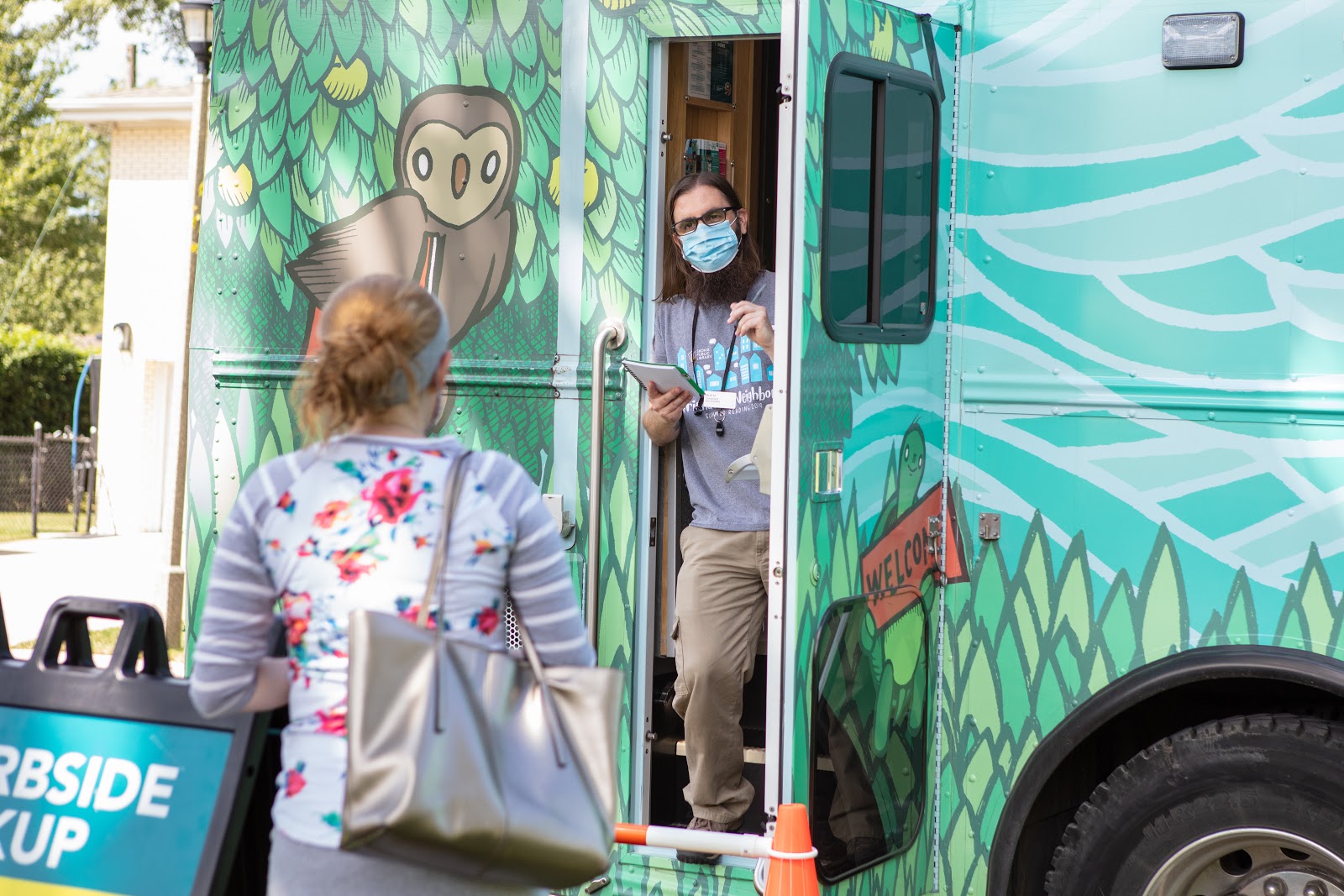 Matt is our supervisor for neighborhood engagement. "One of the good things about curbside [community stops] has been for the community to see that the library is open and doing what we can to help...we not only check out books to people but we answer a lot of questions about what the library is able to offer...I think it also helps overcome some of the fear that people might have, as people are a little bit hunkered down and all of that. We're out and about having those relationships with people. And then as the bookmobile supervisor, it's just been great to see my team out here being adaptable, being flexible, doing what they can to reach out and serve people during a difficult time. I really appreciate it and have been proud of my team as they've done that during this time."
What Matt's reading: Ubik by Philip K. Dick, Transcend: The New Science of Self-Actualization, Scott Barry Kaufman
What he's watching: Longmire