BOOMbox at Home: Measurement Activities
April 16, 2020 by Amy Holcomb in BOOMbox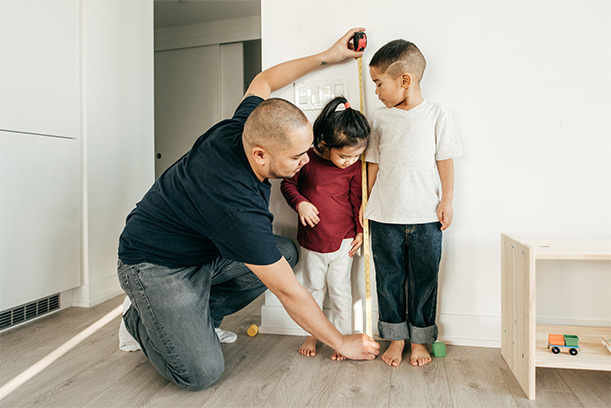 This week in the online BOOMbox, we're looking at measurement. We'll compare sizes of everyday objects and people, and observe our world using rulers, yardsticks, and even markers to measure things around our homes.
Units of Measurement
For each thing we measure--like height, volume of liquids, time--we use a specific unit. For height, we may use inches or feet. For volume, cups or liters. And for time, hours or minutes or seconds.
Looking around your home, you can estimate measurements of height, width, and length using everyday objects. For example, you can use a bunch of markers to determine how tall your dresser is, in markers. Or determine how tall you are in books.
With any unit of measurement, you can use it to compare and contrast results of objects around you. To learn more about units of measurement, review this glossary from Ducksters Education site.
Measuring Weather
April brings a lot of rain to the Midwest and we think it's a great time to measure how much rain we're actually getting. You can make a simple rain gauge using everyday supplies like a plastic bottle, scissors, a marker, and a ruler. To make your rain gauge more accurate, we found a great tutorial from Public Lab that uses an exact measurement in setting up your rain gauge.
Kids, please note that you'll need to cut a plastic bottle, and it's best to do this with an adult.
Measuring while Cooking
More time at home means more opportunities to cook! Measurement is important in the science that is cooking, but if you do not happen to have any measuring tools, or if some have gone missing, here is a great guide from Taste of Home for alternative ways to measure your ingredients.
Cooking or baking is also a fun time to practice converting between units of measurement. How many teaspoons are in a tablespoon? Find a recipe that lists ingredients by weight, and rewrite it using volumes, or vice versa. Make both versions to check whether you got it right!
Another process in which measurements can be used while cooking is time. Check out this super helpful chart from The New York Times, which can help determine the minutes needed to roast different vegetables. As the timer counts down on your oven or microwave, see how your nose compares in telling time.
Measuring Differences in Bodies
Humans come in all shapes and sizes! Use this measurement activity guide from Karen Langdon with a partner. You'll also need a fabric tape measure or ruler to measure lengths, widths, and even circumferences of yourself and others. What differences or similarities do you see?
Counting Challenge
How high can you count with your fingers? This TEDed video featuring James Tanton challenges you to go beyond 10. Can you do it?

Share
We'd love to see the results of your experiments! Tag @skokielibrary when you share photos of what you've created on social media.
This week's post was written with Eli, Erica, and Jimmy.