BOOMbox at Home: Art Activities
April 9, 2020 by Amy Holcomb in BOOMbox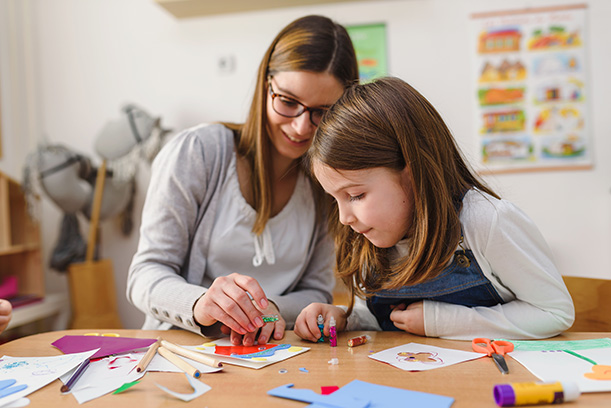 This week we're thinking small by different art techniques like pixel art, pointillism, and mini sculptures. Here are some suggestions for an artistic, creative outlet.
Pixel Art
Pixel art is one of our favorites activities, and we love seeing everyone's unique creations. You can make your pixel art masterpiece with whatever paper and writing or drawing tools you have on hand.
Get started with this How-To: Pixel Art video featuring staff member Jimmy.
Want to stretch your pixel art skills further? You can make pixel art on your computer using the free online program Pixie Engine. You can also zoom out and make massive pixel art using sticky notes and a big wall or window, just like a giant Pac Man.
As you make your pixel art, think about the following questions:
What does tiny pixel art look like in comparison to giant pixel art?
What happens when you look at your pixel art from far away versus when you look at it from close up?
Pointillism
Pointillism is a painting or drawing technique that uses individual dots that, when coordinated by color, create patterns and even full pictures. This overview from Ducksters Education Site provides some history of pointillism as well as examples from artists Georges Seurat, Paul Signac, and Maximilien Luce.
You can make your own pointillism painting or drawing using any type of paper and a variety of art supplies: markers, felt-tip pens, pencil eraser with stamp pads, or cotton swabs with paint. For a predetermined picture, it might be helpful to do an outline in pencil.
Here are a few other websites to inspire your own creations:
Pointillism for Kids: Painting with Dots!
Q-Tip Pointillism
As you draw lots of dots, try these challenges:
Can you make a shape look purple just by using only red dots and blue dots?
Can you make a colored shape look darker by using black dots?
How can you make a color look lighter without using white dots?
Sculpture
Our team was really struck by the mini sculptures of Willard Wigan, shown in the photo gallery from The National's Arts & Culture page. These sculptures are so tiny they fit on the tops of nails or in the eyes of sewing needles. While we couldn't duplicate Wigan's work, we love making sculptures with playdough and encourage you to give sculpting a try.
If you don't have playdough, here's a simple no-bake recipe from PBS that uses pantry staples like water, oil, flour, and salt.
Looking for a challenge? Try making mini versions of some of the public sculptures found in Skokie.
Reimagine
Physical distancing doesn't mean you can't still visit museums. Take a virtual tour of one of the museums or galleries on this list of virtual museum and art gallery tours, and choose one of your favorite works. Try to recreate it with materials you have at home, or choose a few works you like to use as inspiration for a piece of your own that combines elements of them all!
Share
We'd love to see your artistic creations! Tag @skokielibrary when you share photos of what you've created.
This week's post was written with Eli and Michelle.