BOOMbox at Home: Environment Activities
April 2, 2020 by Amy Holcomb in BOOMbox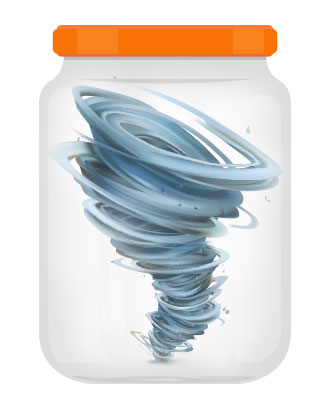 Even though the library building is closed right now, we're continuing our exploration of really BIG things and really small things with the current BOOMbox rotation, big and small.

This week in the online BOOMbox, we encourage you to go big by exploring the environment. Here are three activities you can try at home to learn about different parts of the environment, including gardening, ecosystems, and weather.
---
Gardening
Get started on your summer garden with indoor seed starters using biodegradable planters. Check out this video featuring staff members Erica N. and Amy H. making planters with newspapers:
BOOMbox to Go: biodegradable planters
---
Ecosystems
Terrariums are indoor gardens in sealed containers. They're easier to care for than outdoor gardens because the plants have everything they need inside the container. A terrarium is a mini ecosystem you can observe over time.
To create a terrarium, you will need a clean, see-through container with a lid, like an empty glass jar. You can also use two plastic cups or a plastic bottle cut in half and taped together.
Place a layer of small pebbles or sand on the bottom of the container, followed by a layer of soil. Add some plants like moss, succulents, an ivy cutting, or whatever you can find nearby outside. Be creative and remember, this is a personal at-home experiments.
Once your terrarium is assembled, spray or lightly pour some water into the container before securing the lid. For more information and examples of terrariums, visit NASA Climate Kids. As you observe your terrarium, think about the following questions and draw or write out your answers:
What do plants need to survive?
Why do we need to close the lid of the terrarium?
What happens to the water inside the terrarium?
Watch these videos to learn more about terrariums:
---
Weather
Thinking about weather patterns and climate change? Explore vortexes in the environment by creating a tornado in a bottle. You'll need two plastic water bottles of any size, a metal washer, and some duct tape. You can follow assembly instructions from KC Edventures and learn a bit more why Kansas sees so many tornadoes each year.
You can also create a tornado in a jar with other household items: liquid soap and vinegar. Watch this demonstration from PBS Parents.
As you watch the tornado form in your container, think about its vortex shape. Where else do you see vortexes in the environment? What happens when something gets caught in the vortex?
To learn more about tornadoes, we recommend these videos:
---
Share
We'd love to see the results of your experiments! Tag @skokielibrary when you share photos of what you've created on social media.
This week's post was written with Michelle.