Diversity and Inclusion in Librarianship
August 14, 2017 by Chris Auman in Staff Profile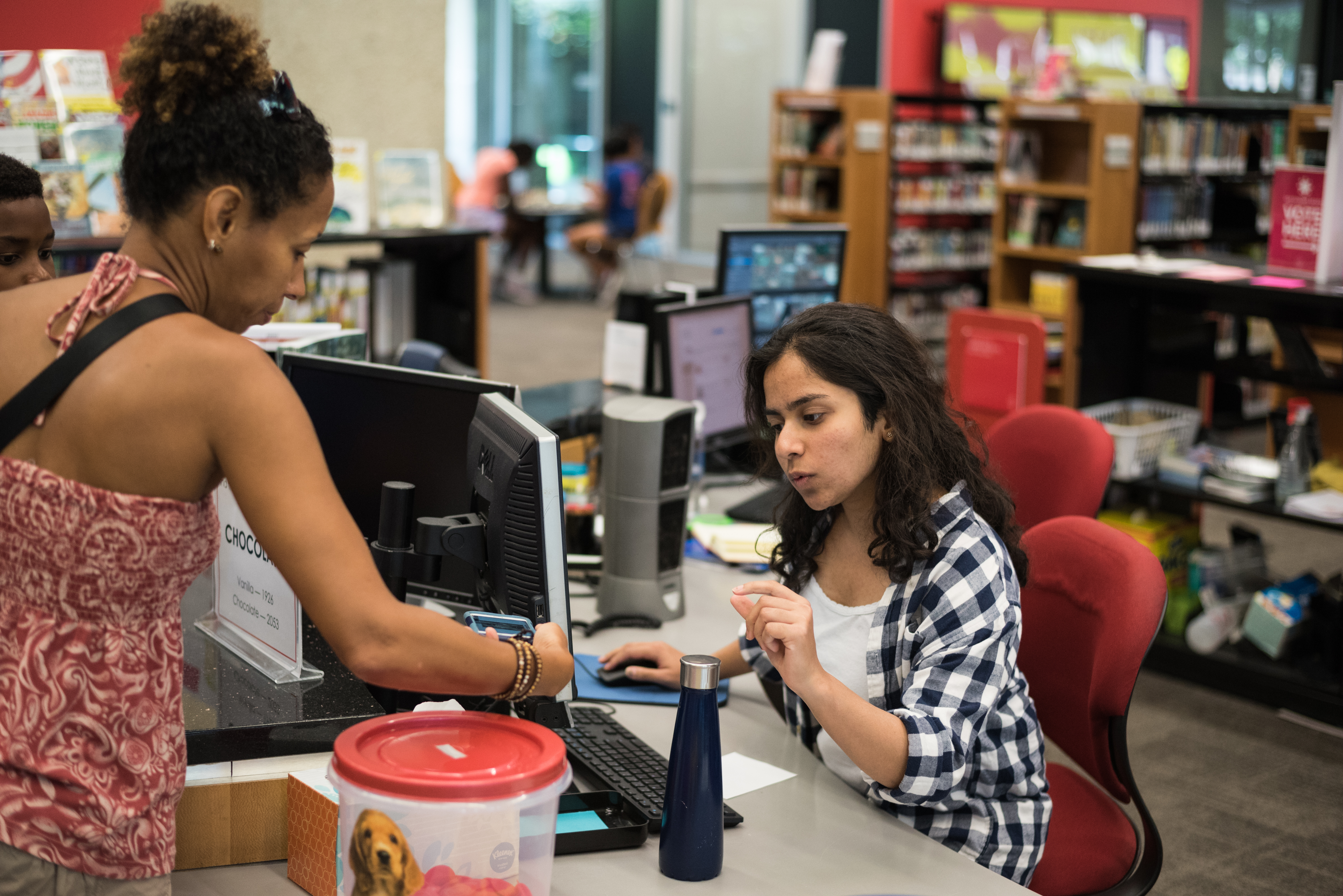 Skokie Public Library hosted two high school interns this summer as a part of the Inclusive Internship Initiative (III) created by the Public Library Association, which is a division of the American Library Association. The purpose of the internship is to increase diversity in librarianship.
With the help of a grant from the Institute of Museum and Library Services, the program allowed 50 U.S. high school students, entering their junior or senior year in the fall, to receive a paid, mentored internship. A kickoff event was held in Washington D.C. in June where the selected interns from 25 states had the opportunity to meet each other and attend a two-day master training class in librarianship.
Meet Ayesha & Liana
Ayesha Khan and Liana Wallace were the interns who joined the staff at Skokie Public Library this summer. Ayesha will be a junior at Niles West and Liana will be a senior at Evanston Township this fall.
As a life-long library user, Ayesha was excited to begin her internship. "I was always a huge fan of the library," she says. "I've always admired the roles they play in the community and I really wanted to get a deeper understanding of what librarians do."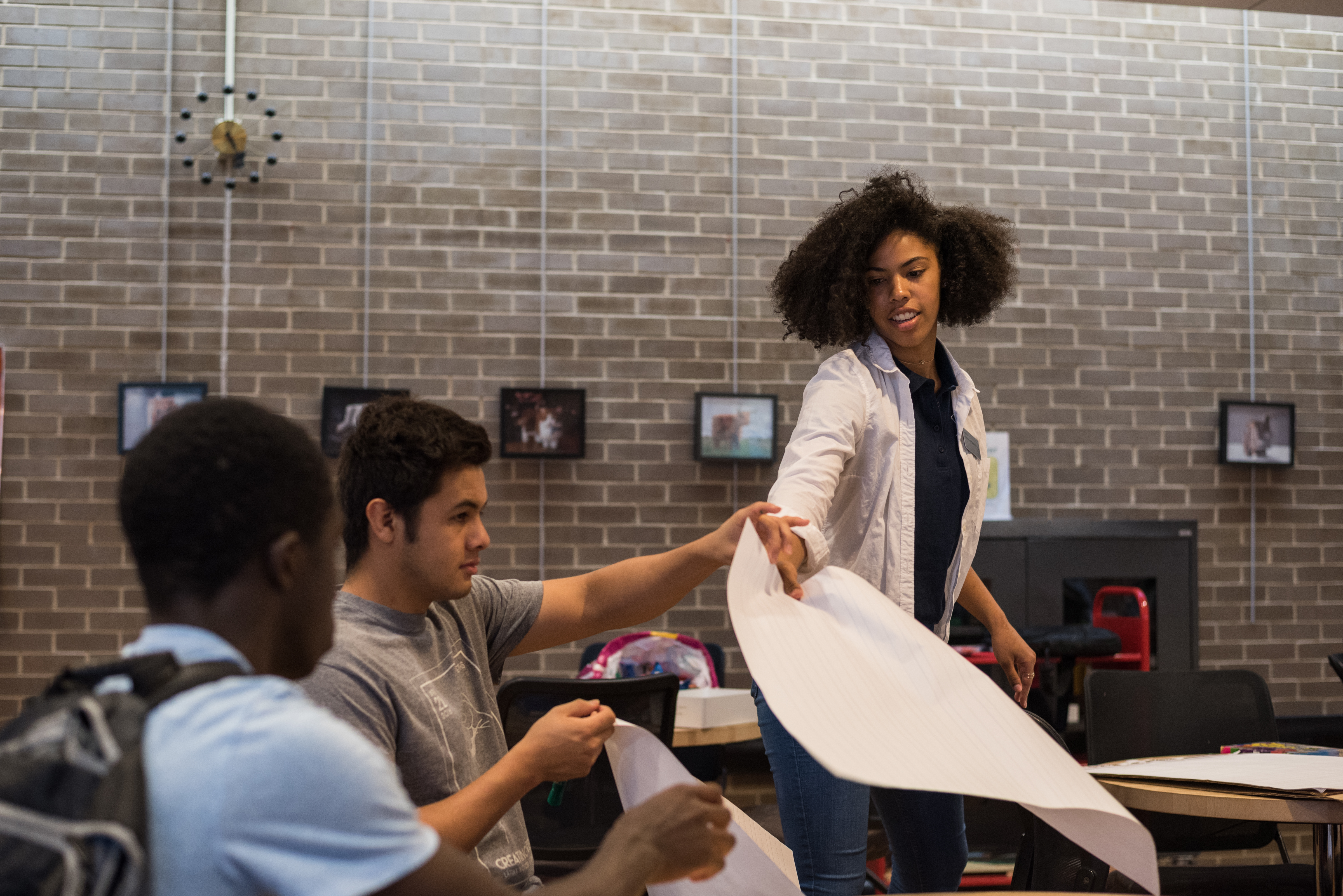 For Liana, "The biggest thing that drew me to Skokie Public Library was the diverse community," she says. She was also attracted by the amount of programs and events produced by the library. As a kid, she participated in the Booking with the Buddy Program here as well as Storytime.
The Librarian's Role
Learning about the role libraries and librarians play in the community was an eye-opening experience for Ayesha. She explains, "I really wasn't entirely enlightened about what an important role the library plays in a community, but since I get to shadow (observe librarians at work) here and meet with members of the community, I get to see what the library means for people."
For her part, Liana has been the most impressed by the intellectual freedom offered at the library, "I think it's really amazing how librarians focus on privacy and access," she says. "If you want to enquire about something that might have a stigma around it, you're able to do that and not be worried about people tracking what you're looking at. Access and privacy is something that's really interesting."
Diversity & Inclusion
The Inclusive Internship Initiative program was created specifically to introduce librarianship to students from underrepresented backgrounds. With diversity and inclusion as central themes, Ayesha and Liana were exposed to what this means to libraries across the country. As Ayesha explains, "When we were in D.C. there were two interns who were from New Mexico. One of their projects was centered on what life on the reservation looks like. If diversity and inclusion wasn't a focus of this internship, we may not ever get to hear that perspective."
Liana also recognizes the need for diversity in librarianship. "There's so few people of color," in the field she says, "and so (libraries) are really trying to change. I think people are recognizing the community that we're serving and if you're saying that you are a library and you're open to the public and your goal and vision is the community, then you're going to be reflecting that community in your libraries."
Going Forward
Reflecting back on her experiences, Ayesha feels the internship was an empowering experience. "I feel like I can go anywhere and still be confident in myself because I know I have a lot to bring to the table." Ayesha also learned to be more creative and flexible with how she works on and presents ideas—an area she's wanted to improve on.
Ayesha's library experience isn't ending when the school year starts either. She has been hired as a BOOMbox Mentor at Skokie Public Library. Both Ayesha and Liana will attend a conference in Chicago this fall where they and other interns will discuss their experiences in librarianship.