New and Different
March 4, 2016
Most people who discover the nontraditional items that they can check out of the library are surprised and delighted. To us, they make perfect sense. The library is about learning, and hands-on learning has been proven to be one of the best methods gaining and retaining knowledge. We keep adding new items and will be sure to let you know about them periodically--starting now!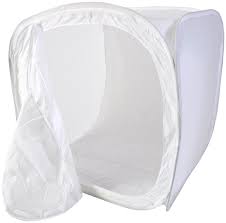 This not-so-little tent is designed to create ideal lighting
conditions to take photos of items you are planning to put online for display,
sale, or fun. Hoping to sell something on Etsy or Craigslist and want to make it really look sharp? Check this item out from the 2nd floor Information Desk.
Don't have a camera? We have Nikon Coolpix digital cameras.

Or a tripod? We have those too! And we have an awesome green screen.
STEAM (science, technology, engineering, art, and math) Kits, found at the Youth Services Desk on the first floor of the library, are a great way to learn and have fun at the same time. We have many kits on a variety of subjects, and lots of cool gear like the Ozobot--a small robot that reads colors as code. It changes colors, directions, and will do tricks depending on the sequence of colored dots. It teaches children to learn the very basics of coding.
If that's not wild enough for you, then the Sphero might be what you want. This spherical (get it?) drone/robot connects to an Android or iOS device wirelessly and then you can drive it all over. (Sadly, we don't have a the BB-8 version yet but maybe soon!).
The Dash and Dot kit is yet another set of robots designed to teach children (and children at heart) the basics of coding by using the gratifying feedback of making a robot do stuff. These super-cute robots will talk, move, play, etc. as directed by your coding genius.
According to their website, "littleBits is a platform of easy-to-use electronic building blocks for creating inventions big and small." You basically connect unique blocks to a power supply to create music, machines, and more.
What other learning tools should we get?