Woven Creations from The Chicago Weaving School
October 15, 2023 by Amber Hayes in Events and Programs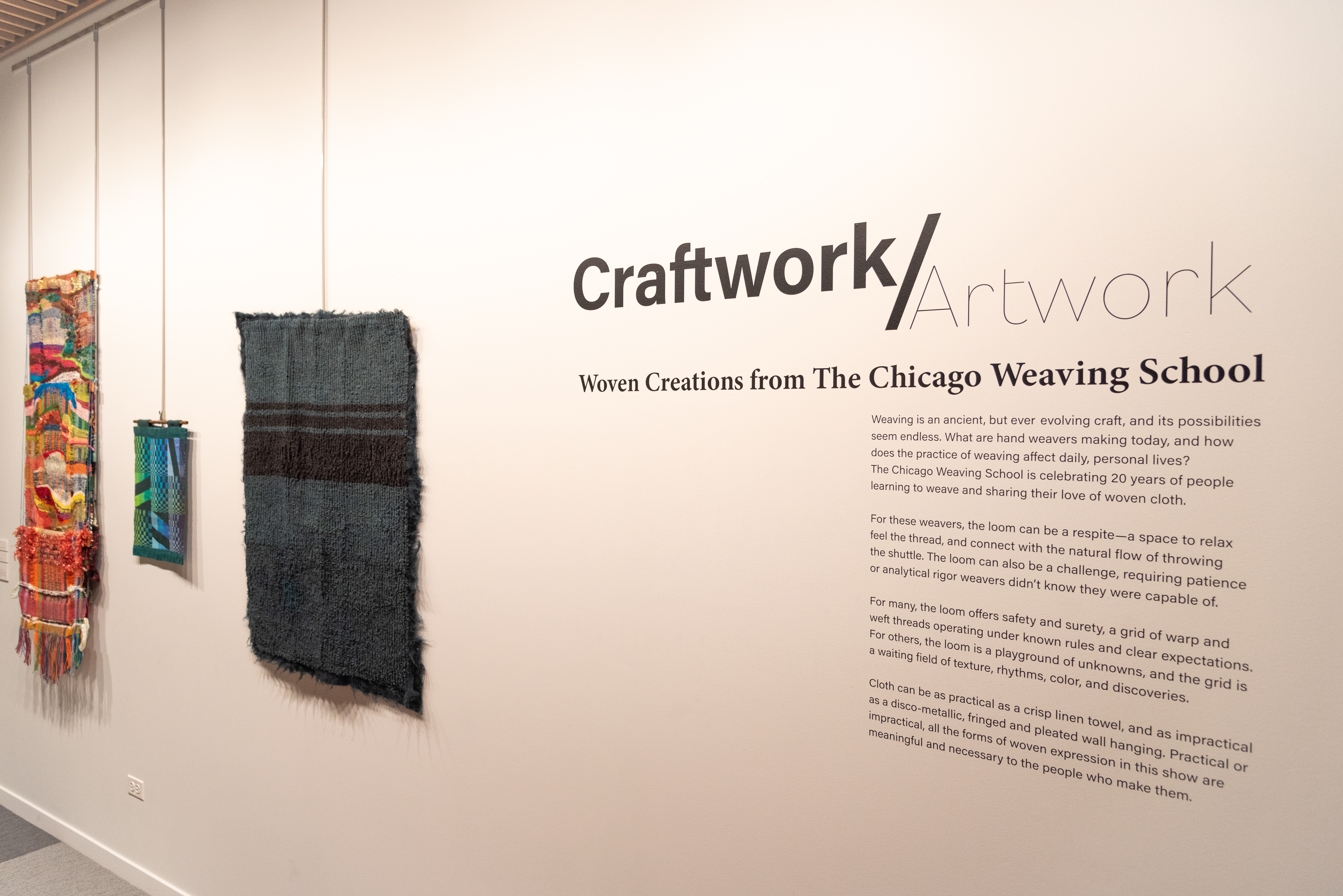 By: Natalie Boyett, owner of The ChicagoWeaving School
The library often features artwork by local artists. These exhibits allow patrons to experience art and learn more about the artists. Our current exhibit features projects created by Natalie Boyett, owner and lead instructor at The Chicago Weaving School, and her students.
For many, the loom offers safety and surety, a grid of warp and weft threads operating under known rules and clear expectations. For others, the loom is a playground of unknowns, and the grid is a waiting field of texture, rhythms, color, and discoveries. With this exhibit, we hope to show people the varied potential of weaving and the different ways people use this medium in their lives.

Before I became a weaver, my background was in painting and drawing. As I prepared to enter graduate school, my work was becoming more sculptural, and I felt a craving to work with cloth. I remember looking into a studio on the floor of the Fiber Department at the School of the Art Institute and knew in my gut that this place was my home. I loved what they were doing. My first weaving class was as a grad student, and the amazing artist Anne Wilson was my teacher. Every single moment felt special. I knew I was walking through a momentous life doorway. Learning how these interlaced structures were put together felt like learning the secrets of the universe. I saw the world differently from then on.
I opened The Chicago Weaving School in 2004 when Chicago was losing two local resources for weaving instruction: the Weaving Workshop and the Textile Arts Center. I wanted to create what I wanted to exist when I was first learning, but I also wanted to offer more than isolated, finite workshops. I wanted to give people time to learn the practical foundation in an environment open to innovation and individual expression.

At The Chicago Weaving School, people of every skill level can enroll at any time, as long as a loom is open for them. It's exciting to introduce this craft to different people and see how they make the medium their own. It's gratifying to be part of a space that, for many, becomes an important part of their creative practice. Some people return to the school for many years, and some pass through briefly, and I like it all. The school is steady and adaptive, and a gorgeous experiment in what people do with woven structures.

I will be happy if the exhibit helps someone understand weaving a bit more. Weaving is different from knitting or needlepoint, for example. It's done using a loom. If someone discovers that from the exhibit, then that's a success for me! People also seem curious and confused about what people make when they weave. I hope the exhibit reveals the wonderful potential of weaving. I want people to have a sense of what the possibilities are, and I'd like it to spark their own ideas.

Van, a current student at The Chicago Weaving School and visual design supervisor at Skokie Public Library, had this to say about their experience at the loom: "Some people find weaving meditative, and I would agree, but only in the sense that I am constantly contending with myself in learning to see and articulate and live in this beauty. So it is work for me; hard work, but also necessary work."

People drawn to weaving have it deep in their bones, It's in their memory from before they were born. Any weird, silly inklings about weaving are your birthright as a human and you owe it to yourself to try it in whatever way feels right. So remember, weaving is yours!
Learn more during an exhibit reception hosted by the instructors and students.