Library Art: View from McCormick
August 30, 2023 by Perry Nelson in Around the Library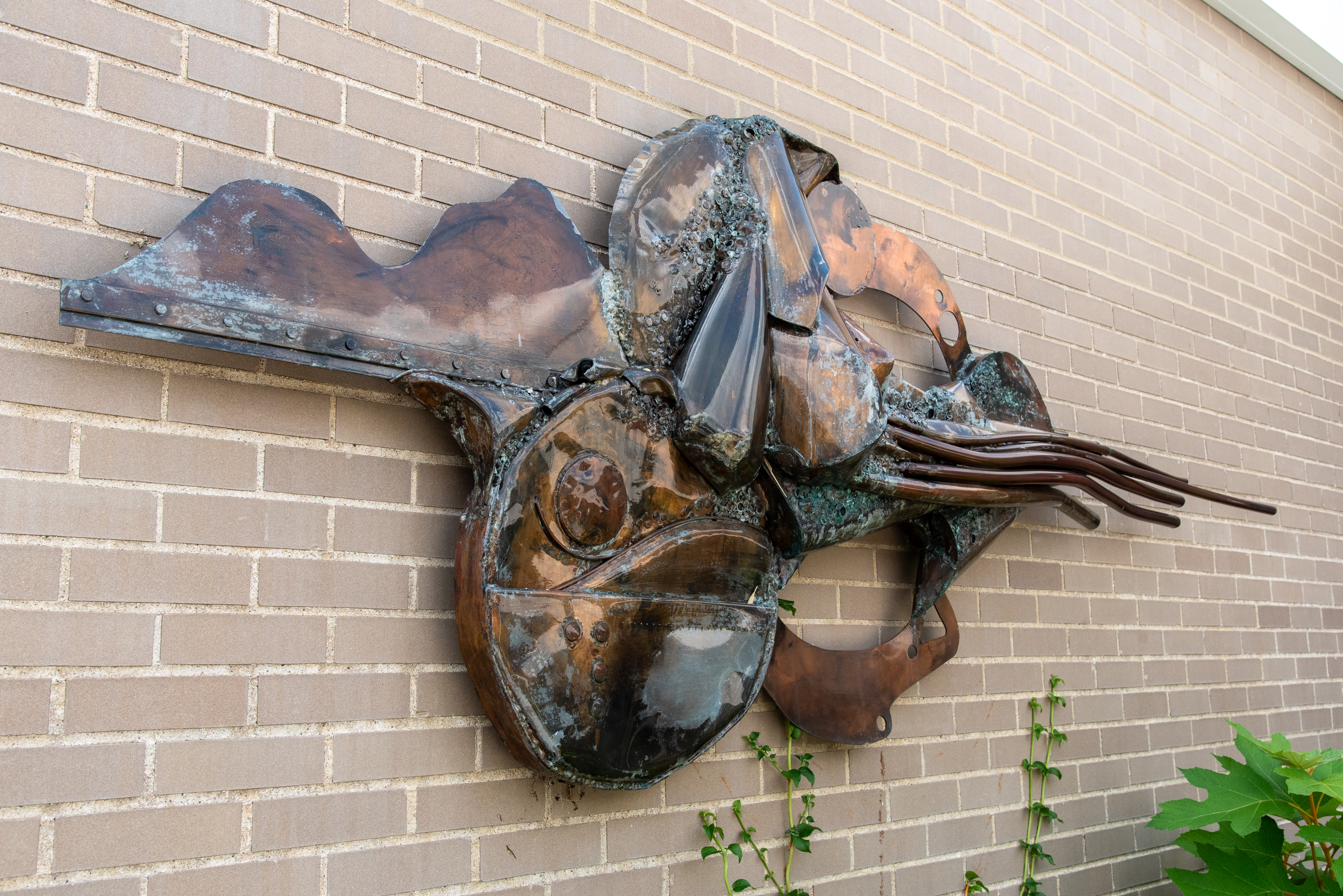 Like many of the works in the library's permanent art collection, View from McCormick was a donation from our community, and this one has stronger connections to our community than most. After all, it was made in Skokie and it represents a view from McCormick Boulevard in Skokie.
Unique Materials
Even the pieces that make up this sculpture are from Skokie. Its materials and construction are fairly unusual, contributing to the distinctive aesthetic.
Looking at it closely, you might see the rivets on the left, the punched-out circles on the arc at the top, or that the barnacle-looking detailing around the center is made out of dozens of small rings. Those aspects create the rough and industrial aesthetic of this work. The sculpture looks like a three-dimensional collage of mechanical parts—and it is. This three-dimensional collage style is a sculptural style known as assemblage.
View from McCormick was sculpted by Ted Gall, artist-in-residence at Fel-Pro, a gasket manufacturer, for 22 years. Fel-Pro, bought by the Federal-Mogul Corporation and now owned by Tenneco, was founded in 1918 as a maker of felt horse blankets, but as time and transportation technology progressed, they made a name for themselves as prominent automotive gasket manufacturers. Gaskets create a seal between two surfaces to prevent leaks. They usually look like rings of varying sizes, just like the rings seen in View from McCormick and others featured in many of his sculptures from this era. The Fel-Pro factory was located on McCormick Boulevard, which runs along the Skokie Northshore Sculpture Park and the north channel of the Chicago River—with the same view depicted in the piece.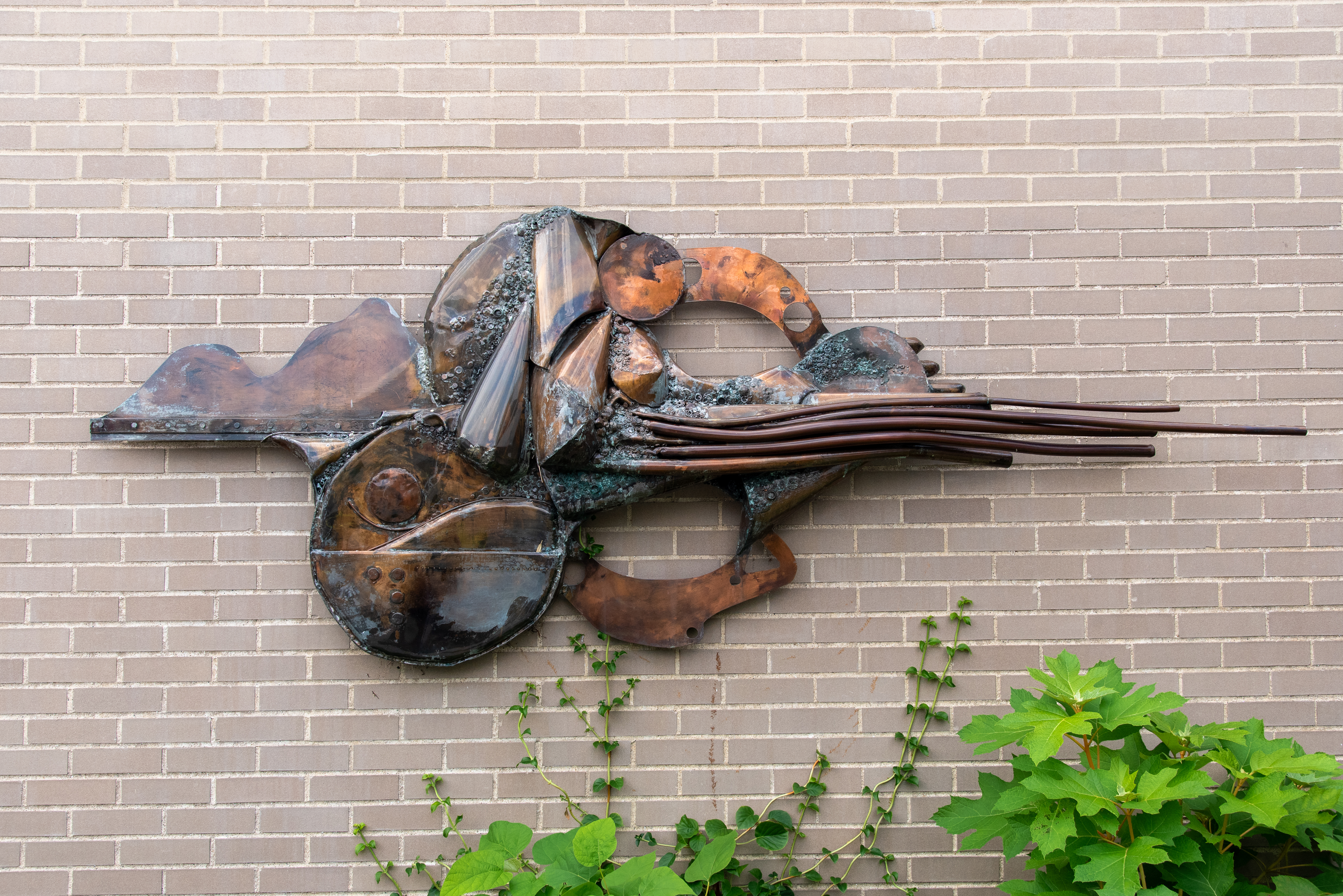 Gasket-Making and Art-Making
Of course, it's pretty unusual for a factory of any kind to have an artist-in-residence, but the president of Fel-Pro, Lewis Weinberg, was a huge fan of sculpture and an amateur artist himself. Fel-Pro had scraps from making the gaskets, and Weinberg tried making sculptures with them in his basement, which gave him the idea to hire a professional and see what they'd do with those same materials. That professional was Ted Gall, who was working in graphic design at the time and was tired of it.
In 1984, Gall told the Skokie Review, "I had taught a class at the North Shore Art League for sculptor Abbott Pattison while he was in Italy, and Pattinson was friends with Lewis Weinberg, one of the presidents of Fel-Pro. Weinberg had attended the School of the Art Institute and was involved in the arts. He saw the potential of what was here at the factory and was looking to someone to take advantage of it."
Gall ended up enjoying his work at Fel-Pro so much that he stayed for 22 years. His art—such as sculptures made from scrap materials, paintings, and silkscreen prints—decorated the factory. He and Weinberg have both described how the other factory employees developed an interest in art as a result of working alongside and benefiting from Gall's efforts. His coworkers would save interesting pieces and scraps in buckets for Gall, and also create their own art. In 1981, an exhibit of Gall's work and the work of two other Fel-Pro employees was on display at Skokie Public Library.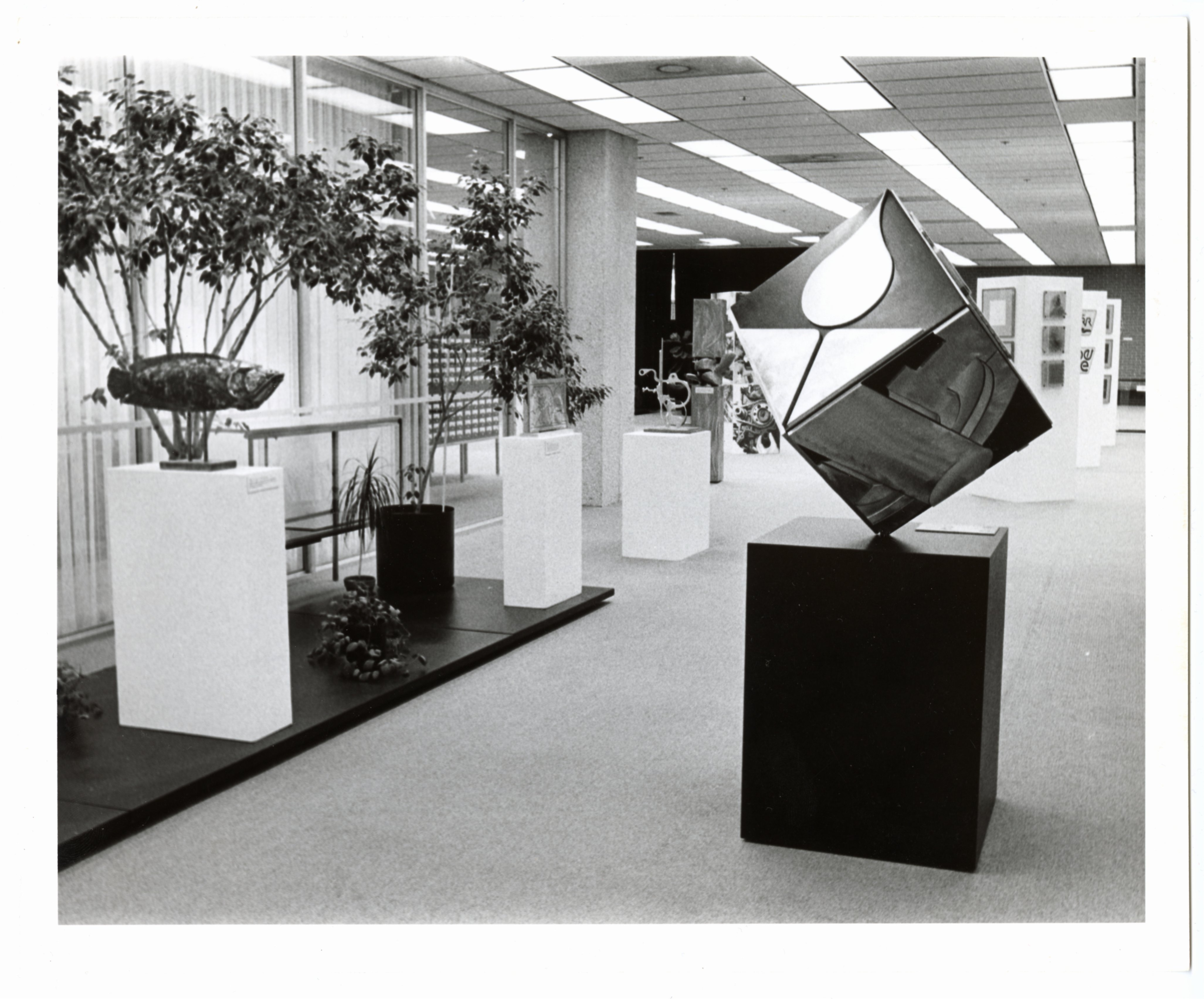 Other Works by Ted Gall
View from McCormick is one of two works by Ted Gall that the library has in its collection, though the other piece is not on display. If you're looking for other examples of his art, they aren't hard to find in Skokie—his sculpture, Unity, still sits outside the old Fel-Pro (now Tenneco) building on McCormick Boulevard, and four others are permanent fixtures in the Sculpture Park across the street: Charger I and II, Sun Worshipper, Homage to Henry, and the enormous Groundbreaker. On the park's website, you can hear a two-minute recording of Gall discussing his work.
On Gall's website, you can see more recent examples of his art. He still works in sculpture, and his works often have mechanical elements, including moving parts, but much of his art is more representational and less abstract than View from McCormick. His pieces from his time at Fel-Pro were very much informed by his environment and materials, creating art tied to a specific time and place. We're delighted to have such a beautiful example.