What the Library Means to Me: Ms. Mandy's Journey
September 20, 2022 by Mandy O'Brien in Around the Library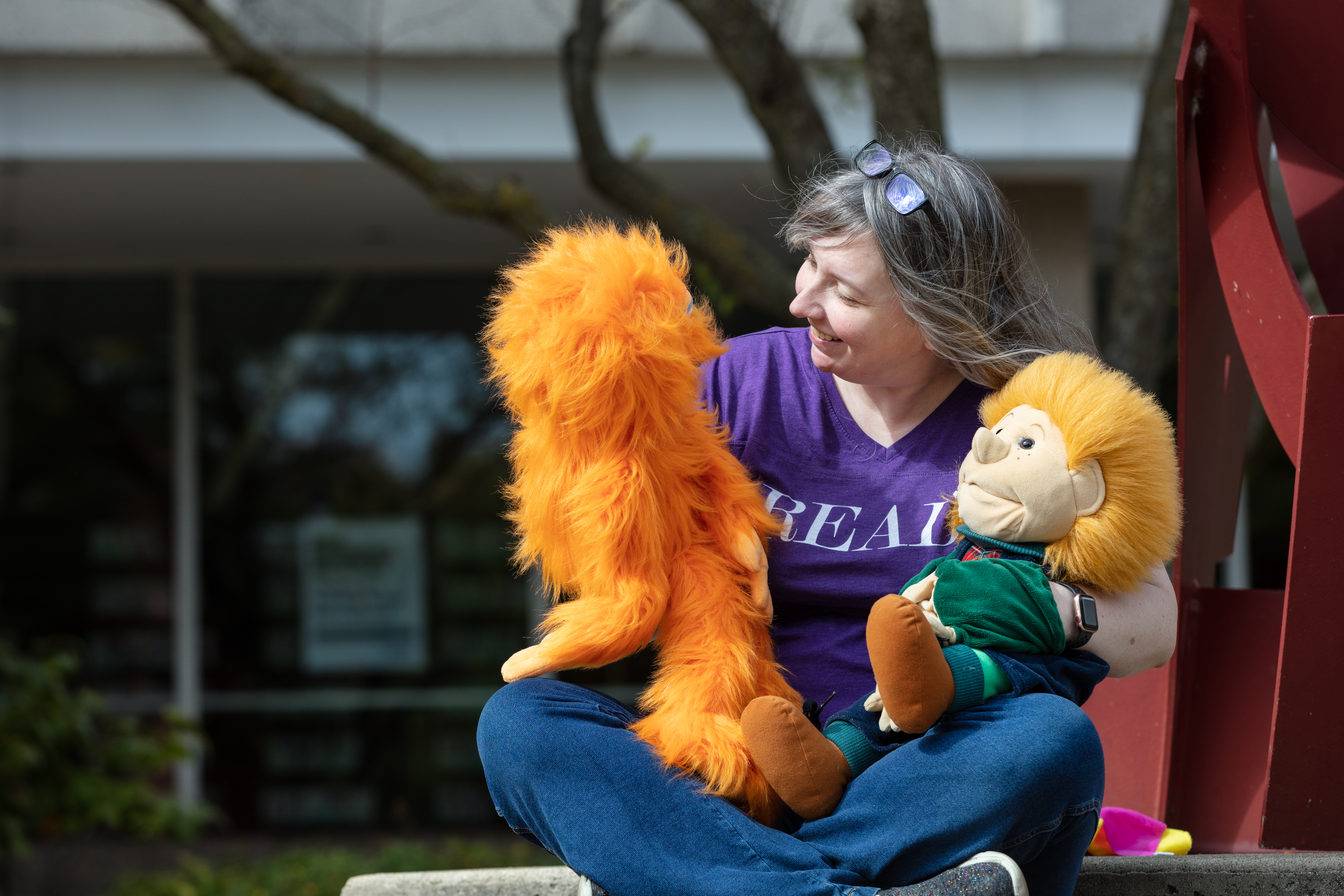 Some of you may know me as Ms. Mandy, the Youth Services librarian who likes to share her love of puppets with our young visitors. But before I became Ms. Mandy, I had my own journey in libraries.

As a child, a weekly highlight was visiting my local library, Des Plaines Public Library. I loved checking out books and records (yes, vinyl), attending storytimes and classes, and watching special performances and movies. A popular story from my childhood is that I loved the library so much that when a scheduling conflict arose between my four-year-old ballet class and the library storytime, I chose storytime. And the rest, as they say, is history! This might be why I am a much more accomplished reader than a dancer. Where were Ms. Cathy's Library Dance Parties when I was a kid?
Summer reading was also a great memory from my childhood. I loved seeing my name on the library wall and getting all the simple but well-earned prizes and coupons along the way. I discovered so many great books and authors this way! One summer, my family took a vacation to Florida, and a trip to Disney World couldn't distract me from the fact that I couldn't officially finish summer reading that year.

I also loved dropping by the library to pursue my personal research projects, which were much more exciting than the ones assigned at school. I'd pick a random topic and find books that had the most interesting facts and trivia about that subject. I learned so much about the world and how to really find and explore books through those library trips.
When I was in high school, I started to visit other libraries; I remember the first time I stepped into Skokie Public Library. I came with a classmate, and she laughed because she knew libraries were my happy place, and watched as I was mesmerized by the library's vast materials and services. Even in the early '90s our library was innovative, and little did I know that I'd be working at that very library! Fast forward to today, and I've worked at Skokie Public Library for 23 years, nearly half my life. Years ago, I ran into the storytime librarian from my childhood, and she recognized me. She was touched that little Mandy (sans pigtails) had become a children's librarian because of her early influence.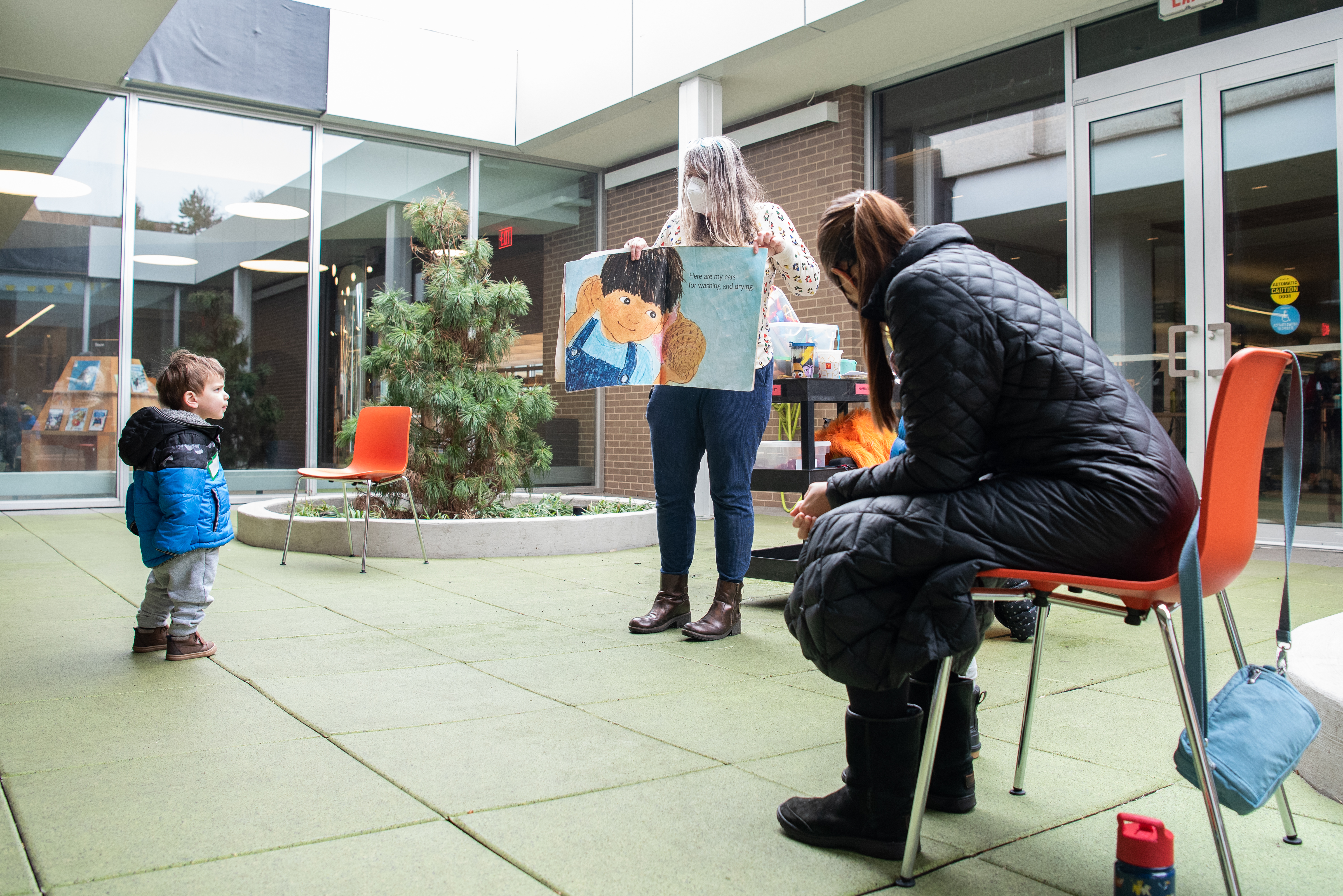 While each library renovation brings more beauty and accessibility to our patrons and staff, it is the people who make the library what it is. Our patrons appreciate all we have to offer, and I love that Skokie Public Library is that happy place for so many community members. Our staff is also amazing. I know I'm biased, but there really is someone who can answer anything. Of course, I love to find the answers for our patrons, but when I don't know or can't help, I'm not discouraged, because I know that I'll find the right person to help. This is my new little research project; I love learning about all my wonderful colleagues' skill sets and hidden talents.
The library is also a gold mine of information, resources, and original research and imagination. It's amazing to think of all the authors, artists, and other creators whose talents are held within the library's walls; it honestly boggles my mind!

I recently found out that I am the recipient of this year's Illinois Library Association Youth Services Achievement Award. This award recognizes an individual for outstanding local contributions to library services for young people. It is truly a pleasure to be nominated and win this state honor. I am so grateful for my colleagues, especially the magical Youth Services team, and the two who nominated me: Rachael, teen services librarian, and Angela, youth and family program coordinator. I love infusing my library work with social and emotional learning, making literacy and research fun and exciting. I also love connecting kids, grown-ups, and families to materials and services here at the library, within the community, and globally. Leading two-year-old storytimes, coordinating Booking with a Buddy, helping with author events, and developing fun family events, like the interactive Polar Express and Sesame Street celebrations, make my job a fun and inspiring adventure. I also love the opportunity to work on committees here, such as Cool Summer Reads and the library's Strategic Planning team, as well as internationally through the Fred Rogers Institute's Educators' Neighborhood cohort.
I am not exaggerating when I say that Skokie Public Library makes me want to be a better person. Mine is just one of the more than 150 stories of Skokie Public Library staff members. We all house our own stories, as do you! Let's keep our pages turning and the conversations going.