Create Art for Martin Luther King Jr. Day
January 11, 2022 by Susan Teller in Events and Programs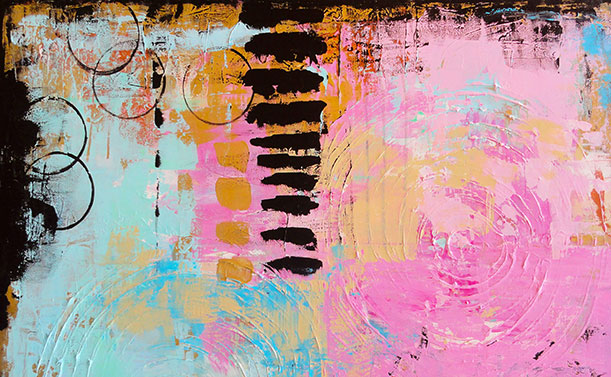 We are honoring Martin Luther King Jr. Day by illustrating the beautiful poem "Speech to the Young, Speech to the Progress-Toward (Among them Nora and Henry III)" by Gwendolyn Brooks.
Spend some time illustrating either the whole poem, or a single line from it. Think about the poem, its words, the layers of meaning it has, and the feelings it brings up for you.
You can do this activity in the library or at home. We will have supplies available to pick up near the east entrance on Monday, January 17. If you choose to do this activity at home using your own supplies, you will need:
Choice of paper (mixed-media paper with or without a watercolor wash, or other heavy paper)
Copy of the poem
Art supplies such as markers, glue stick, watercolor paints, pens, or pencils
Optional: pictures or text from magazines
Instructions
Illustrate a line of the poem, or the whole poem, however you'd like. You may want to start with a paper that isn't plain white. You can start with a paper that already has a watercolor wash on it, or add an abstract watercolor wash to your own white paper. If you add color to your paper, allow it to dry before you add more elements.
You may want to include words from the poem in your artwork. You can also add pictures or text from magazines to create a collage. Think about how you can express feelings and emotions in your artwork, rather than literal meaning. Try drawing over your painting–it can be exciting and inspirational when ink spreads in ways you had not imagined.
When you are finished, no matter how you feel about your artwork, please return to show it to us, or send us a photo. We will put the images together to make a single piece. Even when we feel our own pieces are not very good, when we put all the artwork together, the whole becomes powerful, and you will see strings or lines of connection we all seek.
A collaborative work of art, in which we work together to illustrate a poem, connects to the spirit of much of Martin Luther King Jr.'s work. While our individual contribution may feel small, when we add them with those of our friends and neighbors, what we create together is big.
Send a photo of your project to mycreation@skokielibrary.info and we may feature it on social media.