2021: A Year in Photos
December 17, 2021 by Meghan White in Around the Library
I have a really cool job. As a photographer, most of what I do involves listening, observing, and waiting for the right moment. Because I get to do all of this at Skokie Public Library, I witness some really neat things: discoveries, art, learning, collaborating, experimenting, exploring. I look for telling expressions, shared experiences, and moments that are simultaneously unique and universal to our patrons. Here are just a few of my favorite photos from this past year. Their resounding echo, as I reflect on them, is wholeheartedly, "Everyone is welcome here."
I love this picture. This is from our pour-painting class with Blue Rose Art Studio, when the instructor demonstrated how to make these mesmerizing works of art. This young patron was totally enthralled, and I love how engaged he is, leaning forward on the table, trying to get a closer look at the kaleidoscope of colors, imagining all the possibilities of what he could make.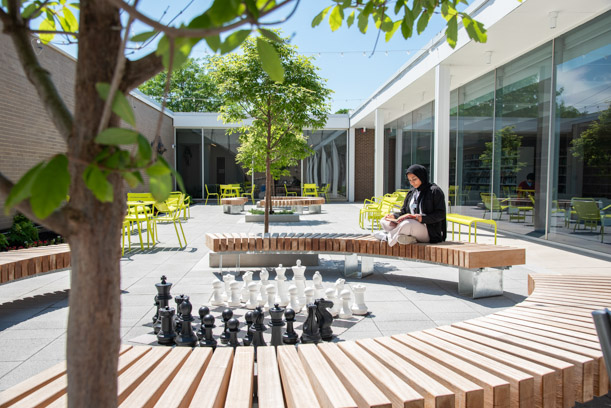 I took this photo on a warm June day--part of a series of images I made for an upcoming newsletter cover. There are so many intriguing shapes and colors in the South Courtyard. Sitting cross-legged on a bench, reading, sounds like a lovely dream as we head into winter.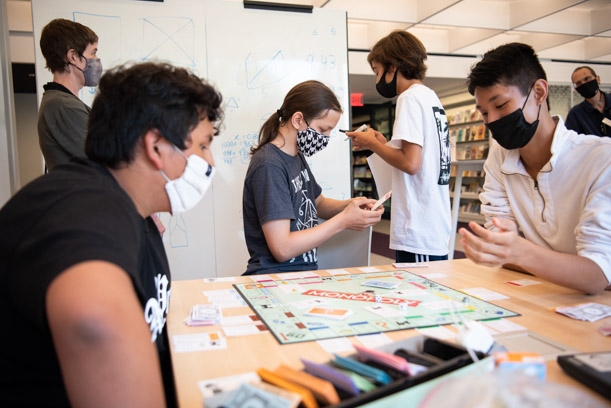 When the Teen Room gets busy, it is a vibrant place to be. I love how much is happening here: a game of Monopoly, some sort of schoolwork on the white board, a couple of staff members on the edges of the frame. Each person has their place in the photo, and you can imagine all the different ways each one experiences the space.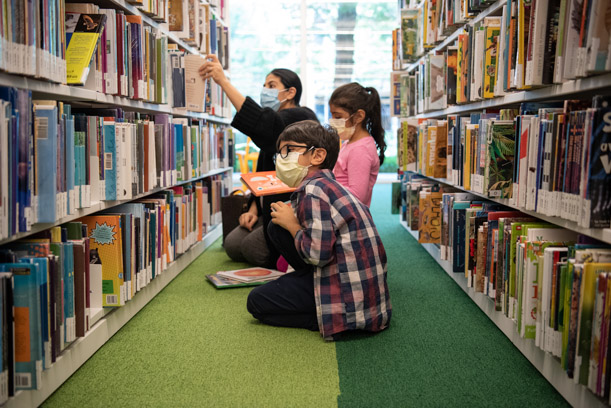 Sitting on the floor signifies a certain comfort with a space, which is so much of what I love about this photo. It's as simple as a family searching for something to read, yet they're surrounded by these seemingly endless shelves, overflowing with books. You wonder what they're looking for, what they'll find, and, when they get older, what they'll remember reading as children.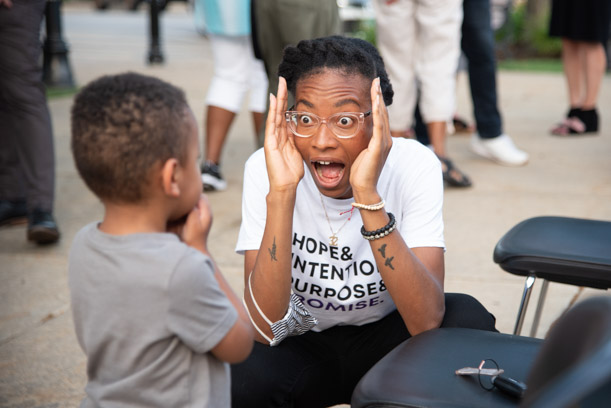 The opening ceremonies to Skokie's Juneteenth celebration were such a joyous event. I saw more hugs, smiles, shared moments of hope, and togetherness than I had in a very long time. I loved this small, silly interaction at the end of the evening. It embodied a lightness that I felt and cherished that night.
My favorite thing about this photo is how Annabelle, our access services manager (carrying the large stack of books), has her head tilted, listening to the patron in front of her. These genuine interactions between staff and patrons are one of the best things I get to experience working at the library, and seeing it embodied in this little gesture makes this photo very meaningful to me.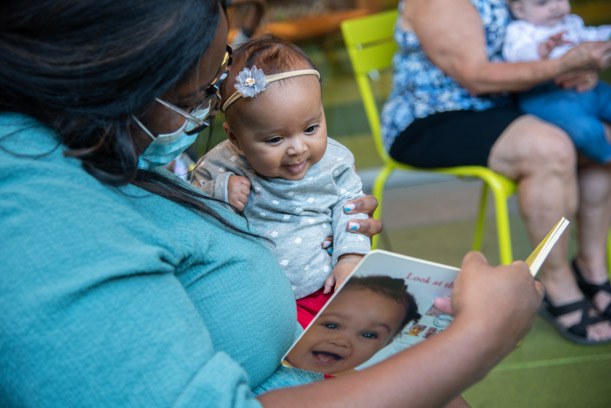 Well, it's pretty obvious why I chose this picture for my 2021 photo roundup. How can you not love Book Babies? What an awesome series for building young readers, and what a treat for my camera to have so many cute babies in one place!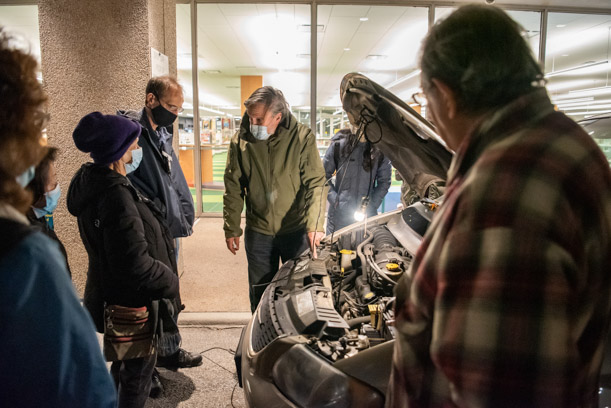 It's the best feeling to lose track of time during a class, both because of how much I'm enjoying photographing it and because the subject (and the instructor!) are so engaging. This was most definitely the case for Simple Auto Repair and Maintenance. Even more amazing? Despite it being a cold November evening, patrons braved the weather eagerly, asking questions through to the very end of the night.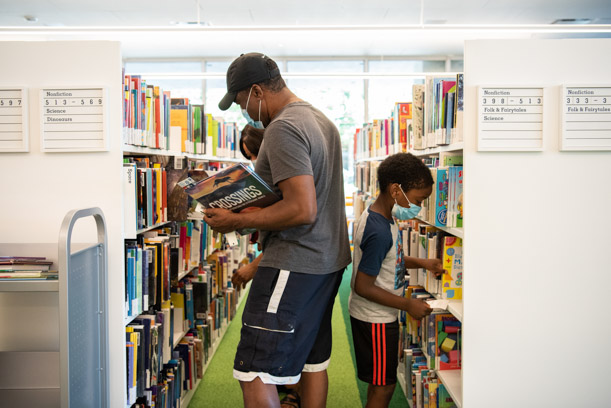 If you read my last blog post, you'll remember I chose this picture as one of my favorites I'd taken around that time. Half a year later, it's still one of my favorites. I love how intently this family is browsing, and I especially love the patron carrying one of our Breezy Summer Reads picks, Crossings.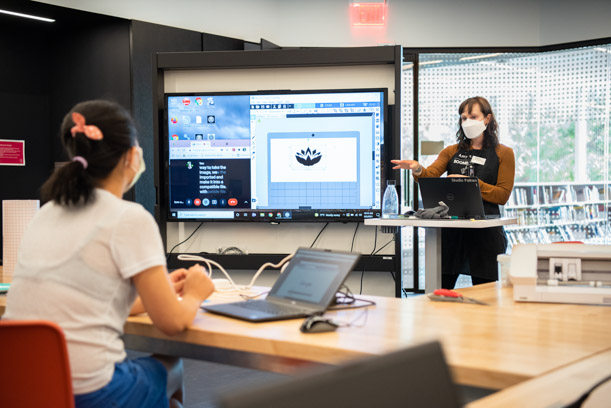 There is a lot of cool stuff going on in this picture: the large digital display for teaching a Studio workshop, the display showing a vinyl sticker a patron is about to make, the live captioning on the display, intended to improve accessibility, and the interaction between patron and staff in a hands-on class for patrons to learn how to use the awesome equipment in our new makerspace. What's not to love?
There are a lot of cool spaces in the Kids Room, and one of my favorite features has to be the movable wooden play walls. You can rearrange them in many different combinations, making mazes, forts, and cozy reading nooks.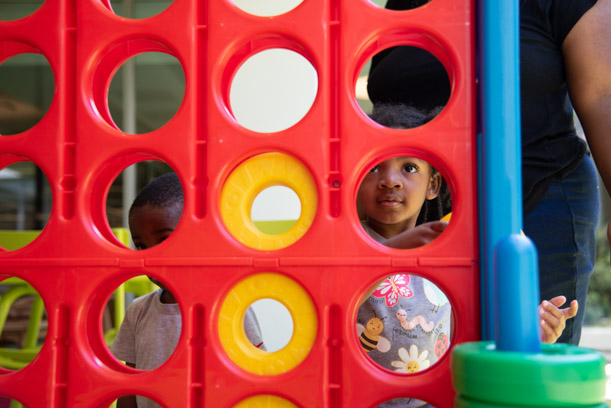 There is something about the look of this little patron, readying herself to drop a disc into the giant Connect 4, that exudes confidence, determination, and self-assured enjoyment. Am I reading too much into things? Maybe. But for now I'll use her as my inspiration next time I must reach for something.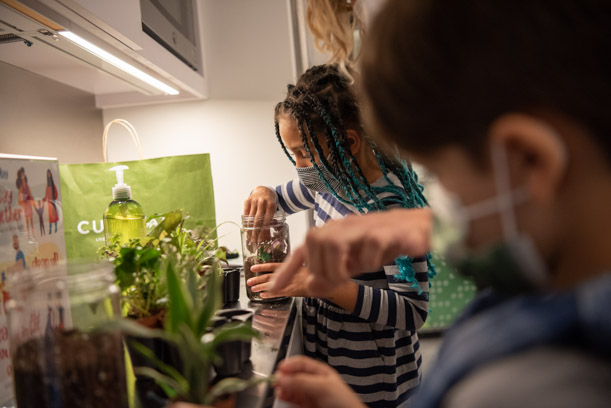 What a lovely storytime this was. We read about trees, and how they talk to each other, and then patrons made take-home terrariums with beautiful little plants. I love the green colors in this photo and the intimacy of digging in the dirt to plant a plant. How many children planted something for the very first time that day at the library?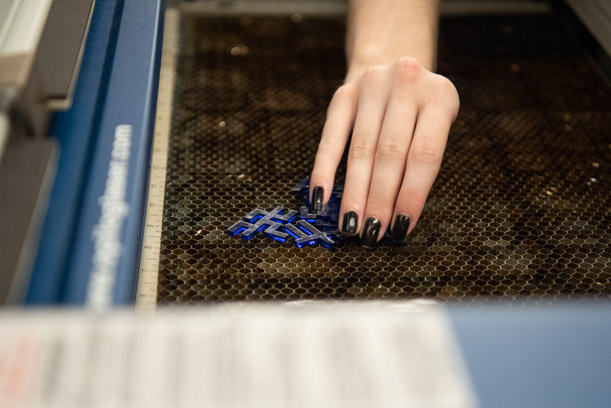 If you haven't used or seen the laser engraver yet, head to the Studio next time you're in the library. It is so neat that patrons have access to this versatile piece of equipment. I love the textures and colors in this photo, from the browns of the laser engraver to the shapes of the recently cut acrylic puzzle, to the nail polish on a staff member's hand.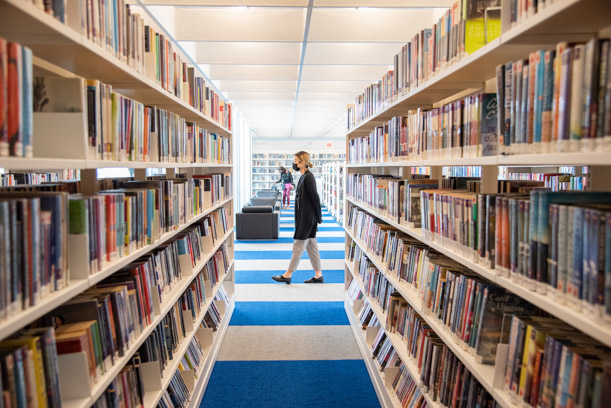 One day last summer, I was wandering around the romance shelves, looking for pictures to make. I turned to my left and saw this great view down the stacks looking out onto the natural light from the Swans courtyard. I love the symmetry of the shelves and how they lead you to the people in this photo. I love the colors, the stripes of the carpet, and all of the lines drawing you into the photo and taking you all around it. It's hard to say, but this may be my favorite photo this year.