BOOMbox at Home: National Parks
August 24, 2021 by Skokie Staff in BOOMbox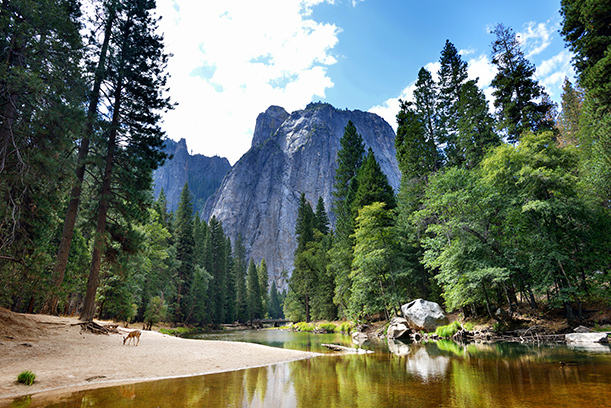 Whether you're traveling or staying in your own backyard, many park adventures await you.
National Parks Basics
What makes a national park different from a nearby public park? National parks are managed by the federal government--they even have their own federal bureau. In 1916, the National Park Service was created to "to conserve the scenery and the natural and historic objects and the wild life therein and to provide for the enjoyment of the same in such manner and by such means as will leave them unimpaired for the enjoyment of future generations."
In simple terms, this means that national parks protect important natural and historical resources so that everyone, including people who haven't even been born yet, can explore, enjoy, and learn from them. For example, because the protection of the National Park Service prevents them from being cut down, some of the trees in Redwoods National Park are taller than 360 feet. That's about the same as the length of a football field. These trees are hundreds, and in some cases even thousands, of years old.
There are currently more than 400 national parks, trails, and historical sites all over the country. In Illinois, you can visit the following:
But you don't need to travel to explore a national park. You can visit online from the comfort of your couch. Watch wildlife or the ocean via webcam, or immerse yourself in a 360 degree video of Crater Lake. You can compete against family or friends in a game of national park bingo.
Junior Ranger Program
Park rangers play an important role in keeping the parks running smoothly and safely for everyone. You can see what it's like to be a park ranger by joining the National Park Service Junior Ranger program and "taking an oath to protect the land, resources, and history; continue to learn about our national parks; and share [your] own stories with friends and family."
As a junior ranger, you can explore activities connected to different parks or different interests. While some of the activities require physically visiting a specific park, many can be done from your own home. For example, you can earn your Junior Archaeologist patch, learn about animals as Junior Ranger of the American Samoa, experience the writing of Carl Sandburg as a Rutabaga Junior Ranger, learn about the women's rights movement as a Junior Suffragist, or teach yourself about trains as Junior Ranger Railroad Explorer. You can even listen to Junior Ranger Radio while you work.
Deep Dive
Would you like to try something a bit more elaborate? It can take millions of years for trees to petrify or turn into stone, which is probably a bit more time than even the most dedicated young scientists can spend on a project. Fortunately, you can see petrification on a smaller scale without even needing to house a whole tree. Learn how to make a petrified log out of paper towels and other kitchen supplies in about a week.
Looking for an escape? Create your own cardboard cave or design your own fort based on the functions of real forts. Imagine what a national park devoted to your cave or fort might be like. What sorts of things would guests see and do there? What rules would you need to establish to keep everyone safe? You can take inspiration from existing national parks like Mammoth Cave or Fort Union.
You can even explore a topic by combining a few related projects. For example, learn about habitats by doing a habitat scavenger hunt and designing a habitat for a stuffed animal or fantasy creature. You can personalize the experience by including notes or drawings using your own homemade ink, which might be made from berries growing in a nearby animal's habitat (or tea or coffee from your parent's kitchen habitat).
Person of the Week
Shelton Johnson is a Black and Indigenous park ranger who works to connect Black people to national parks as visitors, employees, and historical subjects. He is most well-known for his role in the Ken Burns documentary National Parks: America's Best Idea, but that is only one element of his advocacy. He is responsible for uncovering and preserving much of the history of the Buffalo Soldiers, soldiers in all-Black regiments whose duties included serving as some of the first park rangers. Johnson hopes that highlighting the achievements of the Buffalo Soldiers and other people of color will help Black people see themselves in national parks. He has inspired prominent Black celebrities like Oprah Winfrey and Barack Obama to visit the parks. In addition to his work as a ranger and advocate, he is also a published author of historical fiction.
Written by Eli.