BOOMbox at Home: The Great Outdoors
August 16, 2021 by Skokie Staff in BOOMbox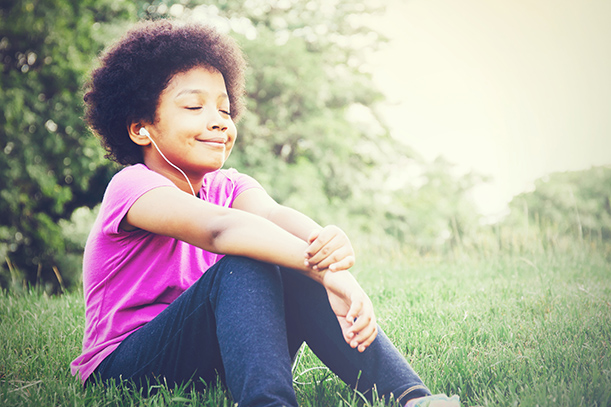 How much time do you spend indoors? What makes you want to get outside? Let's learn about the health benefits of spending time outside, ideas for possible activities, and safety considerations.
Health Benefits
According to the Environmental Protection Agency, people living in the U.S. spend about 90% of their time indoors. Did you know that in some cases indoor air is more polluted than outdoors air In addition, spending time outdoors benefits motor skills, coordination, and balance.
There are lots of important reasons to spend time outdoors. Some of them include increasing vitamin D intake, developing problem-solving skills, connecting with nature, and taking physical risks. Let's dive deeper on the topic of vitamin D.
Did you know that vitamin D is actually a hormone? The presence of this hormone is important for calcium absorption from the digestive system into the bloodstream. The sun's rays on your skin activate the production of Vitamin D in your skin. This is the source of most of the Vitamin D your body needs. About 10% likely comes from the food you eat. Read about what vitamin D does and more. In the mood for a video? Watch and learn about the ABCDs of vitamins. And, to address any misconceptions on this topic, check out vitamin D myths.
Other important considerations for Vitamin D exposure include access to sunlight in cities, its impact on our immune systems, and the amount of melanin produced in your body. Did you know that being in the sun causes some people to sneeze? Or that too much sun can have harmful effects on your skin?
If you're feeling a little too comfy at home, here's some Sesame Street-style inspiration to head outside for a bit. And here's what would happen if you didn't go outside for a whole year.
Outdoor Activities
Being outside in nature reminds us that there's more to our communities than our family and friends. When you go for a walk, what do you see in your neighborhood? How are these observations different from what you might see in a forest preserve? Consider jotting these observations down in a journal after each outing and read through your notes once in a while to see if any patterns emerge. You can even make your own journal.
Looking for a reason to head outdoors? Play nature bingo with your family and friends. If you can't bear to part with your device, watch how to use the iNaturalist app to identify and record local flora and fauna, and review the iNaturalist resource guide. For an open-ended outdoor excursion, use the Nature Conservancy's search feature to find protected lands by you.
Safety and Accessibility
We may not often think about outdoor safety and accessibility, but they are important considerations when planning an outdoor activity. Is it safe for everyone to spend time outdoors? What barriers might there be for people of color or those living with disabilities? As we reflect on how to be more inclusive, take a moment to consider how you connect with nature and the challenges others may face.
You can start by learning how to include everyone, because being left out can make life harder for people. Lots of people are working to share the stories of Black women, people with disabilities, and LGBTQ nature enthusiasts. Here are a few resources to learn more:
Person of the Week
Ambreen Tariq, author of Fatima's Great Outdoors, is the founder of Brown People Camping. If you haven't read Tariq's picture book yet, watch a preview where she reminds us that "public lands belong to all of us and that all families are welcome in the outdoors," and watch an online storytime of the book.
Looking to get connected with Brown People Camping? Follow Ambreen Tariq on Instagram and watch a conversation between Tariq and National Park Service Ranger Fatima Colindres, where they explore nature through a multicultural lens.
Written by Veena.