BOOMbox at Home: Careers in Gaming
July 8, 2021 by Skokie Staff in BOOMbox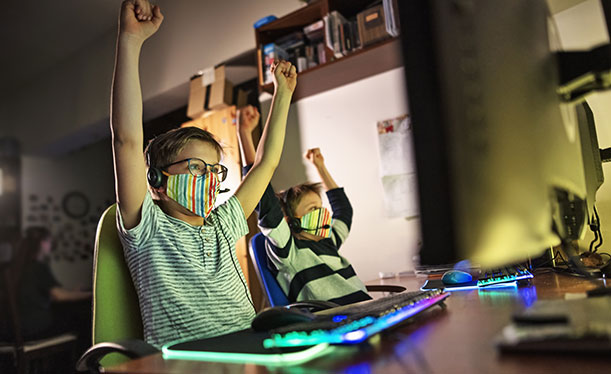 Careers in gaming have become more common as video games are more accessible to the everyday consumer. Jobs include game developers, game testers, streamers, YouTubers, and many other fields of interest. Visit our list of books about careers in gaming, and read more below.
YouTube/Twitch Streamer
Being a content creator has many positive benefits. YouTubers and streamers are often sent games to be reviewed before they are released. This gives players insight about a game before buying it. Content creators are also able to bring in more viewers based on the fact that they are playing a game that has yet to be released.
Patreon and other subscription/donation sites are very popular with content creators. Subscribers donate money on these sites and gain access to such rewards as early release content, access to Discord servers, and other promotions. On some streaming platforms, subscribers are granted access to different emojis or badge names showing that they are members of the community.
ESL Pro League
The ESL Pro League is an eSports league that operates in Europe, Asia, the Americas, and Oceania. This eSports league is specifically for Counter Strike: Global Offense (CS:GO). The years are broken down into seasons, and with the onset of COVID-19, seasons 12 and 13 did not have final games. Each final season has the possibility of winning a large pool of money. The first season had a winning pot of $50,000, which expanded during the last couple of seasons to $1 million.
The ESL Pro League has currently has 24 teams that play through 4 weeks of competition, called the ESL Pro Tour.
Colleges and Scholarships
Colleges have started to take eSports more seriously, with eSports teams and scholarships. ESports teams help colleges attract students that they might not have been able to reach before. Some colleges have team levels such as freshman, junior varsity, and varsity, similar to the levels of other sport teams. In the 2015-16 eSports league, colleges gave scholarships worth close to $3 million. In 2019, that number increased to nearly $15 million. Almost 90% of eSports scholarships are given to men. Colleges have also adopted specific eSports degree programs. One of the most popular is a degree in eSports management, which focuses on managing a team in a digital, business, and event-planning sphere.
Gamer of the Week
Ricki Ortiz is a transgender woman who got her start in gaming when her father took her to an arcade near their home. She spent almost every single day after school at that arcade playing games. She entered tournaments locally, and then moved from California to New York to experience the arcade scene. Ricki specializes in fighting games, including Street Fighter, and won $60,000 in a 2016 tournament.
Written by Erica.