Beginner's Guide to Audiobooks
June 18, 2021 by Becca Boland in Beginner's Guide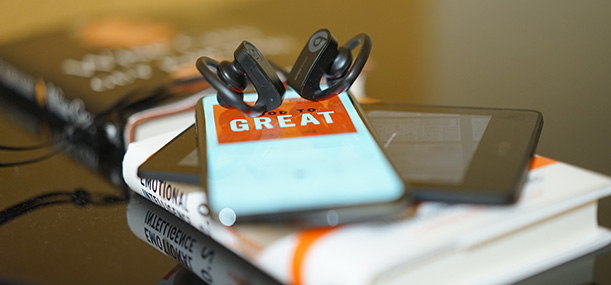 We sing (or maybe just talk) the praises of audiobooks and their benefits. I, Becca, have collaborated with Tiffany, and many other staff members to create this beginner's guide (and a list of staff favorites) for readers who have always been curious about audiobooks but aren't sure where to start.
Audiobooks have been a part of my life since I was a kid, starting with records of storybooks that would "ding" when you were supposed to turn the pages. I loved that it allowed me to read books by myself when otherwise I would have needed an adult to help me. When my family went on road trips, we would check out books on tape from the library.
Tiffany's audiobook journey started when she was an adult:
"I had LASIK eye surgery in 2019. My thoughtful and book-loving sister knew I wouldn't be able to read a book for a bit, so she gave me a life-changing gift: an audiobook! Even though I'm an avid podcast listener, I was nervous that I wouldn't be able to keep up or would lose interest, but as I lay there, eyes healing, I was totally captivated. The library's Libby and Hoopla apps have been my best friends ever since."
Benefits of Listening
We live in a world that is often overstimulating, and audiobooks allow us to close our eyes and listen--or multitask and listen. Psychology Today lists many reasons audiobooks are beneficial, from developing empathy to reducing negative thinking, and audiobooks can also improve literacy skills for young readers. When I was given wireless earbuds as a gift a few years ago, my reading was changed for the better. The wireless headphones allowed me to have an audiobook in one ear while I did chores, gardened, or knit, while leaving one ear free if one of my kids needed me. Our staff members told us the reasons they enjoy audiobooks:
They can make something I don't like go by more quickly, like cleaning the house or a long commute. Nancy
Listening to a "challenging" book is much easier: Russian surnames are not as confusing (anything by Dostoevsky), vernacular is manageable (Barracoon by Zora Neale Hurston), and monumental works seem less daunting (anything longer than 600 pages.) Martha
I love to listen to audiobooks while I crochet. I love being able to do two hobbies at once. I also love to listen to an audiobook while exercising. It helps take my mind off the fact that I'm exercising. Lynnanne
I love that the reader's voice helps me escape into the story in a way that I'm not always able to with a print book--when an audiobook reader is good, they can animate the characters with different tones of voice and accents that enhance the experience. Jessica
Recently, during the pandemic, I decided to try them again. Sometimes, after looking at words on a screen all day, I just want to close my eyes and be read to. I think I'm harkening back to childhood, when we are all happy to hear the words being read off the page, rather than having to do the reading ourselves. Yes, there are times when even the act of reading can seem tedious. Cecilia
A skilled narrator can turn a reading into a performance. Not all books need such a treatment--quiet, subtle, nuanced, reflective books are probably best read, slowly, in print--but an emotional book deserves an emotional performance. A good audiobook brings out and enhances the drama in a text. Steven
Audiobook Narration
Narrators can convey emotion and meaning through their voices that might not always be apparent on the page. This is especially helpful for books that take place in a world or community you might not be familiar with. Let's take a closer look at narration types.
Single Narrators
These audiobooks are as the name suggests--the entire book is voiced by the same person, including each character. Single narrators often change their voice in some way to differentiate between characters. Many audiobook listeners end up having a favorite narrator (more on that later), but one staff favorite is Jim Dale, who narrates the Harry Potter series:
Jim Dale is the voice of my childhood! Lynna
All of the Harry Potter audiobooks are my favorites--I can't believe how Jim Dale created all of the different voices! Nancy
The Harry Potter series read by Jim Dale (although I know people also love Stephen Fry) would be my desert island audiobook. Shelley
I feel like I'm at Hogwarts when I listen to Jim Dale read those books. Maridsa
Dual Narrators
Audiobooks with dual narrators typically happen when the story is told from the perspective of two main protagonists--and each perspective is voiced by a different narrator. Stellar examples of dual narration include Clap when You Land by Elizabeth Acevedo, Kitchens of the Great Midwest by J. Ryan Stradal, and American Marriage by Tayari Jones.
Full Cast
These audiobooks take listening to a whole new level--it is so immersive, it is almost like listening to theater. There have been some amazing full cast audiobooks in recent years that take the listener to a totally new place. Some examples include Lincoln in the Bardo by George Saunders, Four Hundred Souls by Ibram X. Kendi, and Daisy Jones & the Six by Taylor Jenkins Reid. Another full cast audiobook that many love is Neil Gaiman's American Gods.
American Gods was one of the best audiobooks I've ever read. I would often drive to get to work early so I could sit in the parking lot and listen to a bit more of the story before starting my day (yes, the story is that captivating)! Caitlin M
Read by the Author
It is always a fun listen when an author narrates their own work, whether it is a memoir or fiction. You get to enjoy the book exactly as the author imagined it. Popular options include books by Barack and Michelle Obama, Mindy Kaling, Trevor Noah, and Elizabeth Acevedo. Our staff members also love books read by the author:
I love listening to enthusiastic authors reading their own work. I like to hear the voices and the intonations the way they sound in the mind of their creator. Caitlin S
I really enjoy autobiographies and short essays read by the author. The delivery and tone become more genuine and not over acted or dramatized. Rick
To Speed or Not to Speed
Audiobooks tend to be spoken at a slow pace. If you have ever tried listening to one and found it hard to pay attention, try increasing the speed. This option is great for readers with short attention spans, are short on time, or who need to get through a book for work or school. The Hoopla and Libby apps include options to speed up an audiobook; the Libby app allows readers to speed up by .05x at a time, so you can find just the right speed for you a particular book.
Finding and choosing audiobooks
Not sure where to start? These are our best tips for finding audiobooks.
Award Winners
Why not choose a proven winner? There are multiple awards just for audiobooks. The Audies are an annual award that honors the best titles in audio publishing by the Audio Publishers Association. The 2020 winner was The Only Plane in the Sky: An Oral History of 9/11 by Garrett Graff, which is a full cast audiobook with 45 narrators telling their stories in their own voices.
The American Library Association also awards the Odyssey Award every year to an outstanding audiobook production for children or young adults. The 2021 winner was Kent State by Deborah Wiles, another full cast audiobook with multiple perspectives and vivid sound effects that create an immersive, thought-provoking experience.
Favorite Narrators
It doesn't take long after jumping into audiobooks to find favorite narrators. Some people choose their books based on the narrator and don't know anything about the book. My favorite narrator is Bahni Turpin. She has narrated hundreds of audiobooks and I have yet to find a dud. Other staff favorites include Brittney Pressley, Simon Vance, Prentice Onayemi, Robin Miles, Dion Graham, Julia Whelan, and George Guidall.
A fair number of actors regularly record audiobooks, including Edward Herrmann, Wil Wheaton, Bronson Pinchot, Tim Curry. Others who lend their voices less frequently, but with lasting impact, include LeVar Burton, Claire Danes, Lin-Manuel Miranda, and many more. Choosing books read by actors is a tried-and-true method for many staff members:
Like having a favorite actor or author, there are similar stars of the audiobook world. There is an award ceremony called the Audies to celebrate the year's best in audiobooks. Sometimes when I'm stuck trying to find the next book to listen to, I look for other titles from a narrator I liked hearing before. It can open up a wider world of reading, just exploring what else they have recorded. Rick
For me, a good story and an amazing narrator bring the book to life and can pull you into the story. I can visualize the scenes and the characters. It's like listening to theater. When I find a wonderful narrator, I am encouraged to seek out other books they have read. Frequently genres that would not have gotten my attention have drawn me in because of the narrator. Margie
Popular and Recommended Reading
Another way to find audiobooks is to look at popular books on OverDrive/Libby and Hoopla. These books are often popular for a reason, and giving them a try can help you discover which narration style and narrators you like. Another option is our staff lists for audiobooks, including our new beginner's guide audiobook list, full of our staff favorites.
Do you have a favorite audiobook, or discover one after reading this? Let us know by email or tag @skokielibrary on social media.