BOOMbox at Home: Gaming 101
May 19, 2021 by Skokie Staff in BOOMbox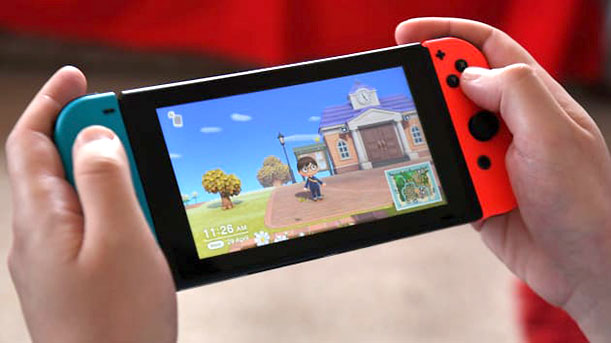 In the coming weeks, the BOOMbox at Home will explore different types of games. This week, we're providing the history, benefits, and basics for those new to video games.
Playing cards is a family tradition for many of us. My Grandma and her friends played Kalooki (or Kaluki) every Friday afternoon at our kitchen table. Kalooki is a gin rummy game played with two decks of cards, including the jokers. As I was struggling to remember multiplication facts, it was astonishing to watch these "old ladies" play with 108 cards. They could remember every card on the table and who put them there.
Since then, scientists have proven that playing games improves concentration and memory. And online games have psychological benefits, like lowering stress, relaxing the mind, improving time management and critical thinking skills, teaching empathy and other social skills, and supporting mental health. All while having fun with friends!
Parents often limit game time for children, but it may be more important to limit what kids are doing than how long they're online. A TEDx talk about embracing your gamer kid helps educate parents about why more online game time could be a good thing. Not to mention, with about 120 collegiate eSports teams, gaming skills might just provide a route to a college scholarship (check back for more information about eSports in a future BOOMbox at Home blog post).
Why Do We Like Games?
Companies like Quantic Foundry study gamers and gaming to learn why we play. Their work helps game developers create games that we want to play. Quantic says gamers have different reasons for playing:
Action: looking for destruction and excitement
Social: looking for competition and being part of a community
Mastery: looking for a challenge
Achievement: looking to complete missions and collect badges or artifacts
Immersion: looking for a great fantasy world with interesting characters and plots
Creativity: explore, customize, discover, experiment, design
Want to know what type of gamer you are? Find out with Quantic's gamer motivation profile.
Gamers also learn to deal with unexpected consequences without risking real life dangers. Whether playing with real or virtual friends, games involve strategy and observation, which also means you need to stay focused. You can be anyone (or anything) as a game character, which gives your creativity a boost.
Gaming and Diversity
While gamers are about 60% men and 40% women, game developers worldwide are more than 70% white men. The International Game Developers Association reported in 2016 that people of color (POC) were missing in management jobs, and paid less than their white coworkers. Without diversity in game developers, games haven't done a good job representing many communities. People of color are more often cast as villains and portrayed in stereotypical ways. Women are not faring much better.
The legacy of marketing games to teenage boys has led to caricature portrayals of people of color, women, gay, and transgender people--read more about how this history impacts the industry. While it seems to be changing slowly, it's still a rough world for BIPOC and LGBTQ+ gamers and developers. Organizations like Sugar Gamers, GaymerX, Black Girls Code, and Black Collegiate Gaming Association continue to poke holes in the walls that inhibit diversity. If you're looking for games with that promote non-binary characters, view 15 games with non-binary character options.
According to Crunchbase, 312 gaming companies had at least one female founder. One of the most successful is FanDuel, co-founded in 2009 by Lesley Eccles. Long before that, in 1964, teacher Mabel Addis designed the first simulation game, The Sumerian Game. The Sumerian Game is the first video game based in a story, as well as the first edutainment game. Mabel has been credited as the first female video game designer and the first video game writer.

Who Games?
Gaming has a reputation for being a boy thing, but according to The Entertainment Software Association's 2020 essential facts about the video game industry, 59% of gamers are male and 41% are female (this report did not include other gender identities). Not surprisingly, 70% of kids younger than 18 play online games. Nearly 40% of adults between 18 and 34 years old are still gaming. Even at ages 35-54 years old, 26% are online gaming. According to gamify.com, the average male gamer is 33 years old.
Don't underestimate those older gamers. Technology company Lenovo sponsors the world's first senior eSports team, Silver Snipers. The team includes three men and two women who play CS:GO. Their mission is to promote gaming for older adults. Silver Sniper member Abbe "DieHardBirdie" Drakborg was 78 when the team won the CS:GO Senior League tournament at DreamHack in 2019. In 2020, he retired from competitive gaming to focus on his Twitch stream.
You Play What?
Ever wonder what games are most popular on each continent? Here are the top 10 worldwide for 2021:
Battlegrounds
Fortnite Battle Royale
Apex Legends
League of Legends
Counter-Strike: Global Offensive
Overwatch
Hearthstone
Minecraft
DOTA 2
The Division 2
The Splatoon 2
Gaming and Accessibility
Accessibility can be an issue in gaming. Sometimes players need assistance or a special setup for controllers and keyboards. For gamers with disabilities, gaming gives them the chance to experience situations that may be difficult or limited in the real world. AbleGamers is a nonprofit organization that assists gamers who need help to game in order to fight social isolation, create inclusive online communities, and improve the quality of life for people with disabilities. They work with each gamer's unique situation to modify controllers, build gaming setups, use eye-tracking in new ways, invent new techniques, and can build entire rooms. At their accessible.games site, they also offer ideas for developers about creating accessible games, as well as ideas for players who may not know help is available. For gamers with disabilities who can't afford to pay for modifications, AbleGamers will provide them for free.
Gamer of the Week
"All a loser needs to win is a level playing field." Keisha Howard is a proud loser. In Keisha's Tedx talk, she says losing over and over again taught her to keep trying. She also says that all of her adult success is due to playing video games.
Growing up, Keisha was a shy little girl who watched her older brother play video games safely away from the violence in her Chicago neighborhood. Not only did she achieve her goal of beating her brother at video games, but she's gone on to make an impact in the gaming industry. She founded Sugar Gamers in 2009 after noticing that she couldn't find other women online with "geeky interests." She started Sugar Gamers as a space for women, but it's expanded into an organization for a diverse group of geeks and gamers who were not well represented in technology, gaming, entertainment, and the arts.
Sugar Gamers is not focused on hardcore professional gaming, but it has been recognized for innovative and positive contributions to the gaming community, as well as the wider community. In 2020, Sugar Gamers designed and managed a game lab sponsored by Adidas during the NBA All Star Weekend in Chicago. High school students had the chance to learn about gaming as a career, as well as playing with NBA players, Kyle Lowry, Zach LaVine, and Donovan Mitchell, pro gamer Ninja, and Sugar Gamers staffers.
Written by Pam and Veena.