BOOMbox at Home: Earth Day
April 15, 2021 by Skokie Staff in BOOMbox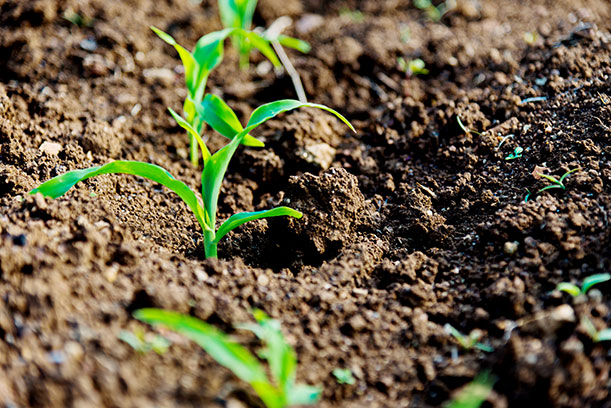 For Earth Day, find new ways to help preserve the planet we all share. Here are some fun activities to do with your family or friends.
Seed Starters
Biodegradable seed starters are a great way to start growing seeds for summer gardening. Watch a video demonstration from our BOOMbox team on how to make your own biodegradable planters. Using newspaper as a container for your seeds allows you to put the whole seed starter into the ground and not have to worry about bad effects, like when using plastic. Using old newspapers also allows you to use up spare materials from around the house
Olla Irrigation
One way to use less water, while still hydrating your plants, is by using the ancient system of Olla irrigation. This system has been used by many different cultures, including African and Chinese cultures. The process of putting Olla irrigation into use is pretty simple: fill the pot with water and then bury it with just the top of the pot above the ground. The pores of the clay pot are so small suction pulls the water out through the pores. If the soil is very dry, more water will be pulled out, but if there was heavy rainfall and the soil is very damp, moisture will not be released through the pot. Olla irrigation is also beneficial for plants as it encourages deep root systems
Olla irrigation is very beneficial for fibrous plants, such as watermelons, squash, tomatoes and chilies. It is not that beneficial for plants like legumes and grains because these plants need more water than it will provide.
There are many different types of Olla systems, ranging from the traditional hand-built pots, to balls, to DIY terracotta flower pots, to low-cost recycled water bottles. Consider your needs in your garden before making a decision to buy.
Dirt Pudding
Earth Day can be delicious, too! A fun and sweet way to celebrate is to make some soil horizons dessert cups, otherwise known as dirt pudding. If you make it, we would love to see your creations. Email a photo to mycreation@skokielibrary.info or tag @skokielibrary on social media.
Seed Bombs
Seed bombs help grow gardens and repopulate wildflower areas. They're also a biodegradable way to start seeds in your garden. You just need a few ingredients to make a seed bomb. It is important to research what wildflowers naturally grow around your area. This will vary by area and you don't want to disrupt the local ecosystem. Here in Illinois some of the most common wildflowers are foxglove, wild garlic, thimbleweed, white sage, milkweed, and indigo.
Chia Seed Egg Heads
These chia seed egg heads are a fun way to reuse egg shells from cooking. By cleaning out the inside of the shells and decorating the outside, you can create your own little characters or creatures. Add potting soil and chia seeds to the top of the egg shell, and then water it. This will allow the chia seeds to grow and make hair for your characters. It's best to keep them in the recycled paper container that most eggs come in. The growing period for these chia seed egg heads should be about a week.
Written by Erica.