BOOMbox at Home: Disguises and Masks
December 22, 2020 by Skokie Staff in BOOMbox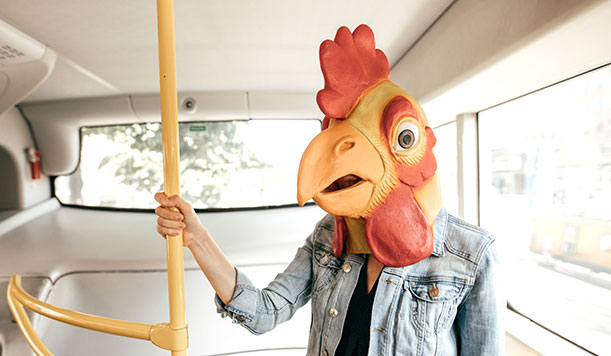 This week, we're exploring disguises and masks through the use of arts and crafts, sewing, and makeup.
Animal Masks
One way to bring your imagination to life is by making animal masquerade masks using simple materials that you might have at home.
Start with foam sheets or construction paper, scissors, glue, and a string or elastic to keep your mask on your face. Choose an animal you would like to replicate. Then, using animal templates, cut out and glue together the pieces you need. You might find a cartoon of the animal you want to draw, and trace the outline from the screen or draw it freehand using the picture as a reference. View detailed instructions and picture examples.
Not a crafty person? Use a printable animal mask templates to make a simple version without any tracing or gluing. All you need to do is print an animal, cut along the dotted lines, and color your creation. Then, punch holes in the side and feed some string through to make the mask fit around your face, adjusting it as needed.
For more detailed tutorials, see these videos:
Make a Kids Raccoon Mask
Pipe Cleaner Spy Disguises
Every spy's number one rule is to camouflage with your surroundings and disguise yourself to not be caught. If you're a Spy Kids enthusiast, try these pipe cleaner disguises.
You'll need multicolored pipe cleaners, scissors, and your imagination. Start by thinking of how you want to be disguised. Whether you choose a pirate, an alien, or a wizard, make sure you have a reference picture. Then, start twisting the pipe cleaners to form the shapes you need. For a pirate, twist some black pipe cleaner into a spiral to form an eye patch. For an alien, use some green pipe cleaners to create alien antennas. For a wizard, use a purple pipe cleaner for a magic wand. If you don't want to be a specific character, try making glasses or a mustache to transform yourself into a whole new person. For more pictures and inspiration, see these pipe cleaner disguises.
For more detailed instructions on other disguises and everything spy-related, see these resources:
Make a Pipe Cleaner Princess Disguise
Make a Pipe Cleaner Gnome Disguise
Printable Disguise Kit (no pipe cleaners needed)
Face Paint Disguises
In movies, prosthetics and makeup are the main ways actors are transformed into their characters. Create your own unique designs using homemade face paint. There are several different ways to make face paint, so instructions and measurements vary. These resources provide recipes:
Homemade Face Paint Recipe and Color Chart
Homemade Face Paint Using Washable Paint
Face Paints Using Household Ingredients
Artist of the Week
Ve Neill is a master of disguises and Oscar-winning special effects makeup artist who has worked on several films, including Beetlejuice, Mrs. Doubtfire, and Ed Wood. She has also done makeup for actors and actresses in The Hunger Games and Pirates of the Caribbean movie series.
After going to school for fashion merchandising, Neill went to a science fiction convention, where she met Fred Phillips, the one responsible for the look of the original Star Trek TV series. In a male-dominated field, Neill was able to achieve her big break--a job on Star Trek: The Motion Picture. She eventually joined the union for makeup artists. With her work on Star Trek and other science fiction films, her specialty has become extreme fantasy makeup.
She now serves as a judge on the Syfy original series Face Off, which features makeup artists competing for $100,000. In 2017, she accepted the position of director of education at Cinema Makeup School in Los Angeles. She also hosts a scholarship at Cinema Makeup School called the Ve Neill Legends of Makeup Scholarship for makeup artists entering the field.
Written by Mahnoor and Veena.