BOOMbox at Home: Outdoor Art
November 5, 2020 by Skokie Staff in BOOMbox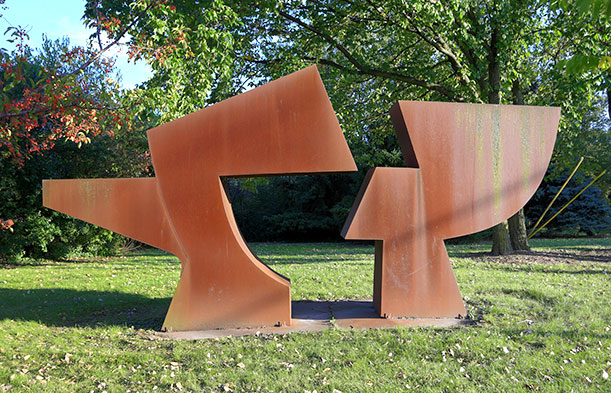 We're exploring art in our environment and art that can be made with what we find in nature.
The earliest known works of art date back to hundreds of thousands of years ago. They've come quite a long way since then with crochet sculptures, micro-sculptures, floating sculptures, and even living sculptures. And before you say, sculptures are not for me, hear this six-year-old out!
Scavenging for Sculptures
Are you tired of going on walks in your neighborhood? How about a sculpture-filled change of pace? Carve out some time to explore Skokie Sculpture Park, a two mile stretch of land that runs along the north channel of the Chicago River. The park is known for being home to more than 60 sculptures.
For our younger friends and budding builders, we recommend reading Iggy Peck Architect with us. Once you've heard all about Iggy's adventures, try designing a sculpture. If you're hankering for more fun with Iggy and his crew, how about making a sculpture of your own, perhaps for display in your front lawn? Learn how to make a clay sculpture at home.
Aching for some activity? Head over to the Skokie Sculpture Park to go on a sculpture hunt in person, or try a sculpture matching game from home. Take a selfie of yourself in front of each of the sculptures that you match and let us know you were there by tagging @skokielibrary in photos on social media.
Perhaps you've already ventured around the Skokie Sculpture Park. Try seven other sculpture walks in Illinois for nature lovers who enjoy art.
Nature Walk Bracelets
Are you taking daily walks outside for some fresh air and exercise? If so, grab some duct tape and wrap it around your wrist with the sticky side facing out. Then, while out and about, take a closer look at your environment for leaves, petals, seeds, and other decorative natural elements. Stick all of these on the duct tape to design your very own nature walk bracelet.
With Great Art Comes Great Responsibility
Perhaps that's not quite the saying, but it's certainly what visual artist Nico Cathcart describes in her TEDxYouth talk about the responsibility of public art. What messages do works of art convey? Where do you see them and where are they less visible? These are some questions that potter Theaster Gates addresses as he describes his efforts to transform buildings and communities on Chicago's south side.
Artist of the Week
Outdoor art definitely includes murals and street art. Look no further than the Art Alley behind Nando's PeriPeri at Westfield Old Orchard mall for a vibrant example of this. Artist Jenny Vyas is known for murals and street art in the city of Chicago and surrounding suburbs. She indicates that her mural at Westfield Old Orchard Mall is at the top of her list. For a glimpse of the creative process behind this mural, take a look at her Instagram post about this project.
Want to learn more about the "how to" of making murals? Read about the techniques of community murals.
Written by Veena and Frannie.