Coping with COVID-19
October 25, 2020 by Nancy Kim Phillips in COVID-19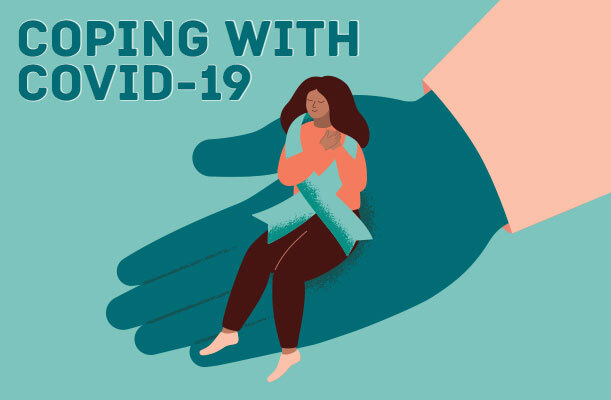 While days are getting shorter and temperatures are falling, confirmed COVID-19 cases in Skokie and Suburban Cook County have been trending up, at least as of today. Having worked remotely from home for seven months, I feel like my world has become very small. In Zoom meetings, I see and hear from parents and caregivers trying to balance remote learning and work responsibilities. I know others whose job responsibilities or those of their family members put them on the front lines, those whose work hours have decreased, or those whose jobs have disappeared. As the pandemic stretches on, the mental, social, and emotional health challenges we face seem as overwhelming as those to maintain physical health and safety.
I need some relief--what about you?
On Thursday evening, November 12, you are invited to an online event to both learn and share practical strategies to cope with the stress caused by the changes and certainties of the COVID-19 pandemic, and to support others through the challenges as well.
What can you expect?
During the first half of the event, you will hear from leaders, including Catherine Counard, MD, medical officer for the Office of Health Protection at the Illinois Department of Public Health and former director of the Village of Skokie Health Department. She who will talk about the current situation with COVID-19 in Illinois. Cordelia Loots-Gollin from Turning Point Behavioral Health Care Center will speak about maintaining mental, physical, and emotional health, and how to think about doing this as we look toward the holidays.

For the second half of the event, you'll join a group based on your needs and interests. Group leaders will present information, techniques, and strategies. You are invited to share your ideas, too. When you register, you'll be asked to choose from one of the following groups:
Taking Care of Yourself: Learn about ways to de-stress, including a chance to practice chair yoga and breathing techniques led by trained Turning Point staff. Feel free to grab the kids to join you for this hands-on experience, which is appropriate for all ages.
Supporting children ages 0-14: Join staff from Skokie School District 69 and local parent leaders to learn how to support your children's social and emotional well-being in the face of limitations created by the pandemic.
Supporting young adults in high school and college: Learn to recognize and difference between normal stress behaviors and warning signs of more serious concerns. Staff from Niles Township High Schools District 219 and Turning Point will be joined by a local teen leader to provide tips and scripts for handling both.
Active adults staying connected: Especially for older adults, Skokie Park District staff and a local resident co-leader will share opportunities to stay connected with the outside world and with others. Bring your ideas and get ready to connect!
Community building and support: Whether in direct response to COVID-19 or another shared interest, coming together with others creates a sense of purpose and belonging while benefiting the community. Hear how Fairview parents and Lorel Park neighbors are creating community, and share your experiences.
While you may be experiencing stress and isolation, you are not alone. Register for Coping with COVID-19 to learn, share, and create connections with others.
Coping with COVID-19 is a public health symposium being presented by the Skokie Community Foundation, Skokie Public Library, Turning Point, and a host of other community partners. For more information, go to the Skokie Community Foundation website.