BOOMbox at Home: Space and Ice Cream
September 10, 2020 by Skokie Staff in BOOMbox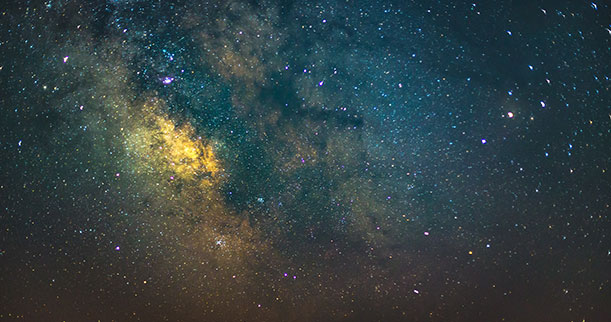 Inspired by clearer night skies and the Perseid Meteor Shower, the stars are aligned for these activities. Read on to learn about stars, the moon, and more.
Beyond Our Planet
Have you wondered what exists beyond Earth? Or what the Earth looks like from far away? What technology can we use to explore beyond what we can see with our own eyes?
Space, also known as outer space, encompasses what exists beyond the Earth and between celestial objects. The study of space includes the fields of astronomy (observation of objects in space) and space technology (the physical exploration of objects in space). There are many ways to learn more about the vast expanse beyond Earth. For starters, you can watch the NASA live stream of Earth from space and get a closer look at the Sun's surface.
If you're hoping to do some night sky gazing of your own, try installing a stargazing app on your phone, using binoculars, or building a LEGO telescope. Remember, never look directly at the sun! It will harm your eyes.
Are you looking for activities that are "out of this world"? Here are some resources to help you imagine the moon, consider life as an astronaut, and think about what existed before the Big Bang.
For your arts and crafts fix, check out these fun solar system exploration activities for kids from NASA or printable activities for all ages. For all your other fixes, learn about space via the Hubble Space telescope and visit NASA's Space Place, Kids' Club, or NASA at Home.
Visit the Adler Planetarium's YouTube channel to stay connected with all things including and beyond planet Earth.
DIY Ice Cream!
Ice cream is a fun treat to eat and create. You can make many different combinations, or you can keep it simple. You could even add space-related toppings. Chocolate chips could be meteors, sprinkles could be stars, or pieces of cookie dough could be planets. Create your own universe! You can create ice cream in a mason jar or with a jar that you can freeze and that has a lid. You can even make dairy-free ice cream using bananas, and learn the science behind ice cream.
Representation in All Things Astro
Similar to the challenges we face with diversity and representation on Earth, the same is true of outer space. Curious about why there are so many barriers? Here's some perspective on the challenges faced by people of Black and Latinx descent in entering the field of astronomy and the importance of addressing these obstacles--not just from a social justice vantage point, but also for the sake of advancement in the field and beyond.
Where do we go from here? Forward, of course, to #BlackInAstro: How Can We Support Black Astronomers?
Scientist of the Week
Mae Jemison was born in Alabama, one of three children. Even though Mae was born in Alabama, her family moved and settled in Chicago. Mae said that she knew from an early age that she wanted to study space because of early influences such as Star Trek, especially because of the African American actress, Nichelle Nichols, who played Uhura. Mae also enjoyed the fine arts, learning ballet and other forms of dance.
Mae earned her undergraduate degree at Stanford, where she received her B.S in chemical engineering and her B.A in African studies. She went to medical school at Cornell and then joined the Peace Corps. Afterwards, she was one of 15 applicants picked from 2,000 to be considered for a position with NASA. She was the first Black woman to go into space and she was a part of the Space Shuttle Endeavor. She spent nearly eight days in space.
Learn more about Mae's story on Space Center Houston's Blog, check out our fun fill-in activity sheet, or enjoy a read-aloud of Mae among the Stars.
Share
We'd love to see the results of your experiments. Tag @skokielibrary when you share photos of what you've created on social media.
Written by Erica and Veena.