Online Book Club: Here for It by R. Eric Thomas
June 2, 2020 by Tiffany Breyne in Events and Programs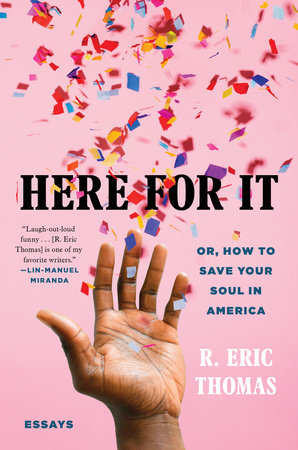 This month's online book pick is Here for It, or How to Save Your Soul in America by R. Eric Thomas. Here for It is a national bestselling memoir in essays that is both hilarious and heartfelt. Lin-Manuel Miranda calls it "Sedaris-level laugh-out-loud funny," which we consider the highest of compliments!

We picked this book in celebration of Pride Month. Although Thomas' essays focus on his own experiences of fitting in as a gay black man, his writing speaks to all of us in times we've felt like we didn't quite fit in, or struggled to accept ourselves as we are.
Listen to a sample of Here for It.
Listen to an interview with R. Eric Thomas and read an excerpt from his book.
Join our adult book discussions on Goodreads and Instagram Live
Goodreads:
Thursday, June 18, 8-9 pm
Instagram Live:
Tuesday, June 23, 7:30-8 pm
Join our book club on Goodreads and follow us on Instagram.
Post your thoughts about the book on Instagram
Tag @skokielibrary and use #SkokieBookClub to keep us updated on your progress. We'll also have fun prompts on Instagram.
Here for It is available on Overdrive/Libby as an eBook and downloadable audiobook.