BOOMbox at Home: Architecture Activities
May 27, 2020 by Skokie Staff in BOOMbox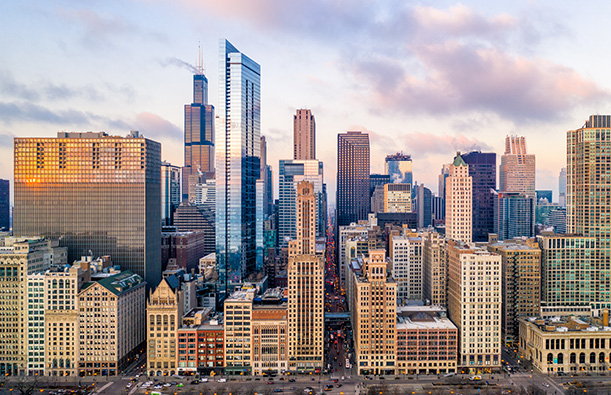 This week, we're exploring architecture, which is more than buildings. It's about design, structure, problem solving, city planning, and art. Here are three different activities you can try at home to learn about architecture and interior design.
Chalk Skylines
Chalk skylines are a great and simple way to learn about cityscapes and art composition. There are several ways to do chalk skylines, so experiment with different methods to see what works for you.
For this activity, you will need black construction paper, light-colored construction paper, pencils, chalk, and scissors. If you don't have chalk, color pencils or crayons can also be used as a substitute. Newspaper or even thin cardboard from a cereal or tissue box can be used in place of construction paper.
To start, draw a city skyline on the light-colored construction paper, using any image online for inspiration. We like to use the Chicago skyline, since sometimes you can see it from Skokie. Then, cut out the outline using scissors; this creates a stencil. Using the stencil you've just created, set it on top of the black construction paper and layer some chalk onto the edges. When you pull away the stencil, you'll see a stunning outline of a cityscape. If you'd like, you can decorate your creation by adding stars or a night sky or even adding a second cityscape in the background.
For tutorials on this activity or more detailed instructions, see the following videos:
City and Mountain Skyline Using Chalk
How to Draw a Cityscape Using Chalk
Paper Mosaics
What better way to bring modern architecture to life than by creating paper mosaics? Mosaics are intricate patterns made up of individual pieces of stone, glass, or ceramic, usually held in place by plaster or mortar. Mosaic art was first seen in architecture in the third millennium BC in Mesopotamia. Since then, many cultures have also used mosaic techniques in their architecture, including the Roman and Byzantine Empires.
To create paper mosaics, you will need white card stock or construction paper, pieces of colored construction paper, a pencil, glue, scissors, and a ruler. Be creative in finding substitute materials if you don't have card stock or construction paper. Thin cardboard will work as well.
First, draw your design on the white paper. Make sure the design is simple and clear, like a basic flower or even a geometric shape. Using a ruler and scissors, cut your colored construction paper into strips, ranging from ½ inch to an inch wide. Then, cut these strips into triangular, square, and rectangular pieces. For a more creative approach, consider ripping the paper with your hands to create pieces for your mosaic.
Finally, glue the paper pieces to the white paper to fill up your design. Make sure to leave some space between each piece to make it look like grout. Now you have a beautiful mosaic creation.
This activity can also be completed outside with sidewalk chalk and tape. It's a great way to share some beauty and design with your neighbors as part of the Skokie Spirit Shines Through campaign.
For more information about mosaic architecture and its history, or for detailed instructions for this activity, see the following resources:
How to Make Paper Mosaics
History of Mosaics
Mosaic Art in Architecture
Furniture Design Challenge
Imagine you are a designer for a furniture company that is looking for fresh new designs for their next collection. What will your signature piece be? Who is it for? What is it made of? Where will it go?
Using these questions as a guide, design a piece of furniture with cardboard and other materials like plastic containers you would otherwise recycle. Think about the materials you have available, both those to build with as well as those to serve as adhesives, like tape or glue, or movable joints like brass fasteners.
Not sure where to start? Get some inspiration from student designs like a bookcase and table, linked from Teach Engineer's Out-of-the-Box design challenge.
Scientist of the Week
Elizabeth Diller is an American architect who has created some of the most iconic designs for museums such as the Broad Museum in Los Angeles and the Museum of Modern Art in New York City. She currently works as a founding partner at Diller Scofido + Renfro design studio. She has also received many awards, including the MacArthur Fellowship genius grant in architecture and the James Beard Award for Outstanding Restaurant Design. She is known for blurring the lines between fine art and architecture. In addition to working at her design firm, Diller is also currently an architecture professor at Princeton University.
Share
We'd love to see the results of your experiments! Tag @skokielibrary when you share photos of what you've created on social media.
This week's post written by Mahnoor and Erica.