BOOMbox at Home: Spring Activities
May 21, 2020 by Skokie Staff in BOOMbox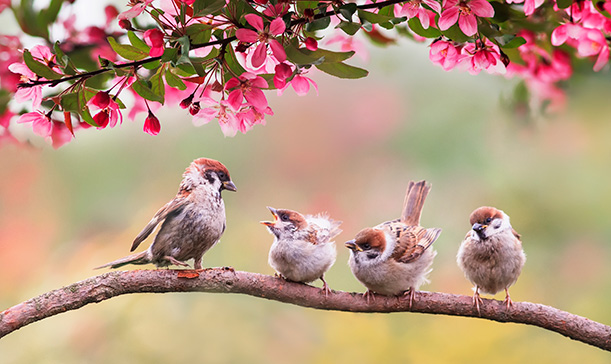 We're exploring some of the sights of spring: birds, bugs, and bees. As the weather warms up, you may be seeing and hearing all kinds of creatures outside. Here are four activities you can use to learn more about the animals in your environment.
Birds
You may notice that birds in your neighborhood are starting to lay their eggs. You can make your own little birds using leftover egg cartons and scrap paper! Typically Simple has a fun tutorial on how to make egg carton chicks with materials you already have at home. For an extra challenge, try to replicate the colors of a bird you've seen recently. We think crafting a northern cardinal, the state bird of Illinois and six other states, sounds fun.
Bugs
Could your bird use a buddy? Try out this tutorial from Ginger Snap Crafts to make egg carton bugs using some of the same materials. Take some time to think about all the differences between different types of bugs:
How many differences can you find between a worm and a spider?
How many similarities?
What about a caterpillar and an ant?
Speaking of caterpillars, if you'd like something a bit different, Make and Takes can teach you how to make a beautiful butterfly mobile. Don't have tissue paper? Try construction paper, printer paper, or newspaper that you've colored. Hang it in your window for your neighbors to see as part of the Skokie Spirit Shines Through Campaign.
Bees
Buzzing and bee stings may make you bug out a bit (get it?), but did you know that bees are really beneficial? Visit the Bumblebee Conservation Trust for a wide range of activities and fun facts about bees. We found the information about how bees see particularly fascinating! Consider splitting topics among siblings and taking turns teaching each other.
Scientist of the Week
Art Shapiro is an American ecologist who has spent the past 47 years counting butterflies. Every two weeks, he visits ten sites in north-central California to document changes in butterfly populations. In 1999, 27 years after his study began, Shapiro noticed a drastic decrease in the population of several butterfly species, and by 2018, the number of species at all elevations were down. Shapiro is working with other scientists to ensure that his documentation is continued and to use his data to better understand (and hopefully prevent) these declines.
Share
We'd love to see the results of your experiments! Tag @skokielibrary when you share photos of what you've created on social media.
This week's post was written by Eli.