Skokie Lights the Night
April 24, 2020 by Laura Partington in COVID-19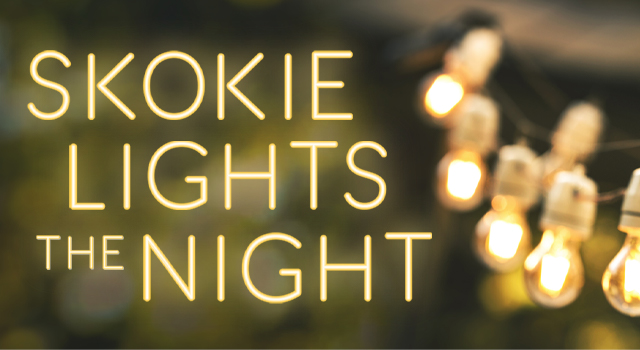 Mahatma Gandhi said, "In the midst of darkness, light persists." We all have the power to help make our world brighter, kinder, and more joyful. Although it may seem like each person can only make a small difference, together we can have a big impact on our community, creating a radiant glow!

We hope you will join the library for Skokie Lights the Night, a weekly event starting Wednesday, May 6, to create neighborhood connection, inspire hope, and thank our essential workers. This initiative supports Skokie Spirit Shines Through, a village campaign designed to lift community spirit and help neighbors connect with and support each other during this difficult time.
Here's How You Can Shine Your Light
Shine your light, every Wednesday night. Turn on any kind of light in your front window, on your front porch, or in your front yard every Wednesday at 8:30 pm. Try a flameless candle, string lights, your smartphone light, a flashlight, a battery or solar lantern, or simply turn on your porch light. Please don't use regular candles.

This is an opportunity to be creative. You could spell HOPE with colored string lights. Cover a mason jar with pieces of brightly colored tissue paper and light with an LED tea light. Place a flameless candle in a paper bag with a heart cut out. Change the bulb in your lamp or porch light to a colorful hue. Want inspiration? You can make a colorful lantern using instructions from Artsy-Fartsy Mama. You can also create a no-flame lantern with a smartphone or flashlight and materials you probably have around your home.

More You Can Do
Share photos of your lights on social media with the hashtag #SkokieSpiritShinesThrough. Email them to info@skokie.org for the Skokie Spirit Shines Through web page.
Also, look at the library's activities to do at home and event calendar.
Download the official Skokie Spirit Shines Through window posters (color, black/white, coloring page).
Thank you for shining hope, community spirit, and joy in Skokie! Questions, comments, or ideas? Please contact Laura Partington, community engagement librarian, lpartington@skokielibrary.info.