Online Book Club: 'Weather' by Jenny Offill
April 14, 2020 by Tiffany Breyne in Events and Programs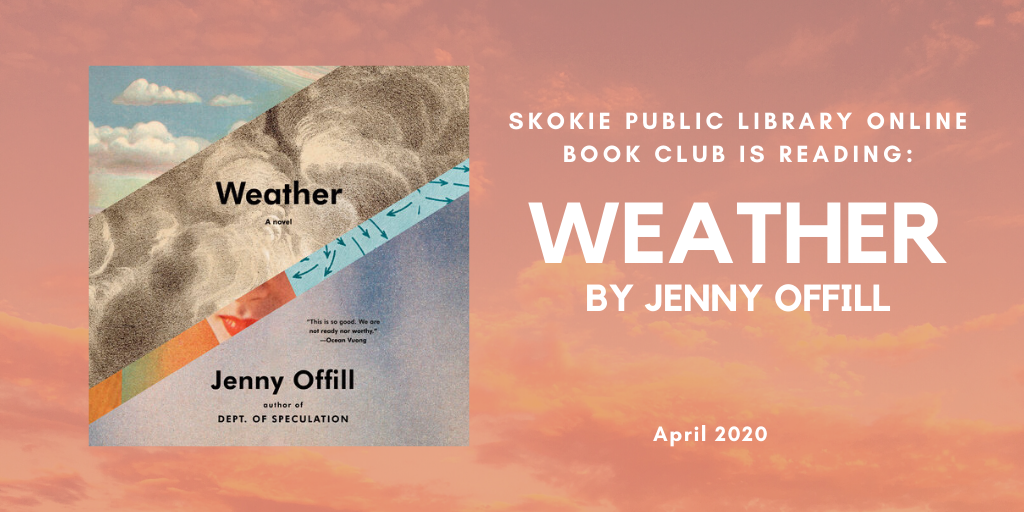 Our current online book club pick is Weather by Jenny Offill. NPR says this "darkly funny, urgent new novel from Jennifer Offill follows a librarian who gets involved in doomsday prepping."
It may be obvious why our librarians picked this book. We think readers will appreciate how quick it is to read and how well it captures the essence of our society today. Here is how you can participate.
---
Join moderated discussions on Goodreads and Instagram Live
Goodreads discussions
These discussions are moderated in real time by library staff, although readers are welcome to join the discussion and post their thoughts at any time.
Thursday, April 23, 2-3 pm CT | Discussing Chapters 1-3
Thursday, April 30, 2-3 pm CT | Discussing Chapters 4-6 - Final Discussion
Join our Goodreads group

Instagram Live discussions
These discussions will be hosted by staff members Allyson and Becca.
Tuesday, April 21, 7:30-8 pm CT
Tuesday, April 28, 7:30-8 pm CT
Follow us on Instagram
---
Post your thoughts about the book on Instagram
Tag @skokielibrary and use #SkokieReadsWeather to keep us updated on your progress. We'll also have fun prompts on Instagram.
Weather is available on Overdrive as an eBook and downloadable audiobook.