Celebrating National Poetry Month
April 10, 2020 by Caitlin Myers in Collections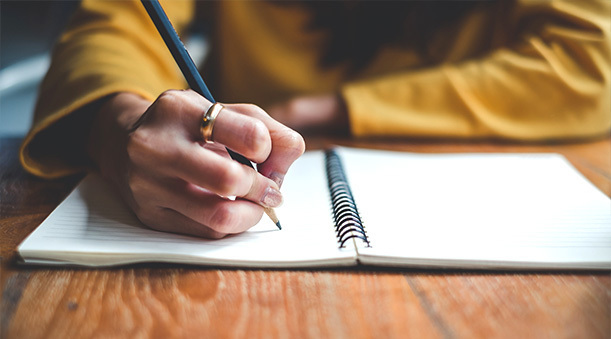 "Poetry is not only dream and vision; it is the skeleton architecture of our lives. It lays the foundations for a future of change, a bridge across our fears of what has never been before." -Audre Lorde
The rhythm and cadence of how we recently lived our lives has come to a halt. We have all been stripped down to the basics of what makes us human. During this time, I have been examining what makes me feel rooted and how to stay connected to the communities I miss and love.
Our director, Richard Kong, has emphasized that although the physical building is closed, the library is always open. We are here to provide remote services and online content, to answer questions, or even just to say hi. We all miss seeing our patrons and colleagues, and it is a privilege to provide services when the sense of togetherness is so strong.
Poetry helps me feel rooted and connected in this time of uncertainty. I have been writing and reading poetry for quite some time, and even though I may stray outside the medium, it has always felt like home. I can come back to poetry to find comfort and hope when everything else feels unpredictable or precarious.
Poetry gives us a way to make sense of what is confusing, beautify what is distorted, and give some context to this time. Poetry connects humanity and helps us overcome tragedy, grief, and loss. I firmly believe that poetry can help heal a society and give us a strong sense of togetherness and community.
Since April is National Poetry Month, our staff have compiled a few of our favorite poetry books and related activities. I hope these activities provide you with comfort knowing that we are here for you. Follow @skokielibrary and #SkokieLibraryPoetsSociety on Twitter and Instagram, where you can find staff reciting their favorite public domain poems!
Staff favorites available on Hoopla
Milk and Honey by Rupi Kaur
Dream Work by Mary Oliver
She Felt Like Feeling Nothing by R.H. Sin
Night Sky with Exit Wounds by Ocean Vuong
Leaves of Grass by Walt Whitman
View all poetry eBooks on Hoopla
View all poetry audiobooks on Hoopla
Poetry Activities
Blackout Poetry
Blackout poetry, or found poetry, is a way to find any written material in the house and turn it into art.
Magnetic Poetry online
Magnetic Poetry online is a free resource to form a poem on a digital "magnetic" surface.
Take a pic, write a poem
The Newberry Library and the Poetry Foundation encourages everyone to take a pic and write a poem for National Poetry Month!
Resources
Poetry Foundation
The Poetry Foundation, located in Chicago, is an independent literary organization. Their website includes free poems and generated themed poetry lists.
Public Domain Poetry
This resource has a list of poetry all in the public domain.