Podcast Recommendations: What We're Listening To
January 10, 2020 by Tiffany Breyne in Books, Movies, and More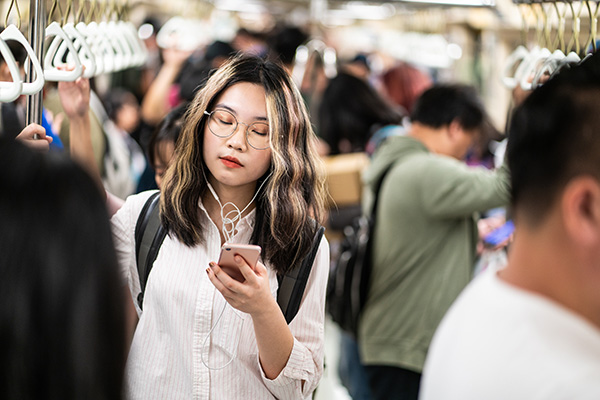 Whether you started listening to podcasts before they were popular or you're new to the platform, it is always fun to get new podcast recommendations. We've compiled a list of some of our staff favorites, as well as those of our Twitter and Facebook followers.
On January 22, we hosted The Best of Podcasting, a presentation about the most popular podcasts and how to listen to them. If you couldn't attend, here is what you missed!
---
Podcast Recommendations by Library Staff
The Adventure Zone
This podcast of three brothers and their father playing DnD in real time is some of the best storytelling happening today in any format. It is witty, goofy, beautiful, and at times, heart-wrenching. Recommended by Leah.
The Allusionist
Helen Zaltzman is positively gleeful when she talks about language. This show is hilarious and I learn new things all the time. Did you know "they" has been in use as a singular pronoun going back to at least 1375? Did you know that podcast is a portmanteau of "iPod" and "broadcast"? Or that the word iPod was inspired by the 2001: A Space Odyssey line, "Open the pod bay doors, Hal"? Recommended by Rachael.
Death, Sex, & Money
Anna Sale's warm interview style is amazing. She's so good at asking personal questions and people really open up in amazing ways. There's a starter kit of episodes. Recommended by Rachael.
Ear Hustle
I have learned so much from this podcast about what life is like inside San Quentin, and I feel incredibly invested in the people whose stories I have heard. The show invites us to have empathy even when it might be hard. It's also funny, masterful journalism, and makes peoples' lives better. I recommend starting with the first episode. Recommended by Rachael.
Gaslit Nation
Cohosts Sarah Kendzior and Andrea Chalupa are experts on authoritarianism as well as American, Ukrainian, and Russian corruption. Fierce, unflinching, and incredibly passionate, they report on news we should be paying attention to years before the mainstream media catches up (for example, they both wrote extensively about Paul Manafort's crimes in 2016). Recommended by Jarrett.
The History of England
It is clearly written and vocabulary expanding-–I now know the difference between a Morton's fork and a Hobson's choice-–and David Crowther records from his shed, which is hilarious in itself. This podcast led me to try others from the Agora Podcast Network. Recommended by Martha.
The Office Ladies
This is a podcast by Jenna Fischer and Angela Kinsey, also known as Pam Beasley and Angela Martin on The Office. Jenna and Angela, best friends in real life, are re-watching every single episode of The Office and then breaking them down in each podcast, giving behind-the-scenes info, fast facts, and interviews with people who starred in and helped make the show. This podcast gives me a new appreciation for the thought that went into making this show, as well as the subtle comedic genius of it all (plus a reason to re-watch it). Recommended by Tiffany.
One Bad Mother
I can barely put into words how important this podcast is to me. Two mothers talk honestly about juggling motherhood, work, and what it means to be a parent in this modern age of judgement. Their mantra is, "You're doing a great job," and sometimes that is what we all need to hear. Recommended by Leah.
Respectful Parenting: Janet Lansbury Unruffled
Parenting expert Janet Lansbury guides parents through actual situations that sometimes seem impossible, for example, how do I get my toddler to sit through dinner? (seriously, HOW?) It teaches me all about how patience, respect, and honoring feelings are the way through some of the toughest years. As a parent of a 2 year old, this podcast is crucial listening. Recommended by Leah.
The Tablo Podcast
My favorite podcast right now basically consists of Korean rapper and producer Tablo of Epik High ruminating on a bunch of random topics like Marvel movies, dinosaurs, ghosts, parenthood, and the music industry. I love Tablo's humor (often unintentional) and the banter between Tablo, his manager (and frequent guest) Eddie, and his podcast producer Diane (mostly heard laughing in the background). It feels like when my friends and I would sit around in high school or college, just talking and laughing about anything and everything, and occasionally getting deep. Recommended by Richard.
Tiny Vampires
Podcast about "disease, science, and bloodsucking insects." So, not a knee slapper, but very interesting. The Agora Podcast Network has several good history podcasts. Recommended by Martha.
Where Should We Begin? with Esther Perel
My absolute favorite podcast ever... It chronicles a one-time couples therapy session with an amazing couples therapist, and it deals with real people working through real issues. It is incredibly powerful and insightful. Recommended by Vanessa.
Why Is This Happening? with Chris Hayes
Hayes, the host of MSNBC's All In, interviews a wide range of authors, activists, and artists in hour-long segments I have found incredibly informative and engaging. I have discovered incredible books like Say Nothing and Palaces For the People, and heard bracing interviews with people I admire like Stacey Abrams and Nikole Hannah-Jones (creator of the 1619 Project) thanks to this podcast. Recommended by Jarrett.
---
Podcast Recommendations from Facebook and Twitter
Armchair Expert
Amazing longform interviews with celebrities and experts in all kinds of fields. The most recent expert episode is with Ronan Farrow (have not listened yet). Recommended by Elie.
Crime Junkie
True Crime told the right way. Recommended by Alan.
The Daily
Indepth analysis of relevant news topics daily. Recommended by Madeleine.
Death, Sex & Money
Great interviews with everyday people talking about the three things no one seems to want to really talk about. It's great. Recommended by Amanda.
Fall of Civilizations Podcast
The host has a calm soothing voice as he tells you why civilizations (think Easter Island, Aztecs, etc.) fell in excellent, well researched, entertaining detail. It's a history nerd's dream. Recommended by Molly.
Hidden Brain
I love the way Shankar Vedantam explores various aspects of human behavior with sensitivity and gentle humor. It's easy to imagine discussing these topics with him over lunch. Recommended by Lisa.
History Chicks
I listen only when I've gone through my staples (NPR Politics, Pop Culture Happy Hour, some Fresh Air), and am never disappointed. Entertaining and wholly informative about women who often have either been ignored or mythologized. Recommended by Kelly.
Invisibilia
Incredibly interesting and generates curiosity. I have enjoyed every single one I have listened to. Recommended by Ela.
Life Kit
They have multiple channels, parenting, health, money, etc. I love how they have useful tips that you are capable of implementing in your everyday life. Recommended by Richa.
Mobituaries and Wait Wait… Don't Tell Me
Both are always informative and fun. Recommended by Louis.
On Being with Krista Tippett
This nurtures my intelligence and my inner spirit. I get to listen to my favorite writers and thinkers and am introduced to new ones. Recommended by Michelle.
---
Recap from The Best of Podcasting
Here are a few favorite podcasts from Reference Librarian Mike Buhmann, who hosted the presentation:
Curious City
Fun facts & history about Chicago.
Hardcore History
Dan Carlin offers his detailed and dramatic accounts of historical eras and events. (See also Hardcore History Addendum)
Factually! With Adam Conover
The funny and engaging host takes a look at surprising truths and perspectives of the world.
In Our Time (BBC)
A British take on history, science and culture.
Hidden Brain (NPR)
An entertaining review of social science showing the unconscious patterns that drives human behavior.
Penn's Sunday School
This live show features magician Penn Jillette discussing with co-hosts about current events and show-biz news.
Sound Opinions (WBEZ)
Rock critics Greg Kot and Jim DeRogatis interview artists, talk about pop culture and music industry news, review new record releases and give trends a historical context.
Track Talk
LetsRun.com's weekly podcast where they go behind the scenes of the professional running, marathoning, and track and field world.
5 Ways Podcasts Have Changed in the Last 10 Years
Podcasts are much longer.
Episodes now average more than 11 minutes, 40 percent higher than 10 years ago. Why? storage space has increased on phones.
Podcasts are no longer radio shows re-formatted as podcasts.
A few years ago, radio shows were simply recorded as is for the podcast audience. Today, most podcasts are birthed as podcasts. The growth of large podcast content companies like Gimlet and the advent of paywall podcasts as in Luminary will speed up that trend away from radio shows.
Podcasts are more focused on their topic.
Podcasting was initially dominated by people who loved the art form and were experimenting with content, today, however, many podcasts have sponsors that expect the podcast to hook listeners with compelling content.
Podcasts are obsessed with true crime stories and politics.
In 2009 there were few political podcasts with It's All Politics on NPR the most popular and no true crime podcasts. Today true crime podcasts continue to expand fast along with a host of political podcasts on both ends of the political spectrum.
Podcasts are now a key part of a brand strategy.
The New York Times Book Review podcast began in 2006 and never really advertised for the New York Times. Today, by contrast, The Times's popular podcast, The Daily, regularly advertises the New York Times digital subscription. The Times – along with other large media companies such as Bloomberg, ABC, CBS, NBC and Fox have all begun to link their podcast footprint to their overall brand and increase paywall participation from loyal podcast listeners.
Interested to see what's trending in podcasts right now? Check out the top charts, updated every few hours.