Zine and Book Structure with Regin Igloria
August 30, 2018 by Chris Auman in Events and Programs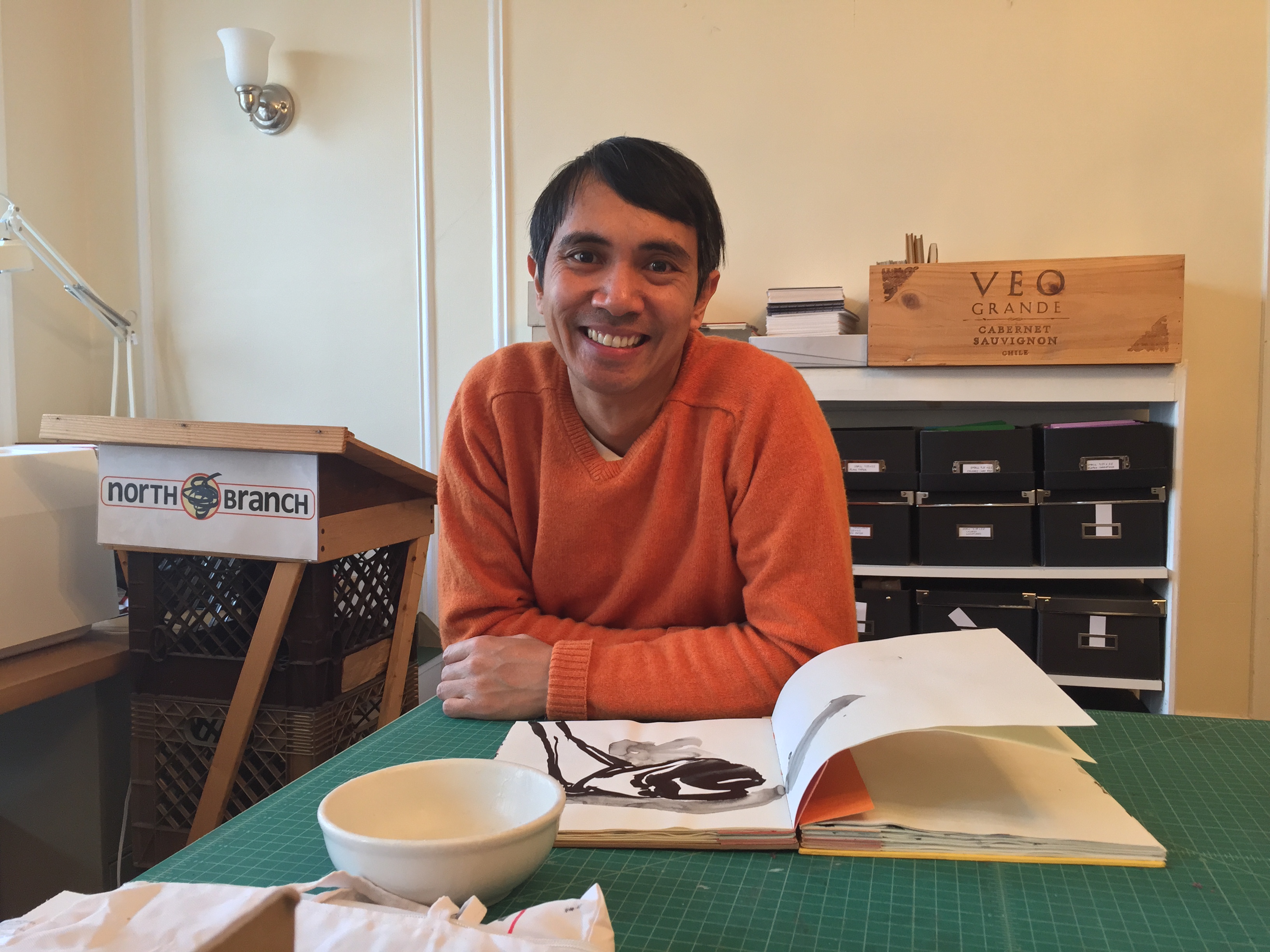 Regin Igloria is an artist, teacher, bookbinder, and zine maker. He will be presenting a workshop, Zine and Book Structure, at the library on Thursday, September 20 from 6:30 to 8:30 pm. In the workshop, Regin will introduce basic bookbinding techniques used in making zines (small, independently published handmade magazines). This will also be an opportunity for participants to learn about the history of zines and to make a single-sheet folded zine. Regin was kind enough to answer a few questions for us about zine and bookbinding.
What is your relationship to zines: when did you first discover them and when did you start making them?
I was drawn to the idea of producing zines during art school. While an undergrad, I had peers making and producing zines in my animation class, and while I was not nearly as organized nor prolific as they were, I did attempt a few series of books that had to do with storytelling. I was not an activist per se, though the various themes had to do with my interest in the Fluxus movement, and the frustration of gang activity in my neighborhood of Albany Park and wanting to share personal experiences about it. As a young artist, I did not feel the level of activism that one experiences now, though I believe the internet and social media, which did not exist at that time, had much to do with those limitations. Other books I made were various self-portraits—playing with identity and humor, most of them speaking about the daily routine of someone who urgently wanted to be elsewhere.
What is the purpose of these publications?
The purpose of these publications is to share information readily; to make information and ideas available to the masses. I'd like to think these works will go further than most of my other artistic works because of context. They'll be available on a wider public spectrum, they're more affordable (and many times free), and quite frankly, they keep me grounded in my first love: drawing. I always go back to drawing and if I can share that with others, I feel more complete.
What are the central themes of the zines and books you create?
The themes I've worked with have always been about understanding the human condition. I've done this with multiple disciplines such as sculpture and performance, but I always consider drawing in the work I do. Books happen to be a perfect format for me as it accommodates ideas about travel, portability, and and can be presented as multiples. Themes revolve around nature and human intervention as a metaphor for struggle. I think often about mankind as the builder and destroyer of everything beautiful, so I base most of my imagery on things such as construction, our preoccupation with the outdoors, and athleticism, which to me epitomizes this idea of a grand spectacle. I love observing humans attempting to engage with each other within their complex environment.
What is your background/experience with bookbinding?
I probably made my first intentional book, with some narrative or sequencing, in the 4th grade. It was part of a project the entire class was doing for a Young Authors competition (not even sure which one it was at the time). At Marwen (high school level), my first class incorporated architectural drawings in handmade paper that was bound into a book. In college, I took an Artists' Books class my final semester and it profoundly shifted my perspective on being a maker. Using those skills, I started making books for others on a commission basis, for gifts and special occasions—it became the catalyst for understanding what craft meant to others, and ultimately provided the basis for me becoming a teaching artist.
Why is it important to learn bookbinding in the Digital Age?
Learning something like bookbinding is important in the digital age because not everyone on the planet is interested nor has access to digital devices for multiple reasons, from power to preference. Not everyone uses the internet, and not everyone prefers screen over paper. Having choices is pretty much the most important aspect of civilized society. Books are a choice in this digital age. We are also humans who need and desire touch, and as far as I have experienced, there are more moments we feel alive when we are disconnected from technology rather than attached to it.
I also do not see physical books ever going away, so I find it is critical to maintain technical knowledge of things that are still in existence, just like anything else, so they continue to be present for the next generation.
Learn more about zines:
A Brief History of Zines
History of Zines