Teen (Graffiti) Artists for Equality
August 17, 2018 by Jarrett Dapier in Youth and Teens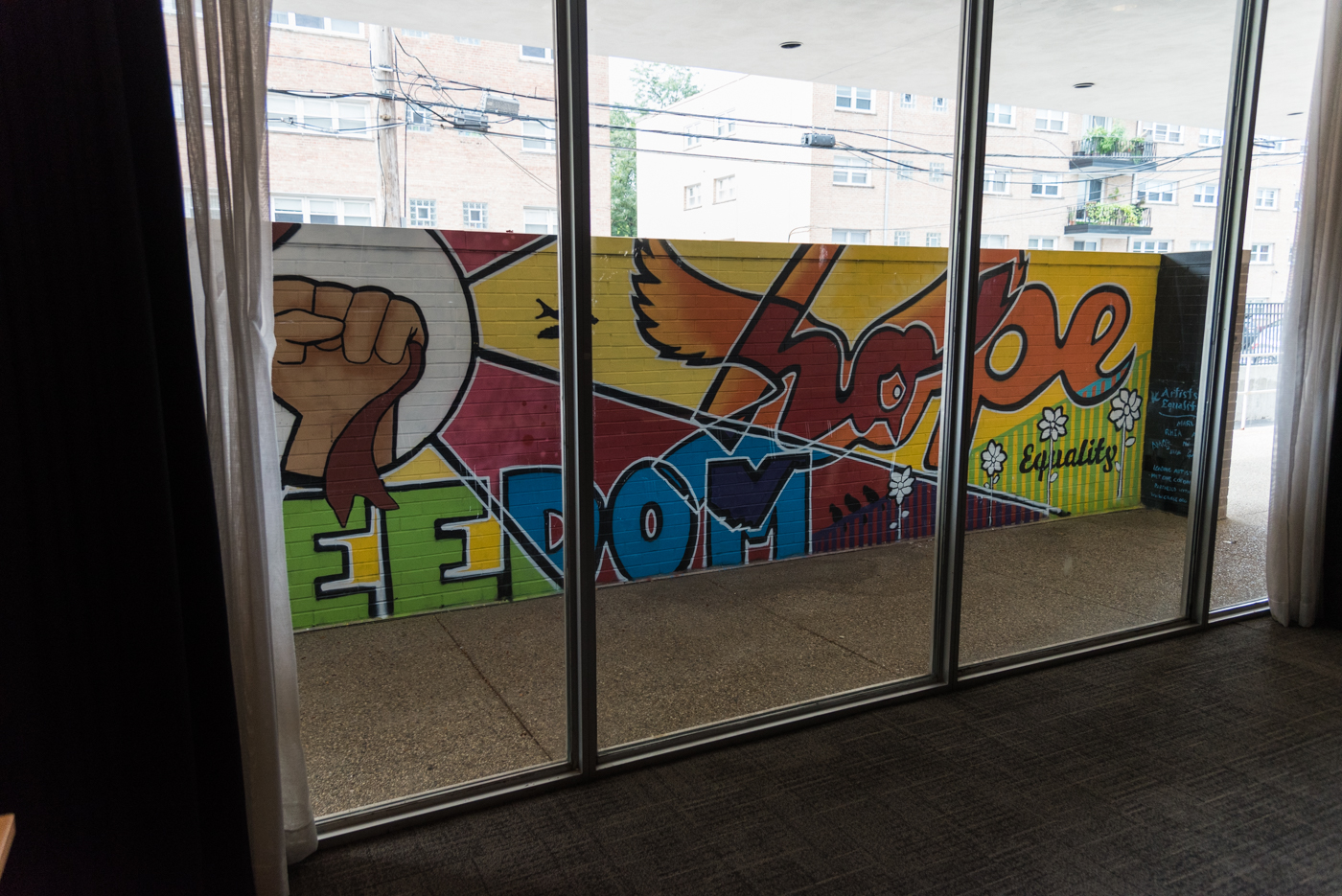 This summer the Skokie Public Library, in partnership with the Chicago Alliance Against Sexual Trafficking (CAASE), hosted a 6-week art workshop for teens titled "Artists For Equality." The workshop's mission was to create a vibrant, gender equity-inspired, permanent mural on the library's exterior.

Led by Chicago graffiti artist and CAASE-educator, Milton Coronado, (also known as Milt1), participating teens were first challenged to think about the questions, What is sexual harassment? What is consent? What is human trafficking? What do these things look like? How can we create art inspired by these questions?

Through group discussions, the teens generated images, words, and phrases which they then explored visually by sketching together with pencils, charcoal, markers, and pastels on lengths of butcher paper. As the artists worked, Milton challenged them to think past expected imagery like chains, cages, and bar codes (while noting that, done right, these are valid images to communicate trafficking) to create a more hopeful visual vocabulary for the final mural. "The idea," he said, "is to look at the problems, identify how they look, how they work, then rise above them to imagine a world without these things. What would that look like?"
When the group had gathered enough sketches, Milton coached the artists on techniques like spray-can control, color fading, and lettering during phase two of the workshop process. Under supervision, teens experimented with spray paint on the wall just outside the Mary Radmacher Room's windows where we would eventually create our final mural. This was fun—like doodling with spray paint—and gave the teens a sense of how cans work, the color palette available, and how to use the natural grid of brickwork to plot out the design. Milton also stressed the importance of applying graffiti art legally and with permission, as well as other rules to work by (e.g. don't strike through, or redact, another artist's signature with your paint, expect that your art will be painted over sooner or later).
The final three sessions of the program were dedicated to painting the final mural that would live on the wall. Incorporating select images from the teens' early sketches, Milton created three to four potential mural designs to be reviewed by the administration at CAASE, as well as the library's director. Both organizations settled on a design that conveyed a burst of light, a springing forth of color, and the words "fray" (or struggle) "freedom," and "equality," which, read sequentially, begin in darkness and end in hope. The teen-generated images in the final design include a fist wound with red ribbon that's slowly loosening, falling away; a collection of birds in flight or preparing for flight; and flowers climbing a fence, seeking the light above. After three weeks of diligent work spraying, lettering, and touching up our mural, Milton and the teens transformed what was a dingy brown wall into a work of art rife with meaning and color.
As a young adult librarian working in a culture beset by sexual harassment/ assault, confusion around consent, and ignorance about human trafficking, I'm always thinking about how to engage teens in conversations and programs that explore these topics. I do so in the hopes that the next generation will treat each other respectfully, end sexual violence, and achieve "freedom into equality" for people of all genders. I feel thankful to CAASE, Milton Coronado, and the Skokie Public Library's young adult, maintenance, and administrative staff for making this program possible.
To view more of Milton Coronado's work, visit him on Instagram: @milt1coronado and his website: www.crownedart.com.