Children's Book Author and Illustrator: Kevin Luthardt
June 26, 2018 by Chris Auman in Author Showcase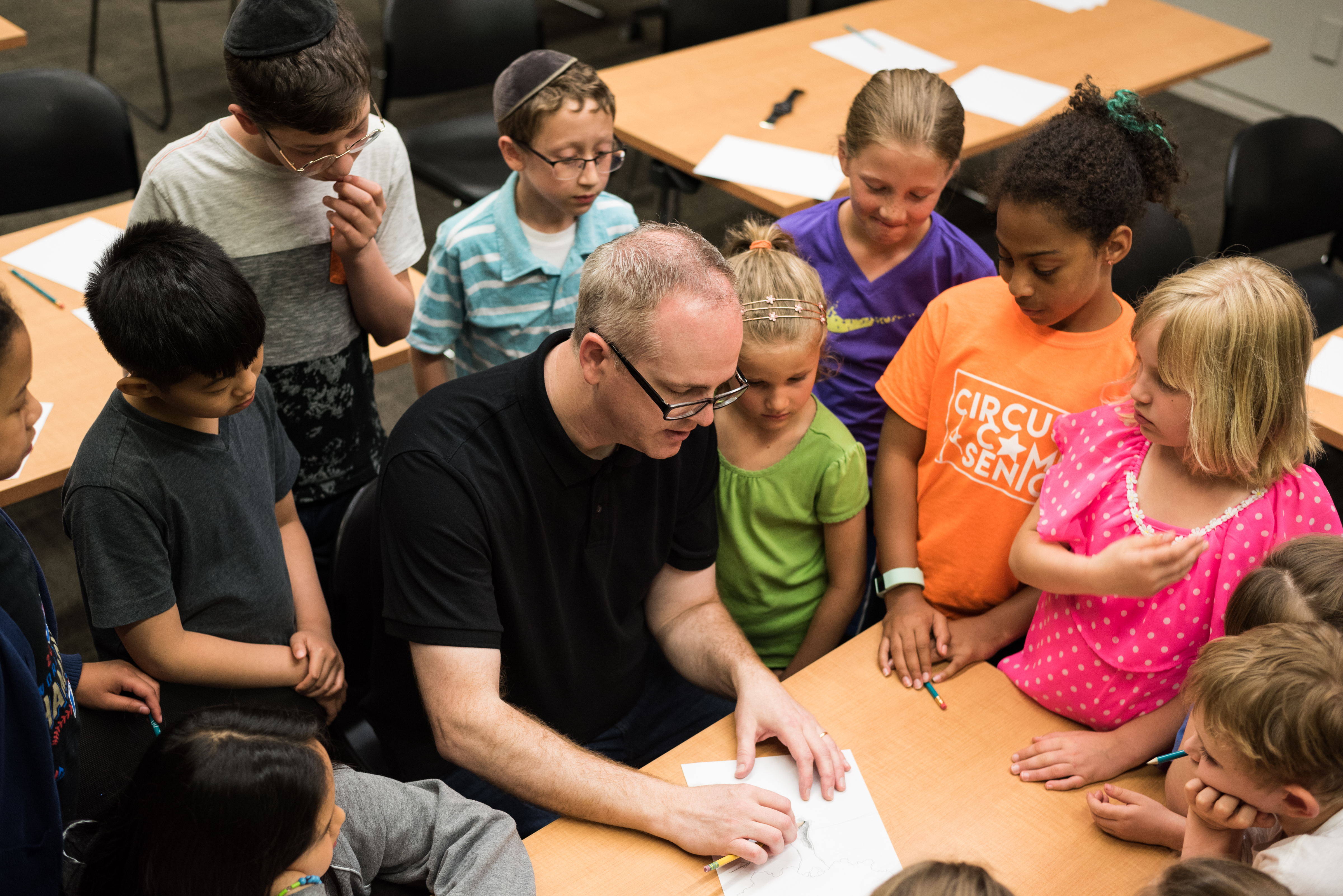 Kevin Luthardt is a children's book author and illustrator, muralist, and former staff member at Skokie Public Library. He recently visited the library to show a group of aspiring young artists his drawing techniques. We took this opportunity to ask Kevin a few questions about his work. Thanks, Kevin!
Which is more difficult: writing, drawing, or coming up with the idea for a children's book?
I think it is probably coming up with an original idea. The idea part can be very simple—like a doodle of a character, or a basic story theme, or even something more abstract, but the idea fuels the rest of the project. There is no easy way to do it. I just continually ponder, and consider, and doodle, and brainstorm, and sometimes there is that spark where an idea is born.

You've written eight books so far, do you have plans for another one in the future?

I have done nine books so far. Two were written by other authors where I was the illustrator. The others I both wrote and illustrated. I currently have several manuscripts that need revisions to send back to the publisher. I have been sidetracked in the past couple years by a continuous stream of mural projects and other work (the other half of my artistic endeavors). So yes, I am planning to hopefully get back to creating more books, but it will be awhile before any see publication.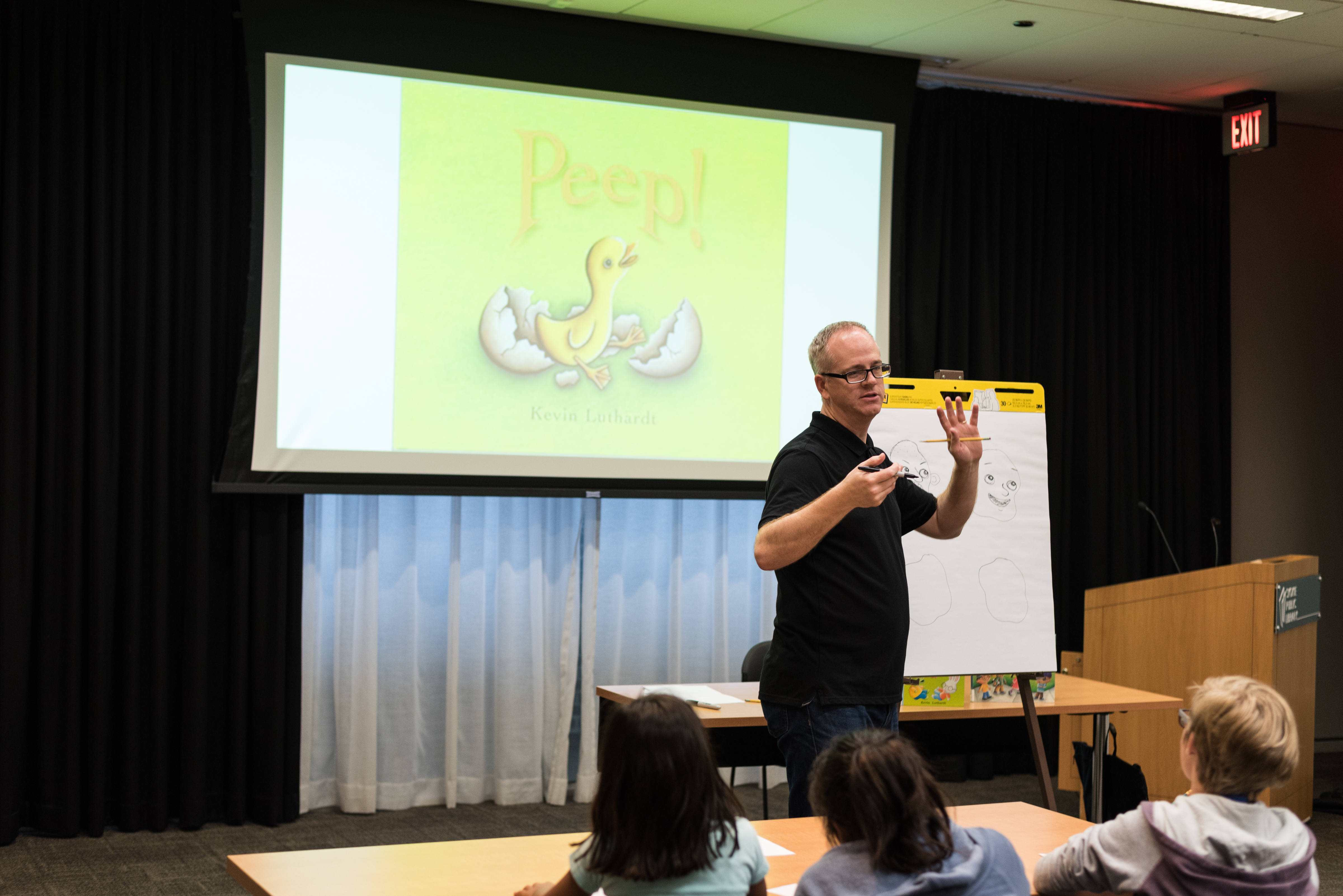 When did you write and illustrate your first children's book? Is it something you always wanted to do or did you get inspired by something in particular?

My first book Mine! (Atheneum) was published in 2001. At the time I was actually working right here at the Skokie Public Library. I had a part-time job here for about five years doing artwork, mostly for the Youth Services Department. I have fond memories of working with the staff, and I love that I still see them on a regular basis since this is our family library. I studied painting and I have always wanted to be an artist. I didn't always know that I was going to make books, but my paintings were always narrative and whimsical. I guess I consider myself a visual storyteller. I also found myself often working with kids in different capacities (art camp teacher, doing storytimes, camp counselor, et cetera). The year after I graduated with a BFA in painting, it all kind of blended together. I had this idea to start sending my artwork to children's book publishers. It took a couple years of developing my work and lots of rejection, but that is where it started.
Do you remember the first thing you loved to draw as a kid?
As a child I wanted to be a comic strip cartoonist like Charles Schulz ("Peanuts") or Bill Watterson ("Calvin and Hobbes"), so I would draw cartoon characters all day long. My drawing style as a kid was also heavily influenced by Looney Toons animation.

Did your family encourage you creatively when you were growing up?

I am thankful that my parents always encouraged my artistic pursuits. They saw that I loved to draw, so they fostered the development of my passion and talent. They signed me up for cartooning classes and such, but I think just the simple affirmation of what I was good at and loved to do is the most important thing a parent can do.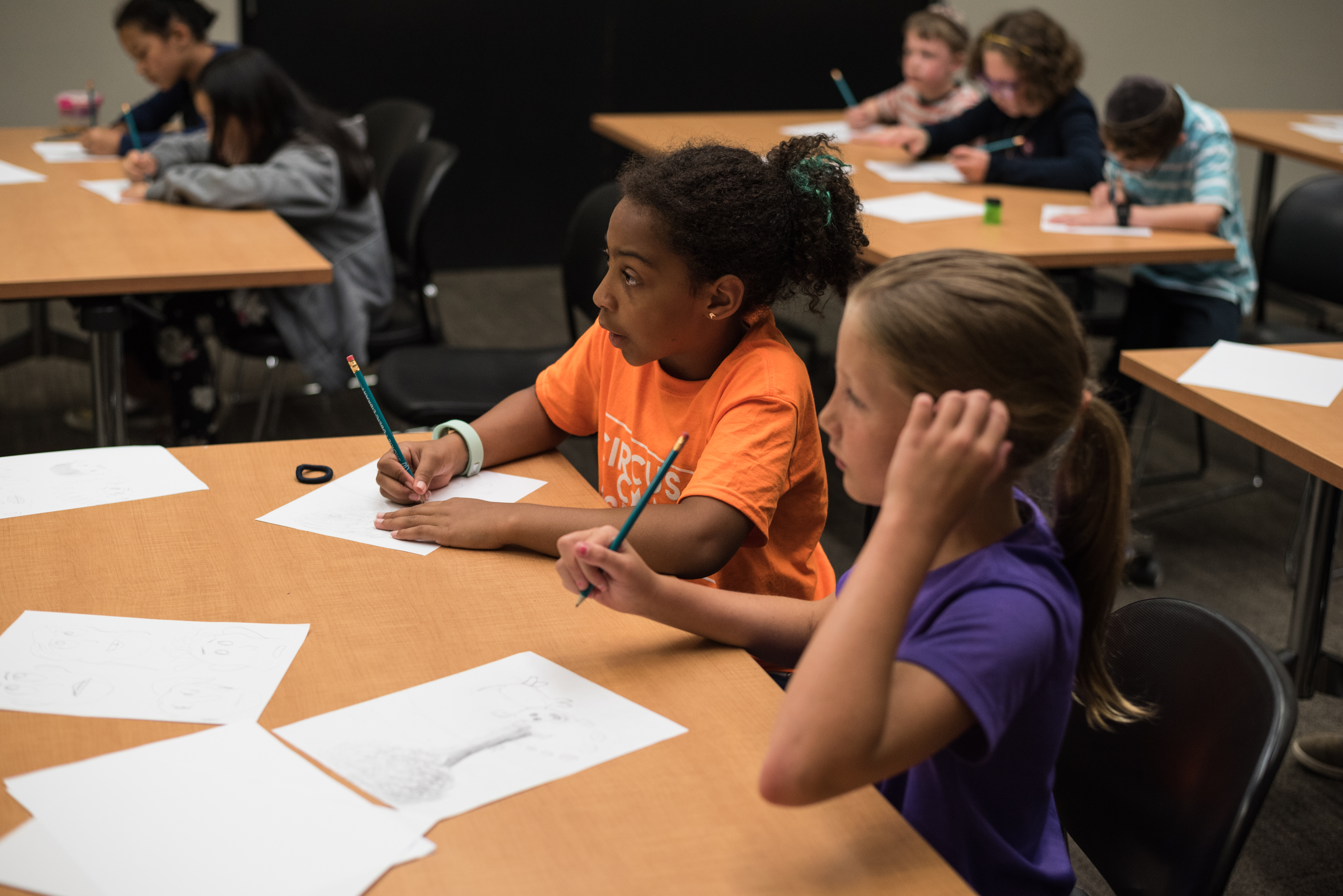 How many murals have you painted?

I'm not sure of the exact number, though I'm sure I could go back in my memory and count. It's somewhere around 100 murals in schools, libraries, churches, and other odd venues.
What was the first large mural you did?
The first big mural I did was during the summer of my junior year in college. I spent the summer in kind of an informal internship working in the inner city Uptown neighborhood of Chicago. I tagged along with another artist/mentor, Brian Bakke, at Uptown Baptist Church, who used art as a tool to reach out to the community. We did art camps with kids, homeless ministry using art, and a gigantic mural on the Bank of Chicago Lakeshore. I was working with a group of artists all summer on this mural that was inspired by the Prodigal Son parable in the Bible.
Do you usually have an audience while you paint murals?
Now I mostly do mural projects for kids and families in schools and libraries, so I am often painting while normal school activities are happening around me. I love that the kids get to see the project unfold day to day. It makes it even more special for them, something they will remember for a long time. The most recent mural I did was at Lincoln Elementary School in Plainfield, Illinois.
What advice do you have for young artists just starting out?

It's pretty simple: be the hardest working artist you know! Draw, draw, draw... and um... draw. Taking classes is important. Reading and studying a wide variety of artists is important too. However, the most important thing to do is to work. The more artwork you create, the closer you get to developing your own unique visual language.
Books by Kevin Luthardt
The following books by Kevin Luthardt are available here:
When Edgar Met Cecil
Mine!
Hats!
Flying
You're Weird!
Larabee
Peep!