Staff Profile: Caitlin Savage, Youth Services Librarian
April 17, 2018 by Chris Auman in Staff Profile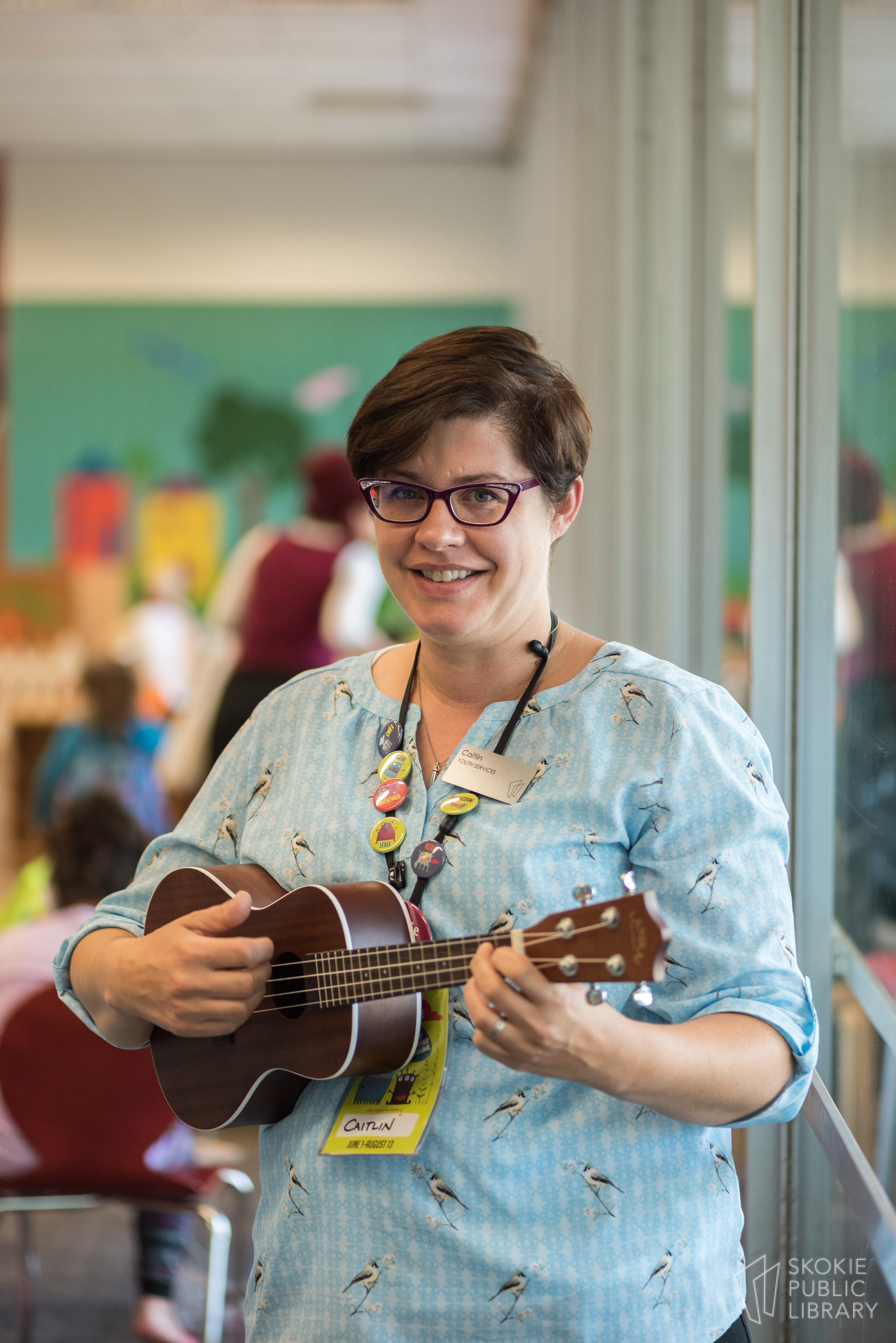 Youth Services Librarian Caitlin Savage has been working at Skokie Public Library just shy of a year. In that time she has certainly made her impact felt, and not just as a ukulele-playing storytime leader. She's also a passionate library advocate and is one half of the book booster duo, Talkin' Books with Caitlin and Kathy.
What is your favorite part of being a youth services librarian?
There's a lot to love. I love storytime, high-fives, when a kid looks up at you from under their eyelashes and says "I know you! You came to my school." I like that moment when a kid asks for something and realizes that you know what they are talking about, and that you like it too, and all of a sudden they trust you enough to open up, and then all kinds of magic happens. Perhaps they'll sing to you, or tell you a million details about trains, or a really corny joke. I love it when a child comes to the desk in full costume and asks for help like it's no big deal.
What is the most challenging part of being a youth services librarian?

Ugh. Cleaning up toys. OK, not really. It's challenging to be taken seriously in a field that is largely intentionally and necessarily wacky. I know a lot of silly songs and speak fluent truck noise, but behind that robust, noisy veneer there's a lot going on in Youth Services. We are providing our young patrons with their first library interactions. We are teaching them that it's safe to ask for help, that there are materials just for them, that their thoughts and opinions count. We are providing service to kids with a variety of interests, from birth on up, and their parents too. We are learning how to work their gadgets. We are teaching science, math, coding, social skills, cooking, music, art, and more, all the while instilling the joy of story. We are meeting them on their level, in their spaces. We are constantly thinking about their needs and evaluating our methods in order to better meet them. We build relationships and partner with local groups and organizations in order to build trust and community with the patrons we serve. We listen and we care. This is vital work.
What made you decide to become a librarian in the first place?

I was actually pretty sure I was going to be a very famous stage actor. I mean, I was willing to branch out and do film if called, but everyone knows the real thrill is in front of a live audience, but when that didn't pan out, being a librarian was a natural fit.

I grew up in libraries. They were a safe and magic place for me when I was a kid. I still remember my children's librarian, Mrs. Graves. She knew my name, what I liked to read, and she made me feel like I was special. I've always been comfortable in libraries and I love what they stand for. It's important to me to know that I'm in a profession that's entirely about helping people. Librarians are do-gooders, and I really want to do good.

What other libraries have you worked for?
I've been working in libraries since I was 16. After college I worked at Northwestern University Library, first in security, then I handled library privileges helping alumni and special borrowers with library access, and then was promoted to the assistant head of Circulation Services. After I graduated from library school, I became the head of Circulation at Morton Grove Library for a couple of years. I have a deep and abiding love for the Circulation Department.
During that time I had my first baby and decided I wanted to try something different. I started working at the Northfield Branch of the Winnetka-Northfield Library District, doing a little bit of everything. They had a need for an early childhood storytimer, and I said I'd give it a whirl. It was a great fit. I spent more and more time working with kids, until eventually I was able to move into a preschool outreach position at the main branch. I stayed there until my second child was born and it wasn't tenable for me to work full time. I was able to stay active in the library world by doing storytimes at Glencoe Public Library until I was hired here.
What is the last great book you read? Movie? TV show?

I'm on the Cool Summer Reads committee, the purpose of which is to select a small number of amazing books to share with 3rd-5th graders at the library, so I've read a lot of great stuff lately. I think my favorite book from last year was Laurel Snyder's Orphan Island.
I have two small children and I don't love animation, so I don't get to see a lot of movies that I love. I'm more of a TV show person anyway. My favorite right now is The Good Place, but there's a lot out there to like.