Zachary Allen has the WRITE Stuff
March 7, 2018 by Mandy O'Brien in Youth and Teens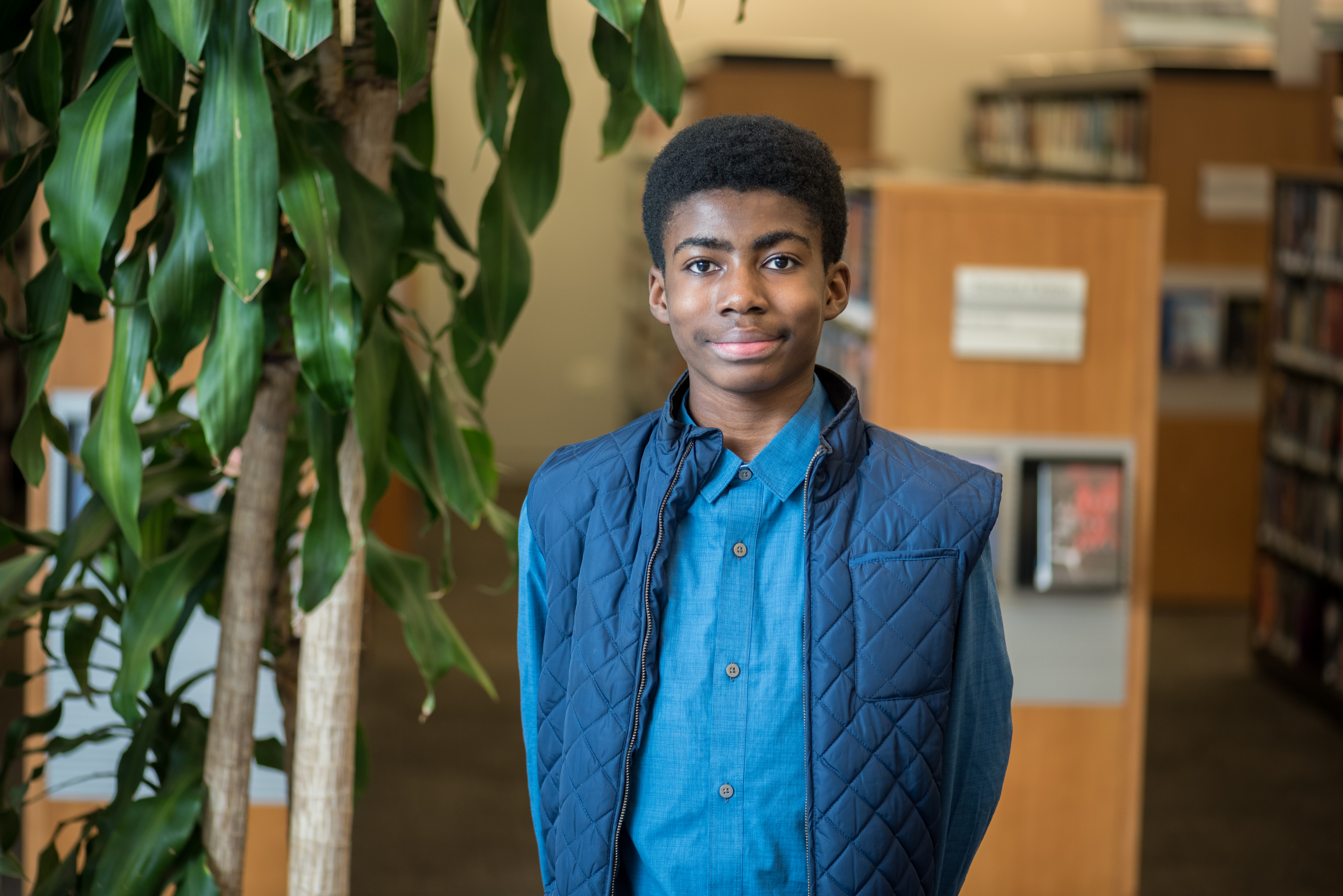 We love celebrating our successes here at Skokie Public Library and that includes the success of our patrons. That's why we were so happy when we heard that patron Zach Allen won the Chicago regional award for the 2018 Scholastic Art and Writing Awards competition. Zach was a participant in the library's WRITE Stuff Writing Club while he was a student at Edison Elementary School.
The WRITE Stuff
The WRITE Stuff Writing Club offers an informal creative experience for aspiring writers in 4th and 5th grades. It's a time where kids can meet up, work on fun writing exercises, discuss what they're writing (and reading), and be inspired to make writing a daily habit. The club meets one Wednesday evening a month from 7 to 8 pm. Participants are an even mix of boys and girls of all abilities. Some are very disciplined writers, determined to one day get their stories on library shelves, while others see it as an opportunity to hang out with old friends and new. Writing club alum, Zach Allen, would fall squarely in the 'determined writer' category.
Over the two years Zach participated in the club, his eagerness and excitement to write and share what he wrote inspired other kids. This in turn gave them the confidence to take fun risks with their own writing.
Zach's story, "Stride," won the Gold Key award in this year's Scholastic Art and Writing Awards competition. It's about a middle school athlete who pours everything he has into achieving his goals.

Meet Zachary Allen
How did you feel when you heard you won the regional award?
Complete and utter shock! I didn't think I would win anything but to win a Gold Key for best short story in the seventh and eighth grade was definitely a surprise. Originally, I wrote it as an ELA (English Language Arts) assignment for school. My mom read it and brought it to Mandy and after some revising and editing I decided to submit it. My story is now entered in the Scholastic Art and Writing Awards national competition. Gold medal winners in the national competition will have their awards presented to them at Carnegie Hall. The regional awards will be presented at The University of Illinois Chicago on March 8. I'll find out about the national prize that following week. It's all pretty unreal. Winning the regional award has qualified me for the opportunity to attend a free week-long writing workshop on a college campus this summer. This competition has opened up so many opportunities for me.
How has your involvement with the library's WRITE Club helped you become a writer?
The librarian who runs the WRITE Club, Mandy, is awesome. She would always find ways to encourage and motivate us. At the meetings she would also have us do different creative exercises and gave us really good feedback. If I hadn't participated in that class I highly doubt I would've been able to win the award, or know how to properly develop my ideas to even write the story in the first place.
What inspires you to write and create stories?
I can get ideas from almost anything. Usually whenever I have a good idea I jot it down on a piece of paper and see whether or not the idea is something I can develop further into a story. However, turning a good idea into a good story is a lot more difficult.
Where did the idea for "Stride" come from?
I came up with the idea after meeting Jason Reynolds when he was at the library for a book signing for his book Patina. During his talk at the library he spoke about writing with an authentic voice that would be more relatable to kids that grew up like him. I just tried to incorporate elements of myself and write with a realistic voice that kids my age could relate to and understand.
Do You have the WRITE Stuff?
If you're in 4th or 5th grade and want to create in a fun, relaxed environment, then of course you have the write stuff! Register now for the next WRITE Stuff Writing Club, March 21. Bring a notebook and we'll get your creative juices flowing with some writing exercises and games.