Parents
We want to make your child's library experience one they will remember. Come enjoy our great spaces, collections, and services for babies through 8th graders.
Have Questions?
Shelley Sutherland, Youth Services Manager
Program, play, and fun spaces
While you're here, be sure to check out all the kid-friendly areas in our first floor Youth Services area. They can listen to a storytime in our Program Room, make fun projects in our well-stocked Craft Room, or play with LEGOs or puppets in the Preschool Area. Crawlers are able to hang out safely in their very own Baby Garden, while older kids can do homework or play video games in the Junior High Zone.
We also have mounted iPads and a suite of computers featuring fun, age-appropriate games and apps.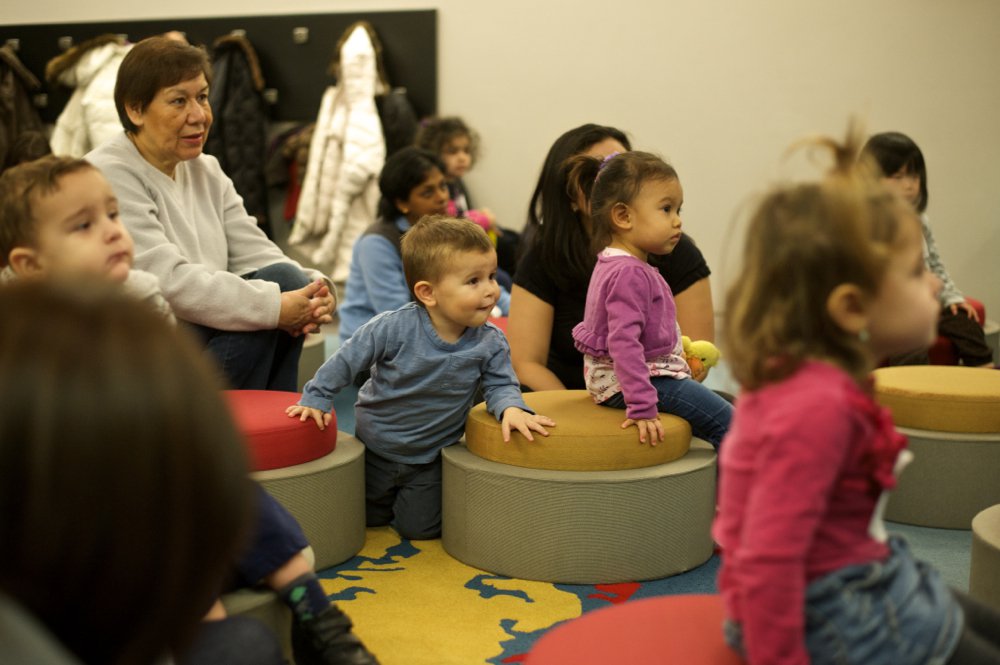 Study and learning spaces
Youth Computer Lab
Supervised by a staff of tech experts, this room features computers with Internet access and a digital media lab designed specifically for children.
BOOMbox
Introduce your kids to science, technology, and design concepts in the BOOMbox, our hands-on learning space. Learn more about the BOOMbox
Group Study Rooms
With a library card or school I.D., students can schedule a block of time in one of our four study rooms.
Programs and events
We offer many lively storytimes and interactive programs for kids and families. View upcoming programs and events
Museum Adventure Pass
We participate in the Museum Adventure Pass program. Use your Skokie Public Library card to get discounts and passes to more than a dozen participating destinations.
Come On In!
In partnership with Niles Township District for Special Education (NTDSE), Youth Services staff has been trained to better understand and serve children with disabilities. We also offer monthly programs, including Sensory Storytime and Rainbow Therapy.
Books and reading
TumbleBook Library for Kids
TumbleBooks is an online collection of animated, talking picture books, puzzles, and quizzes. Stories are adapted from existing picture books and can be enjoyed in English, Spanish, Chinese, and French.
NoveList K-8 Plus
With Novelist K-8 Plus, you'll discover great books for children from kindergarten through grade 8. Browse lists of award-winning titles or search for books by grade level or Lexile score.
Skokie schools
Skokie has many public and private schools. SkokieNet's Directory of K-12 Schools features a complete list of school websites and contact information. A comprehensive listing of Skokie preschools and child care centers is also available.