School Supplies for Fines
July 22, 2016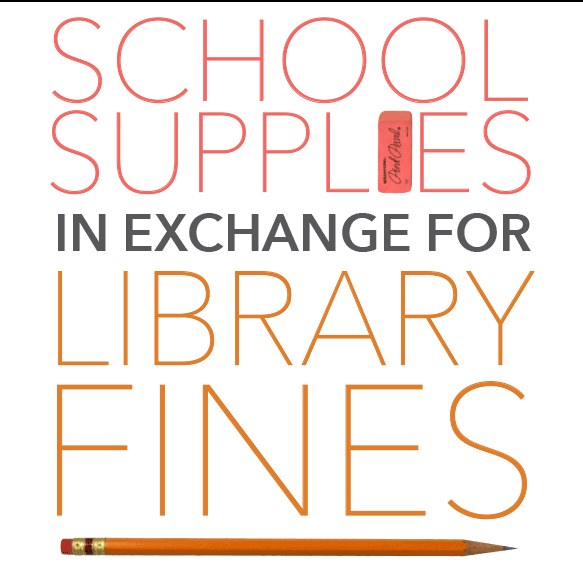 The week of August 1-7, Skokie Public Library will be accepting school supplies to offset overdue fines on your account. Donated supplies will be given to local Skokie schools.
Bring in one new packaged item from the school-approved list below and we will waive $1.00 in overdue fines up to $10.00 per library card.
For example, if you owe $5.40 in fines, bring in at least 6 items and we will waive the $5.40.

You don't have fines? We will gladly accept donations

24 ct. Crayola Crayons
10 ct. Classic, Broad Tip Crayola® Markers
12 ct. Crayola Colored Pencils, Full Length, Sharpened
70 ct. Wide Ruled Spiral Notebook, Perforated, Any Color
100 ct. Wide Ruled Filler Paper
35 ct. Disinfecting Surface Wipes, Pop-up Canister
4 oz. Elmer's Washable School Glue
.77 oz. Large Elmer's Washable School Glue Stick
Pink Bevel Eraser
12 ct. #2 Wood Pencils, Sharpened
Sharpie Black Fine Tip Permanent Marker
Sharpie Black Ultra Fine Tip Permanent Marker
1/2" Scotch Tape w/ Dispenser, 450"
180 ct./160 ct. box of Facial Tissues
25 ct. Quart or 20 ct. Gallon Zipper Bags